Festive Tablescaping with Lesley Crawford
Date Posted:3 December 2022
This festive season, we found ourselves at The Blue Shed, the iconic warehouse home of super stylish fashion persona Lesley Crawford.
No Chintz had invited Lesley to 'have a play' with one of their new festive season tablecloths, and as she set her table, I asked Lesley to describe her celebration traditions and what she thought of the No Chintz cloths.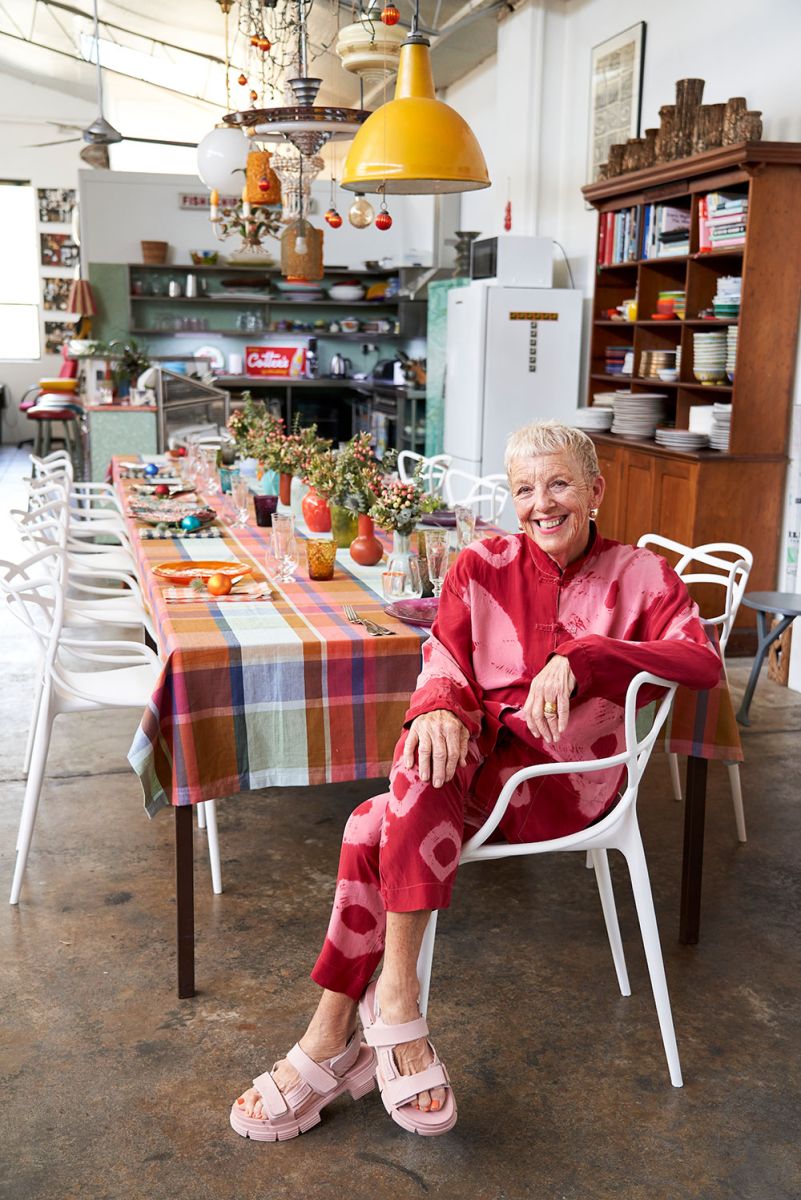 Tina: Hi Lesley! So what do you think of this tablecloth?
Lesley: The colourway works perfectly in this house! I like it! It's contemporary but also not overpowering. It just happens to be the best possible range of colours to go with my Dinosaur Designs plates.
I also love that it is practical and the fact that it is multicoloured, patterned cotton disguises any red wine or other festive spills.
While it feels festive, it is also an all year round tablecloth.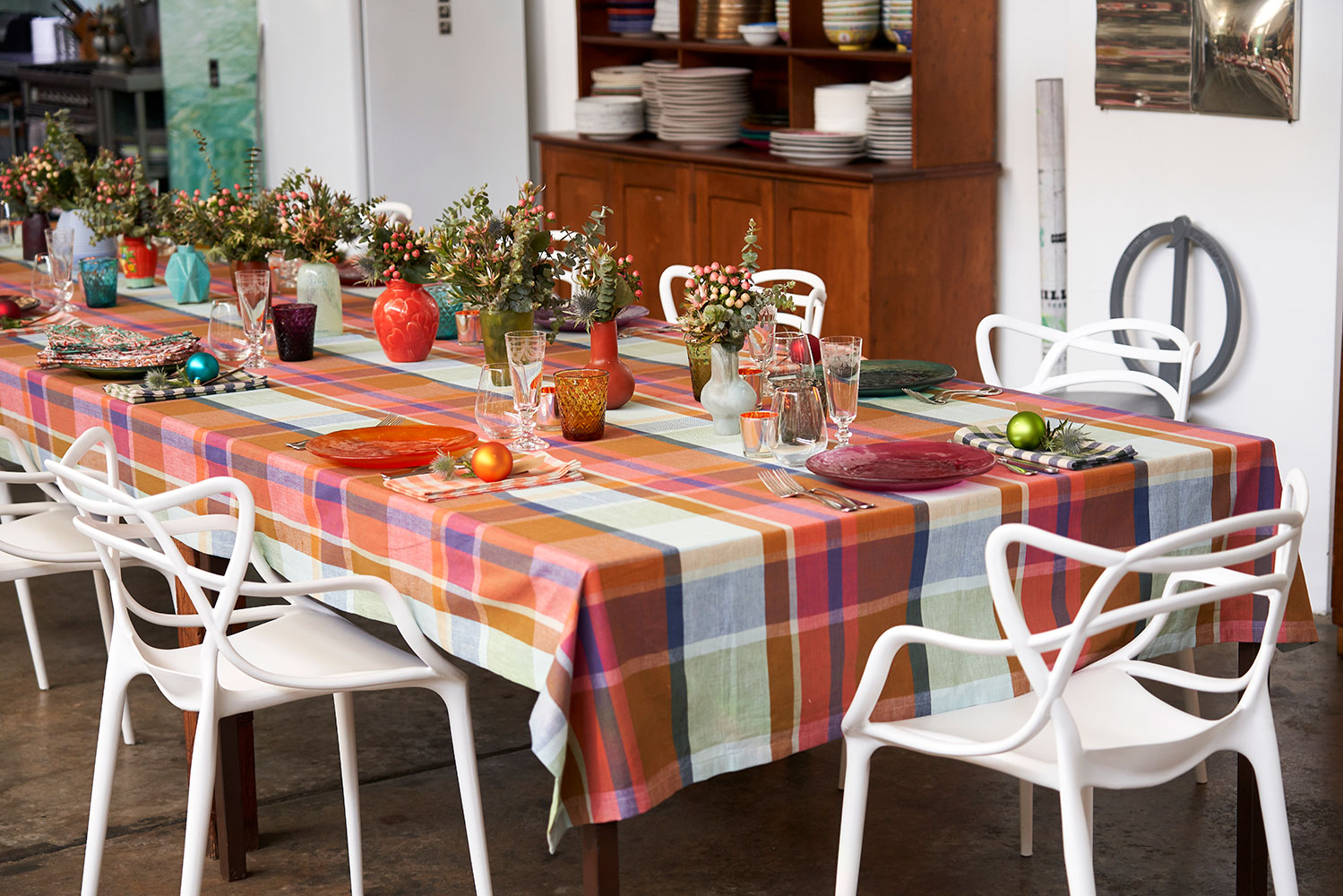 Tina: What have you decorated the table with?
Lesley: I find that it seems more appropriate to decorate with Australian natives and the check palette is perfect with those tones of green. I have used a selection of my small vase collection, nothing too matchy-matchy, just an assortment to keep the fun and casual vibe.
I did also think of hydrangeas, they would work quite well with this cloth too. The lushness of hydrangeas… you know, the balls of pink and white and blue against this grid- could be so pretty!
The grid effect of the check means there is a visual 'runner' down the center of the table and each setting is within its own set of squares. It's quite neat. The small check binding on the edges is something I love too. Such a nice, fun contrast.
The cloth is very 'Cabana'; pattern upon pattern.
The varieties of napkins on offer make options endless.
I think this check would also look great with more traditional fine china such as the Willow pattern. Blue and white on these pretty colours would work well!

Tina: Tell us about your decorating philosophy?
Lesley: It is becoming much more recycled.
I do like a live tree- the scent is gorgeous.
I am going to keep it pretty simple this year. I like to make my presents where possible.
I just don't overthink the decorations really at all- Christmas for me is about sitting around and eating delicious food with friends and family.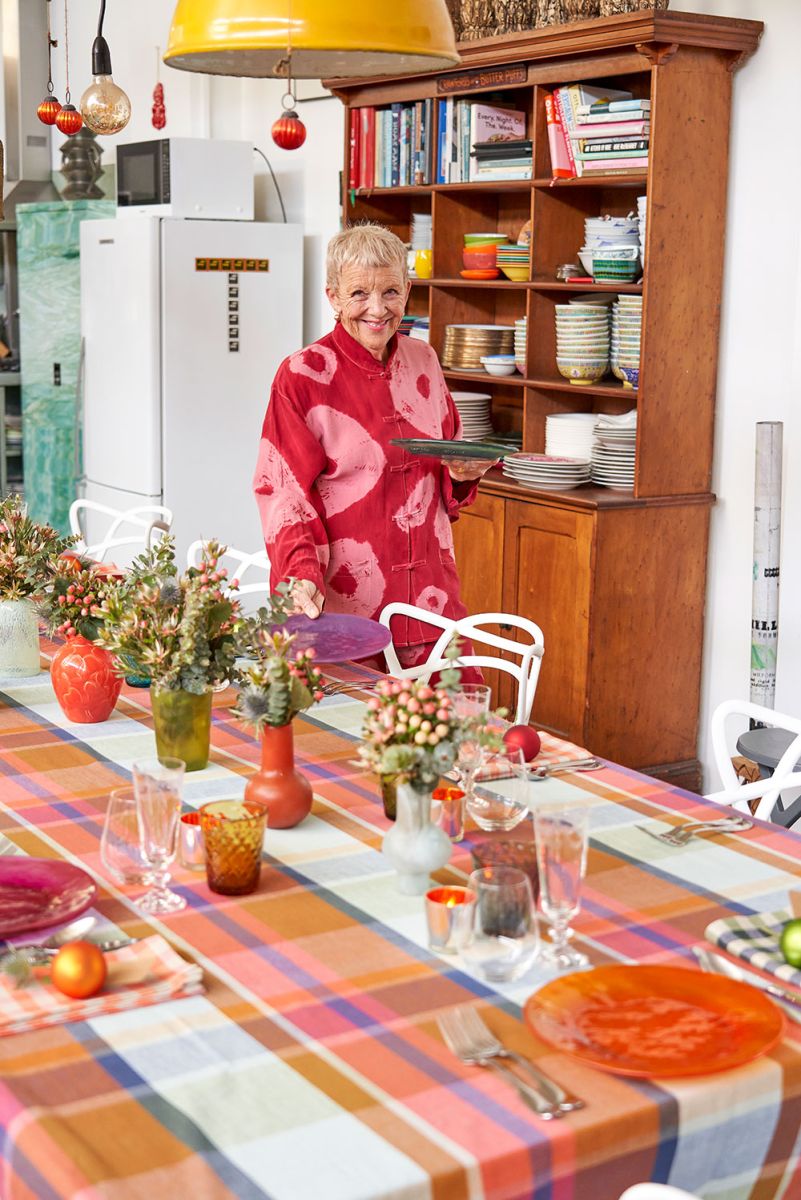 Tina: So what's the Christmas season like for you?
Lesley: I try to do something on Christmas eve with my neighbourhood friends.
I serve a big glazed ham with bread rolls, chutney and relish, oysters and a homemade fruit cake.

Christmas day is really with whichever family members are in town.

Tina: So it sounds like you have a string of celebrations over a period of days. What do you do with your table? Do you refresh it, or start from scratch with each event?
Lesley: Oh, different settings. Christmas eve is always a buffet.
Christmas day is a late lunch, about 3 pm so I have time after Christmas eve festivities, it is a sit down at the table kind of thing.
I usually do porchetta, gravlax, and Elizabeth David's summer pudding.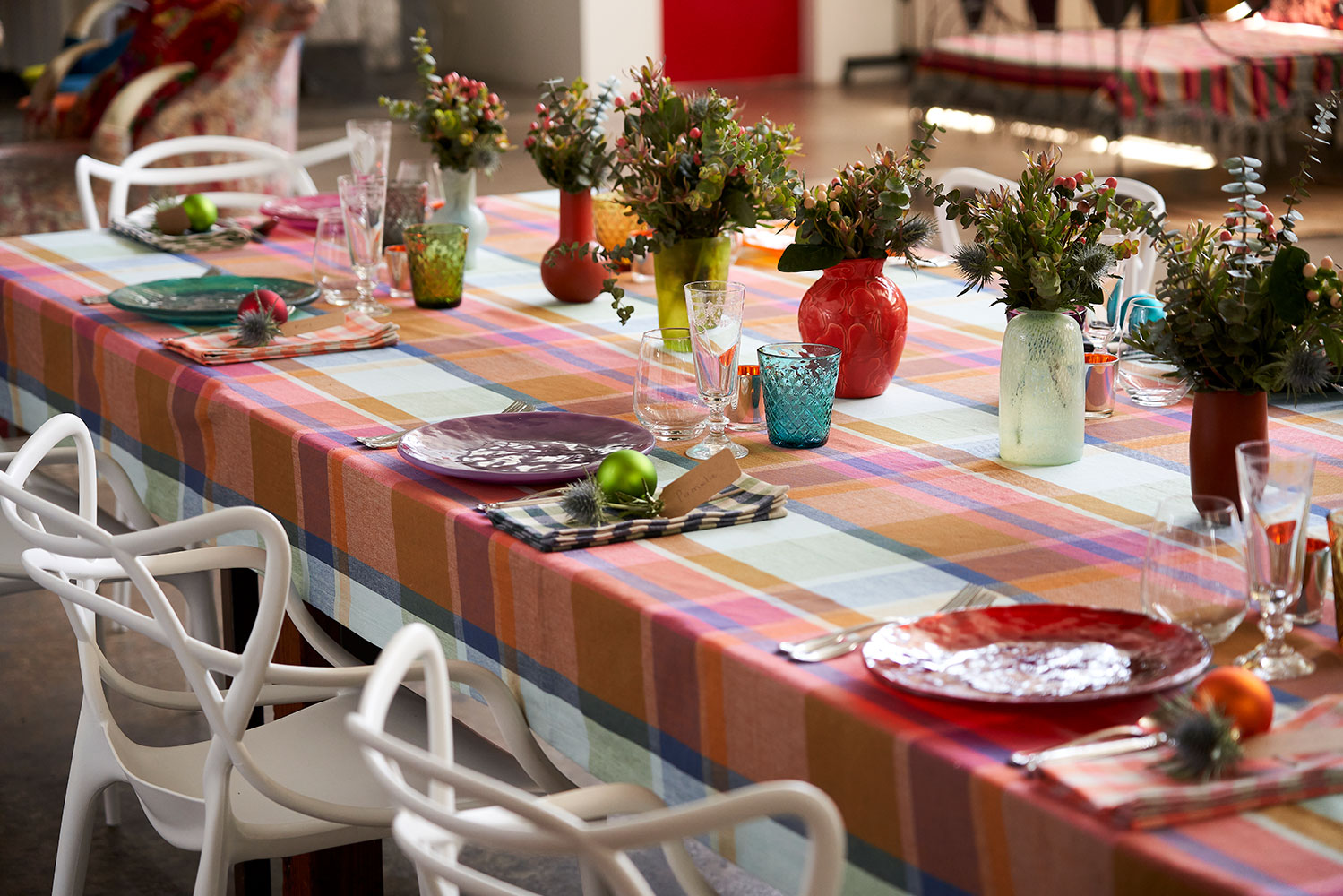 Tina: Paper napkins or cloth?
Lesley: Always cloth for Christmas. If I don't have finger bowls and I'm doing something messy like peeling prawns, there will be a stack of paper napkins handy.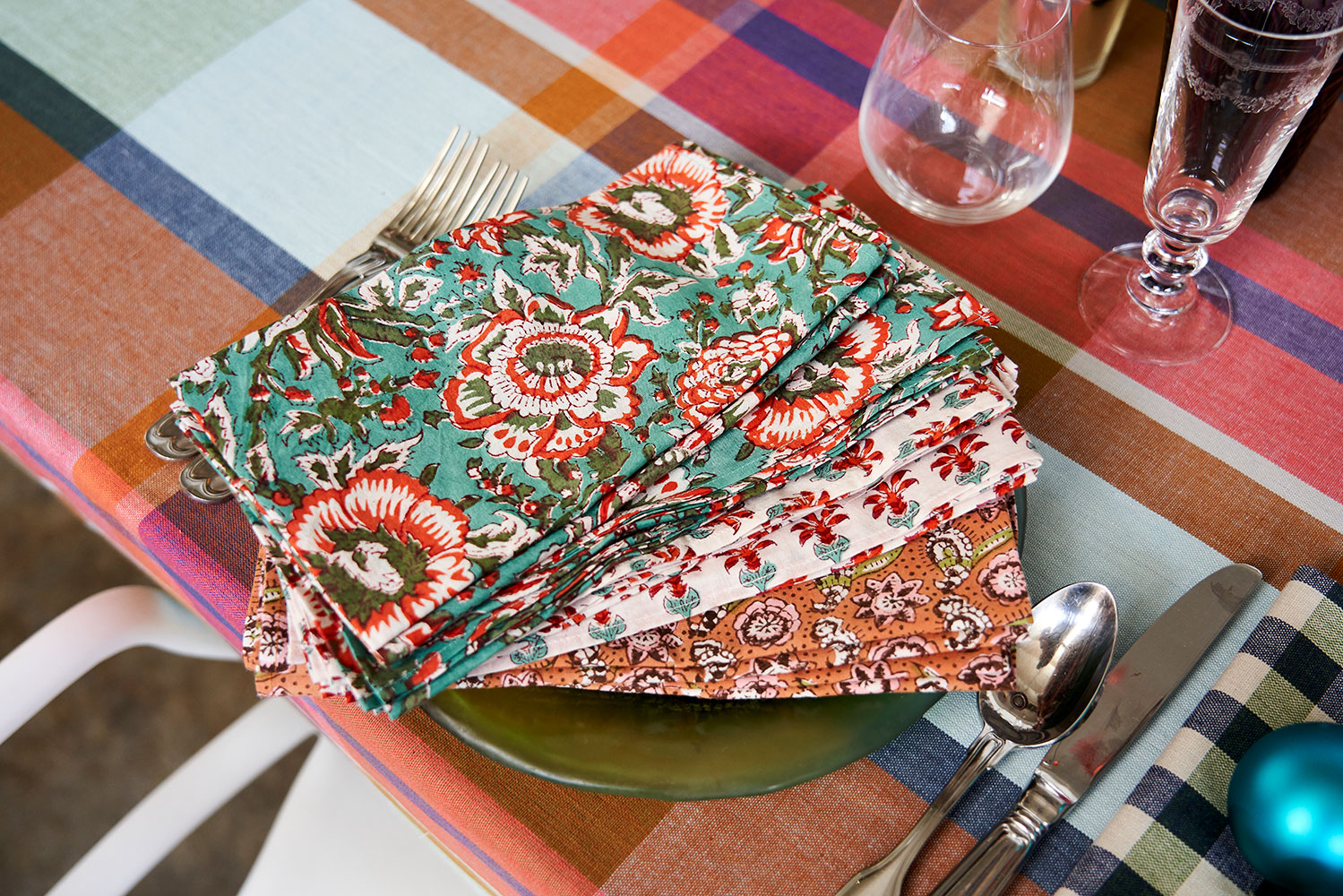 Tina: Does everyone bring a dish or you do it all?
Lesley: I love Christmas food and so I love to cook it. If anyone asked what they could bring I would probably ask for a box of cherries. My son Josh is usually in charge of the perfect Christmas cocktail.



Tina: Thanks Lesley for showing us into your beautiful space and sharing your Christmas table and ideas with us!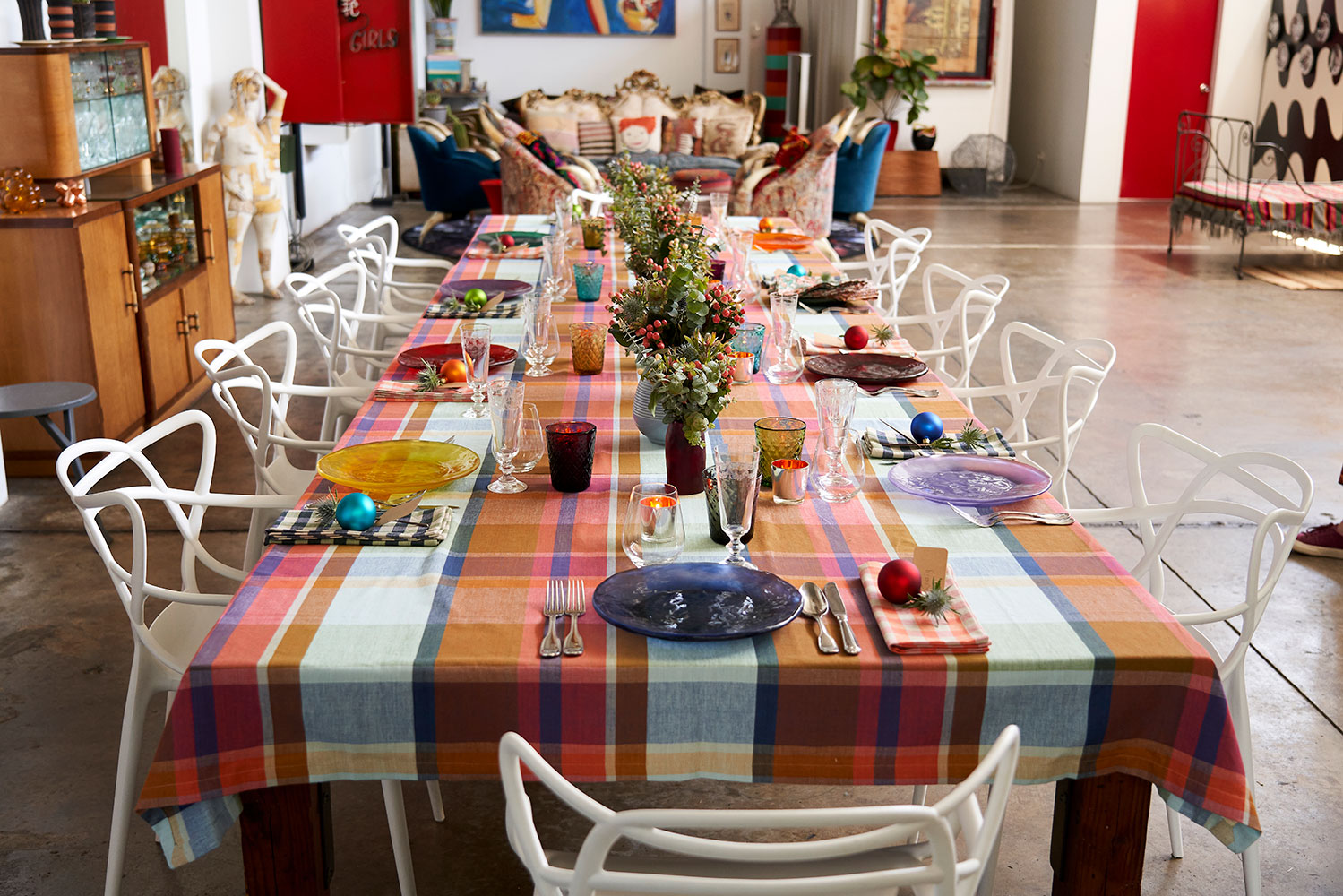 Lesley Crawford was chatting with Tina Gomes Brand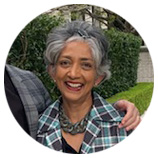 Tina Gomes Brand is a freelance writer who searches out all things creative from food and architecture to travel, fashion and interiors. Brand writes from a broad experience of interacting with various cultures and collaborating with creative people everywhere.
---
Leave a comment