Custom Bedheads & Bedding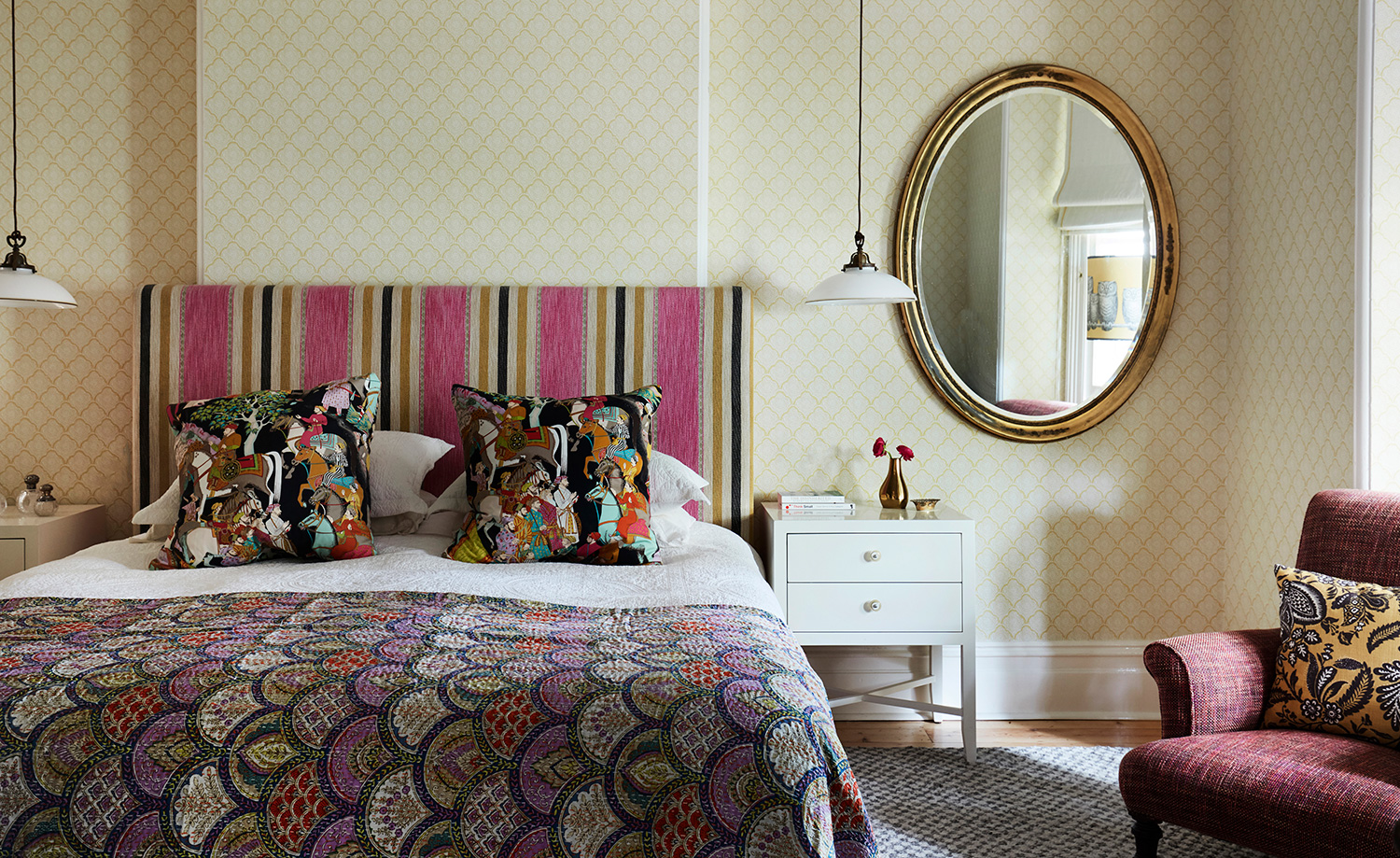 No Chintz manufactures a wide variety of custom bedheads and bedding for any mattress size.
Custom bed heads in the hands of a No Chintz expert can be almost anything, from square edged, semi-circled, pretty shaped, tall, or as over-the-top extravagant as you like. How a custom-made bedhead can look is a completely wide-open field.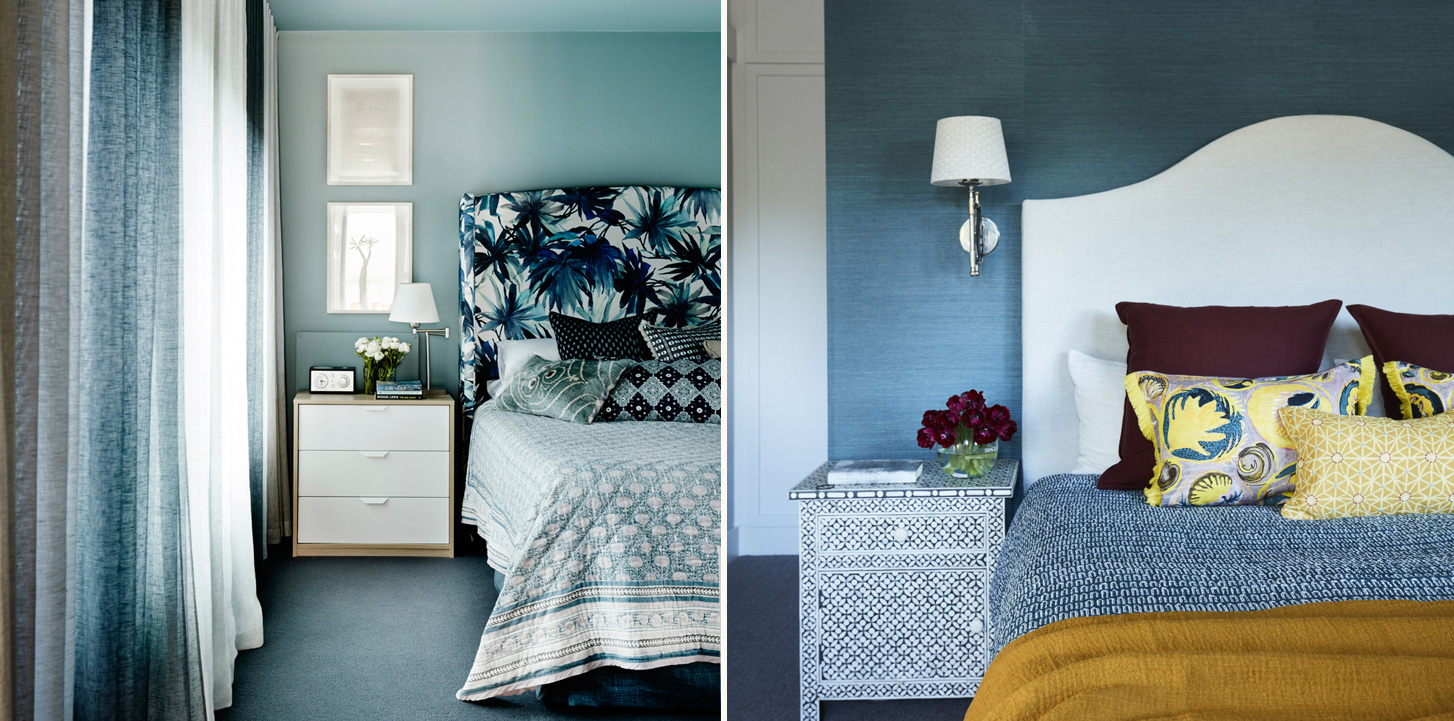 Upholstered bedheads can be matched or coordinated with custom bedding using the wide range of upholstery fabrics found at No Chintz. Or, you may prefer to have a set of prewashed linen slip covers; quick and easy changes for different looks in different seasons.
Bespoke bedheads can be padded and quilted, tufted or studded.…. bedheads can literally be anything you desire.
For an elaborate shaped custom headboard, No Chintz will begin by creating a template, to check the shape against the bed, to ensure the height is right and to get the proportions exactly right. The design is created to fit your mattress precisely and to suit the size of the room; it is entirely bespoke.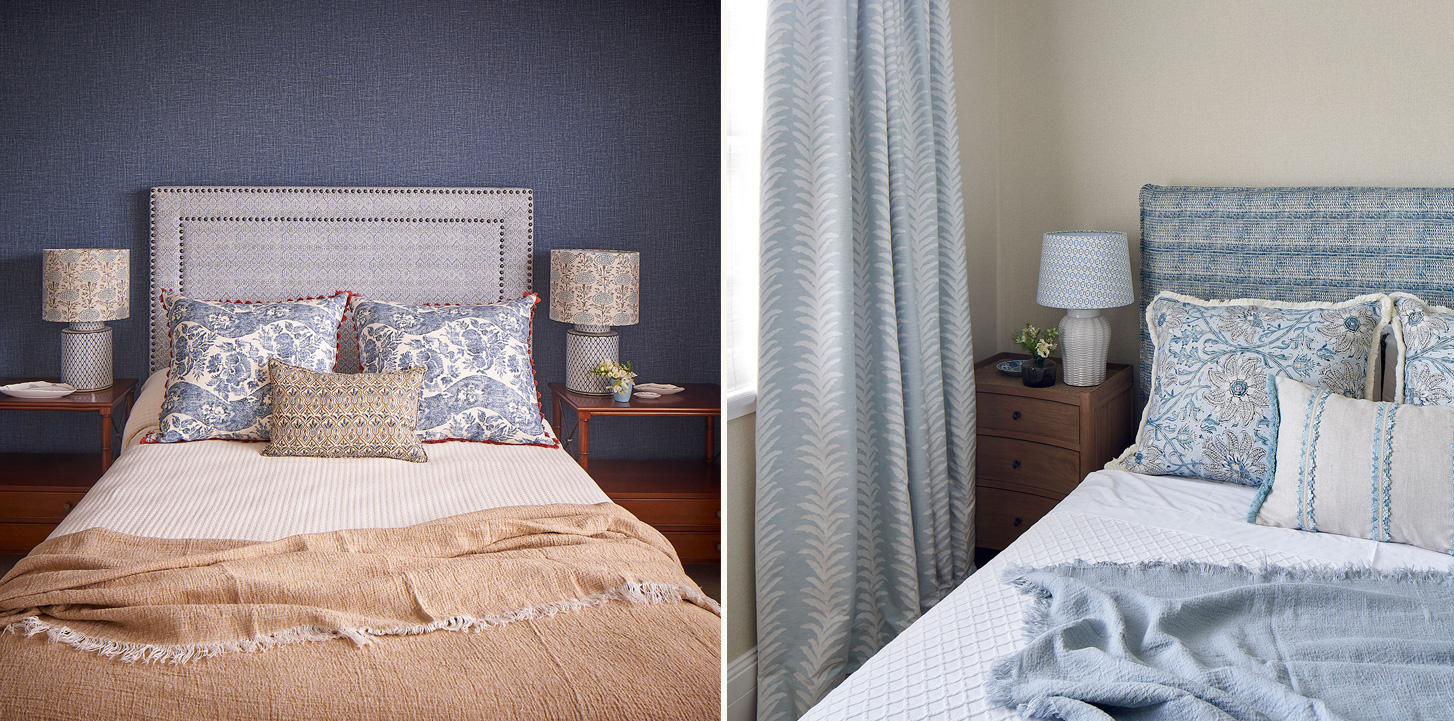 Why a custom bed? We are all built differently, and have different sleep patterns as individuals, and a bespoke bed can be designed to ensure maximum comfort; for instance, it can be made a lower height for a smaller person, or a bed can be custom made longer for the taller client.
Custom bedheads can be matched with a valance for the bed, or if desired, the bedhead can be paired with an upholstered base for the mattress to sit on. The look can be completed with bespoke bedding like a custom quilt for instance, of the same or complimentary fabric.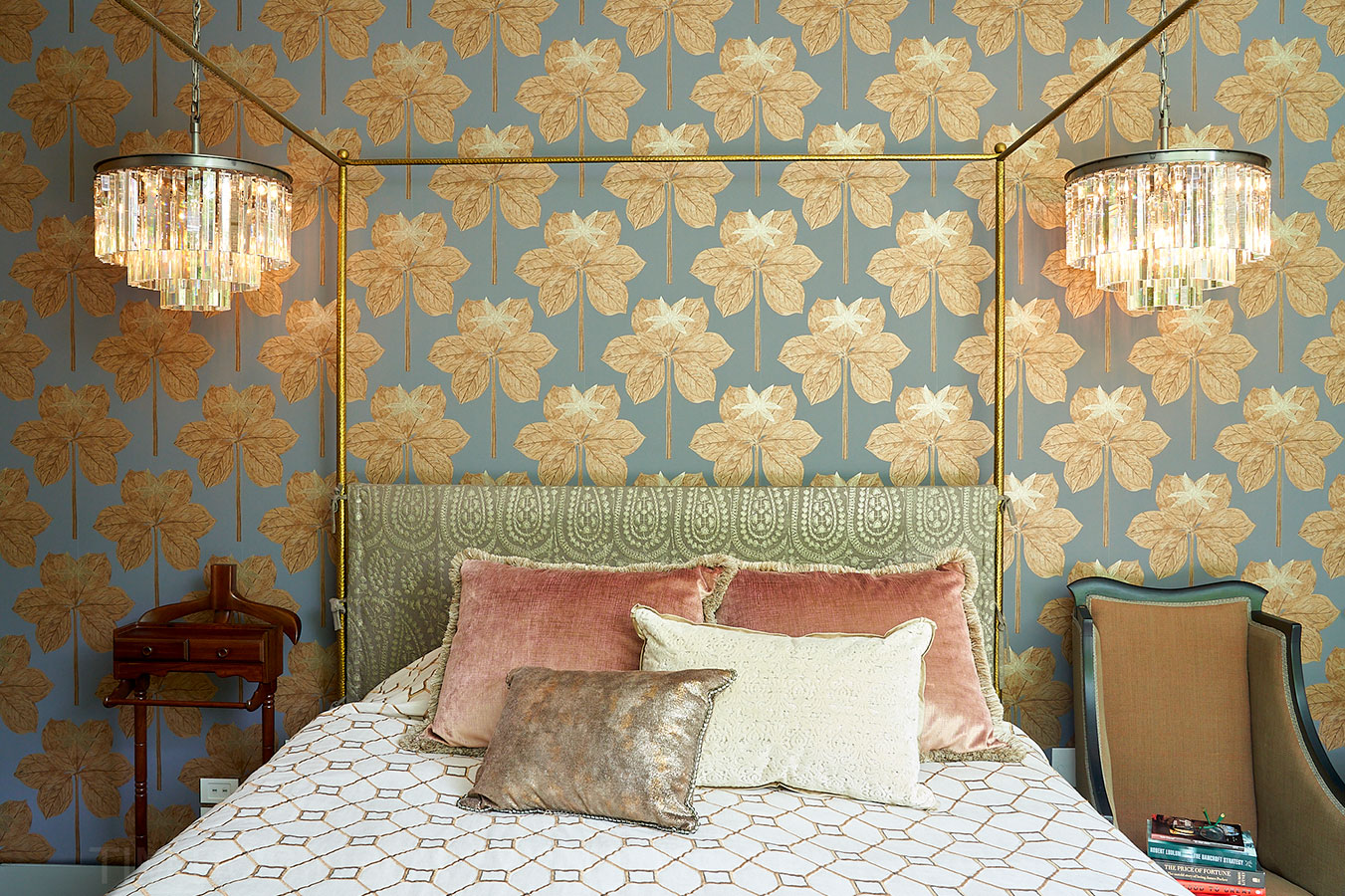 All bespoke No Chintz bedheads and bedding are manufactured in Sydney, and then delivered and assembled in your home.
A custom bedhead starts with a home visit, to measure and quote, to offer any advice or suggestions on suitable shapes, and fabric which might work best. If a client is not located within reach of one of the No Chintz stores, the designers can work from photographs taken of the existing bed and the surrounds. The final product can be shipped to you anywhere in Australia.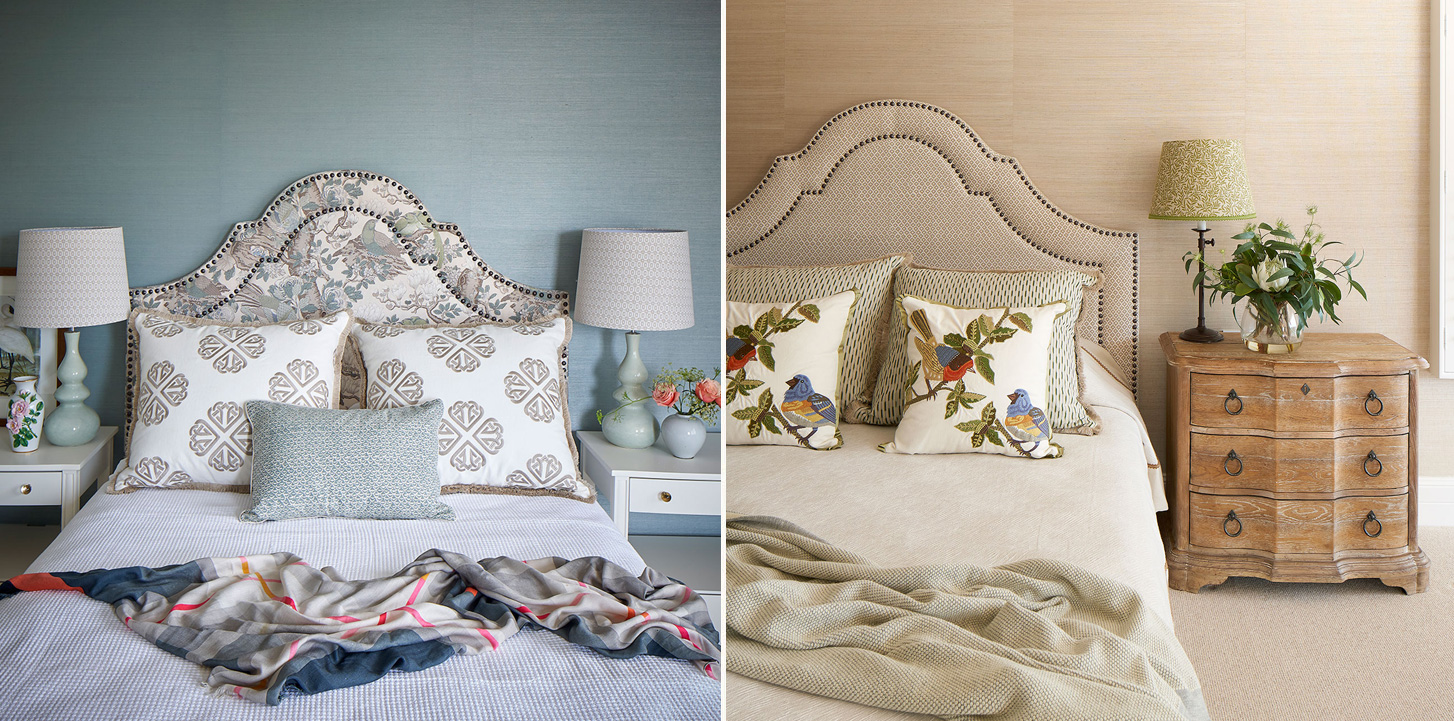 Custom made bedheads at No Chintz never start with parts sitting in a warehouse which are then brought into use. For a project everything is custom made from the start, and so once an order is placed, it can take six to eight weeks for the completed custom bedhead to be shipped or delivered for install. You can always be assured that custom No Chintz bedheads and beds are made to stand the test of time.
To discuss your custom bedhead and bedding needs, contact us today or complete our custom make enquiry form below.
You can also visit one of our Sydney fabric stores located at:
Mosman: Shop 6, 1-5 Mandolong Road, Mosman NSW 2088 - Phone: (02) 9969 7509
Woollahra: 123 Edgecliff Road, Woollahra NSW 2025 - Phone: (02) 9386 4800
Willoughby: 509 Willoughby Road, Willoughby NSW 2068 - Phone: (02) 9958 0257
Thirroul: 243 Lawrence Hargrave Drive, Thirroul NSW 2515 - Phone: (02) 4268 4963