Wall Colours and Wallpaper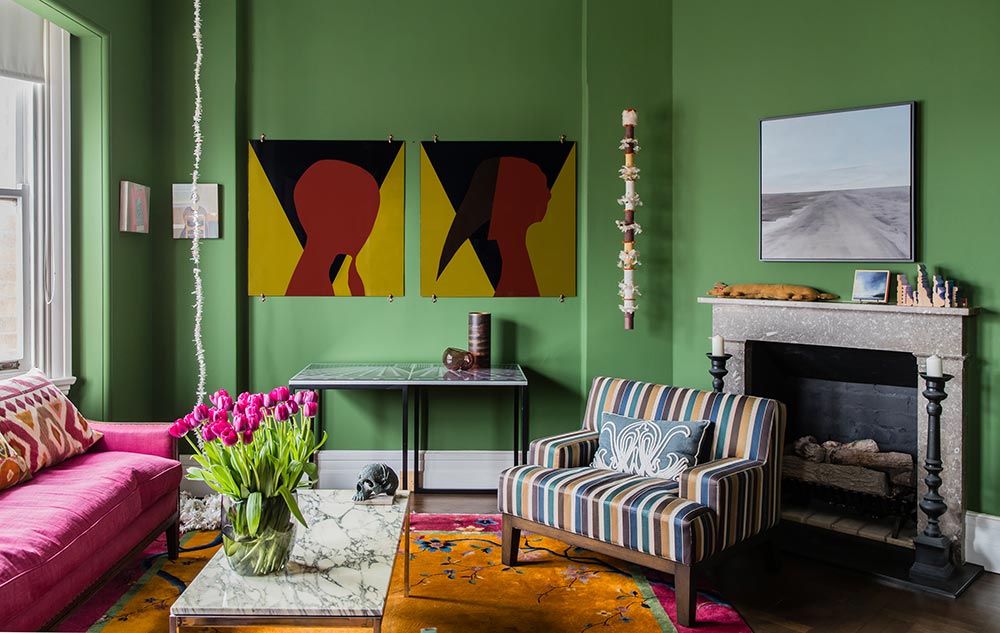 Wall colours is a particular No Chintz passion, in a country which has a romance with whites and neutrals. Colour on walls can enhance your light.
White is an easy option for sure, because once you've picked your shade of white, there's the end of the thought.
A wall colour selection means so much more involvement, in terms of how it relates to the rest of the house, how it flows into other spaces, and what the light in the house like, what the rooms are used for, consideration of all the existing furnishings and how well they go with the choice of wall paint.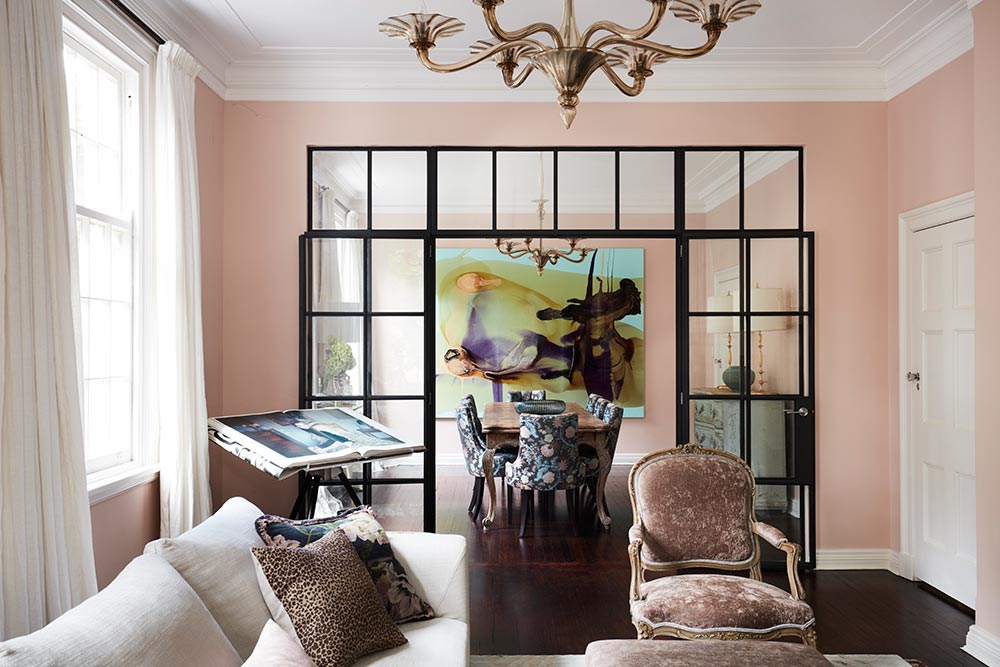 There is a synergy and a great deal of thought that goes into the balance of interior wall colours: so in actual fact, it is a tricky proposition choosing a colour as opposed to panting the walls white. White walls can have quite a noisy effect, being bright and light, they can jump out at you. A colour on the other hand, can be soothing, holding the room down gently and gracefully. Colours don't always need to be bright: they can be soft and deep; they can even be different shades of neutral. It is fun to have at least one room with colour.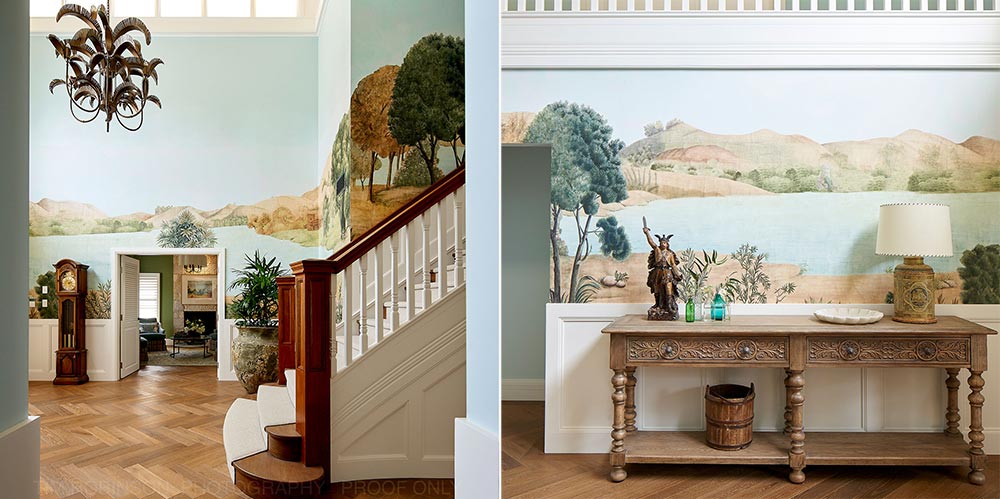 This is where a wallpaper can come into use: if you have a room on your hands which has no personality, say a guest room, a wallpaper is a lovely solution. Pick a paper which speaks to the rest of the house and bring some personality and warmth into the room.
There's been in a time in our lives where wallpaper was not what we regarded it as today. In the early years, the selection was small, and consisted of flocked and textured wallpapers, dull colours and patterns.
Mid-century modern style brought new sensibility, with bolder designs and the use of grass cloth. Something that's never gone out of style.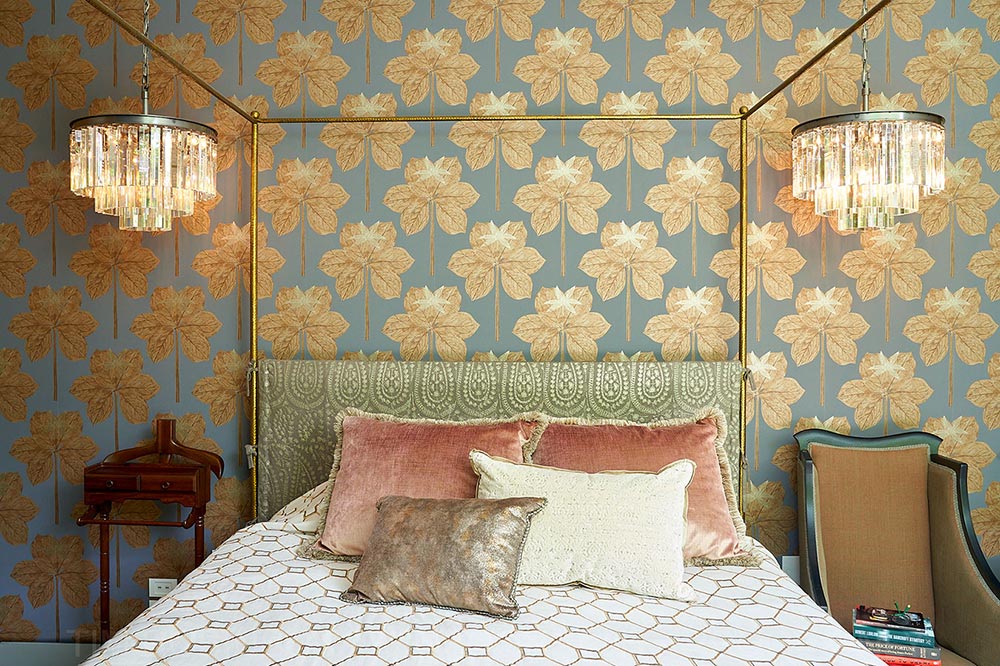 When working on your home's colours, do chat with a No Chintz decorator. We can help you figure out your comfort zones with colour and introduce you to interesting ways of expressing them in your home. If you have a friend who is an artist, chat with them too!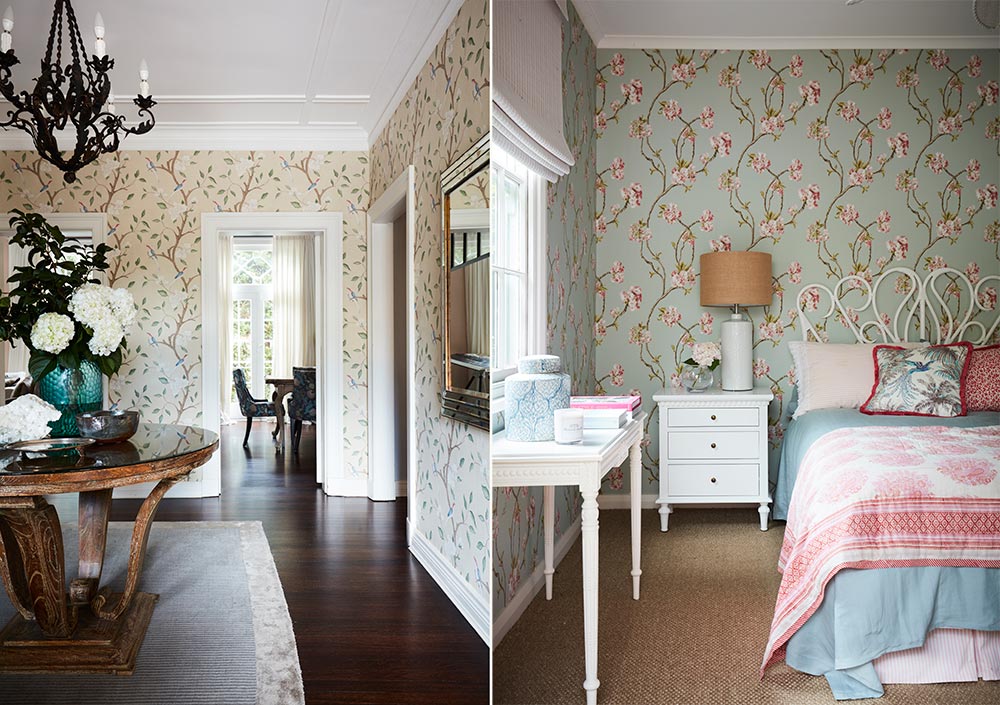 Designer wallpapers today are fun and versatile, easy to clean and install. But if you are still hesitant about using a wall covering in your home, a powder room or a guest bedroom is an ideal starting point, or a child's bedroom or a study; a room where you spend less time in.


No Chintz is not a fan of the 'one wall feature' for wallpaper, but much more geared to covering the whole space. Unless the wall is an architectural feature of some kind, and it is being highlighted with a wallpaper, it is generally a better idea to paper a whole room.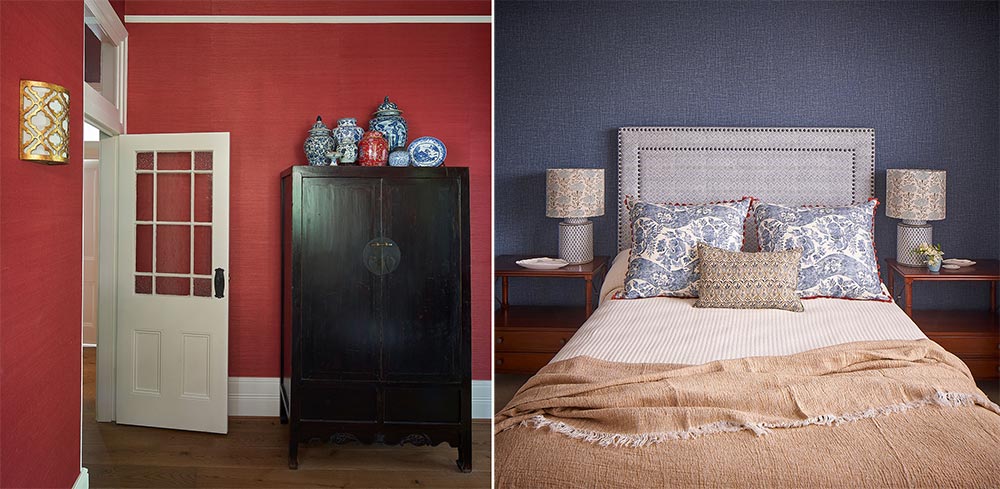 A common misconception is that interior wallpapered walls do not work for hanging art. It really depends on your style but taking good advice from the interior decorating experts will ensure you achieve a satisfying result between artworks and wall pattern, which is unique to your style and home. Call us to discuss, complete our custom make enquiry form below or visit your nearest No Chintz Sydney Textiles and Soft Furnishings store below:
Mosman: Shop 6, 1-5 Mandolong Road, Mosman NSW 2088 - Phone: (02) 9969 7509
Woollahra: 123 Edgecliff Road, Woollahra NSW 2025 - Phone: (02) 9386 4800
Willoughby: 509 Willoughby Road, Willoughby NSW 2068 - Phone: (02) 9958 0257
Thirroul: 243 Lawrence Hargrave Drive, Thirroul NSW 2515 - Phone: (02) 4268 4963