Throw Cushion Tips & Trends
Date Posted:20 March 2023
In our latest article, Chrissie talks in depth about current and emerging cushion trends and shares some fail safe throw cushion tips.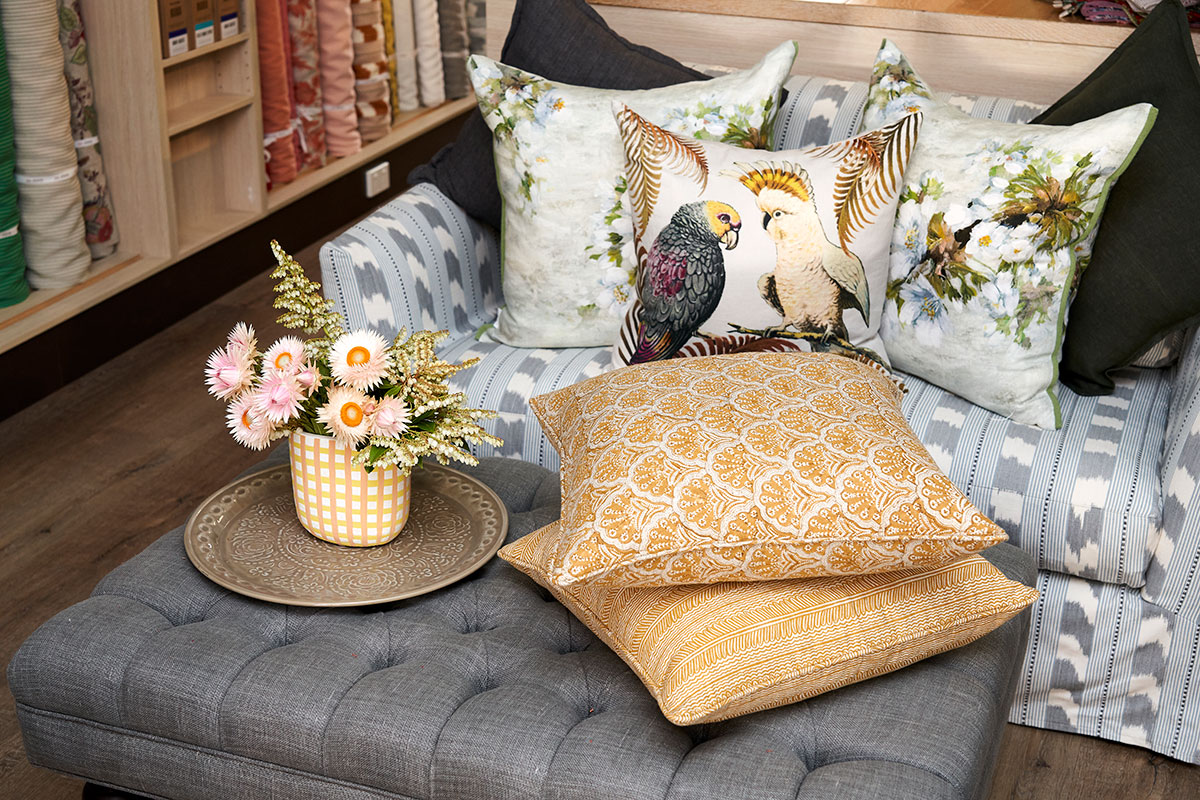 Chrissie and I caught up and our conversation turned, as it often does, to interiors and tips about decorating. We talked this time in some depth about emerging cushion trends as well as some fail safe tips. Here's what Chrissie had to say:

Tina: Hi Chrissie, what is the purpose of cushions in the home exactly?
Chrissie: Hi Tina. A throw cushion or pillow is a way to bring comfort and an aesthetic quality into your interior. They are wonderful for bringing in new colours and looks that may be fashionable.
If you are unsure about a colour or have observed colour trends and you are feeling undecided, a cushion is an easy, movable or removable test. It is a clever way of experimenting with any design trends without permanently investing in them until you feel quite sure.
Let's face it, we are almost never working with a brand new interior from the ground up; we are working with our existing pieces that are dear to us, different elements of what we already own, and from time to time we want to bring it all up to date by adding connecting pieces.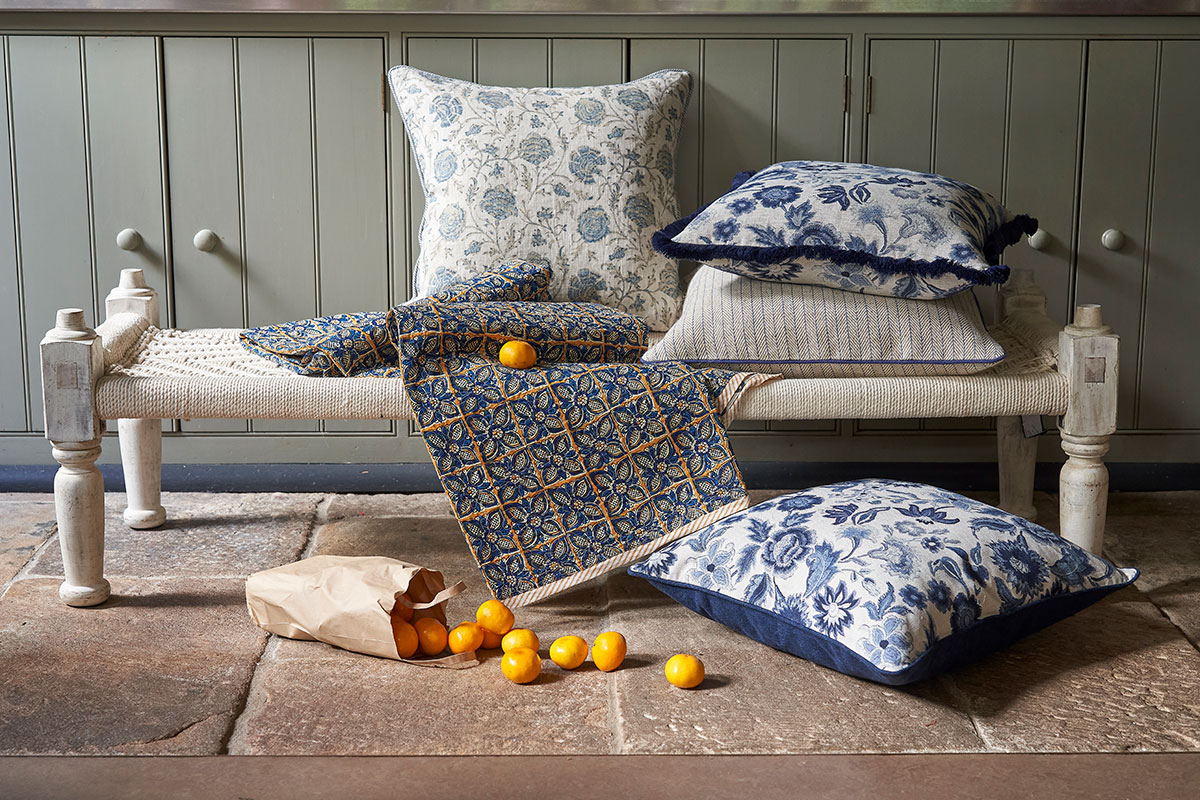 Tina: Tell us how cushions relate to furniture, rugs and wall colours.
Chrissie: Cushions take elements of colour from a room and tie them into existing furnishings. For instance, let's say you have a large white linen sofa and a couple of patterned armchairs. Adding a couple of cushions in a related pattern or colour would help to create harmony between the sofa and the chairs. Or you can pick out the colours in the rug and chairs and use them as a solid colour or texture in cushions back onto the sofa.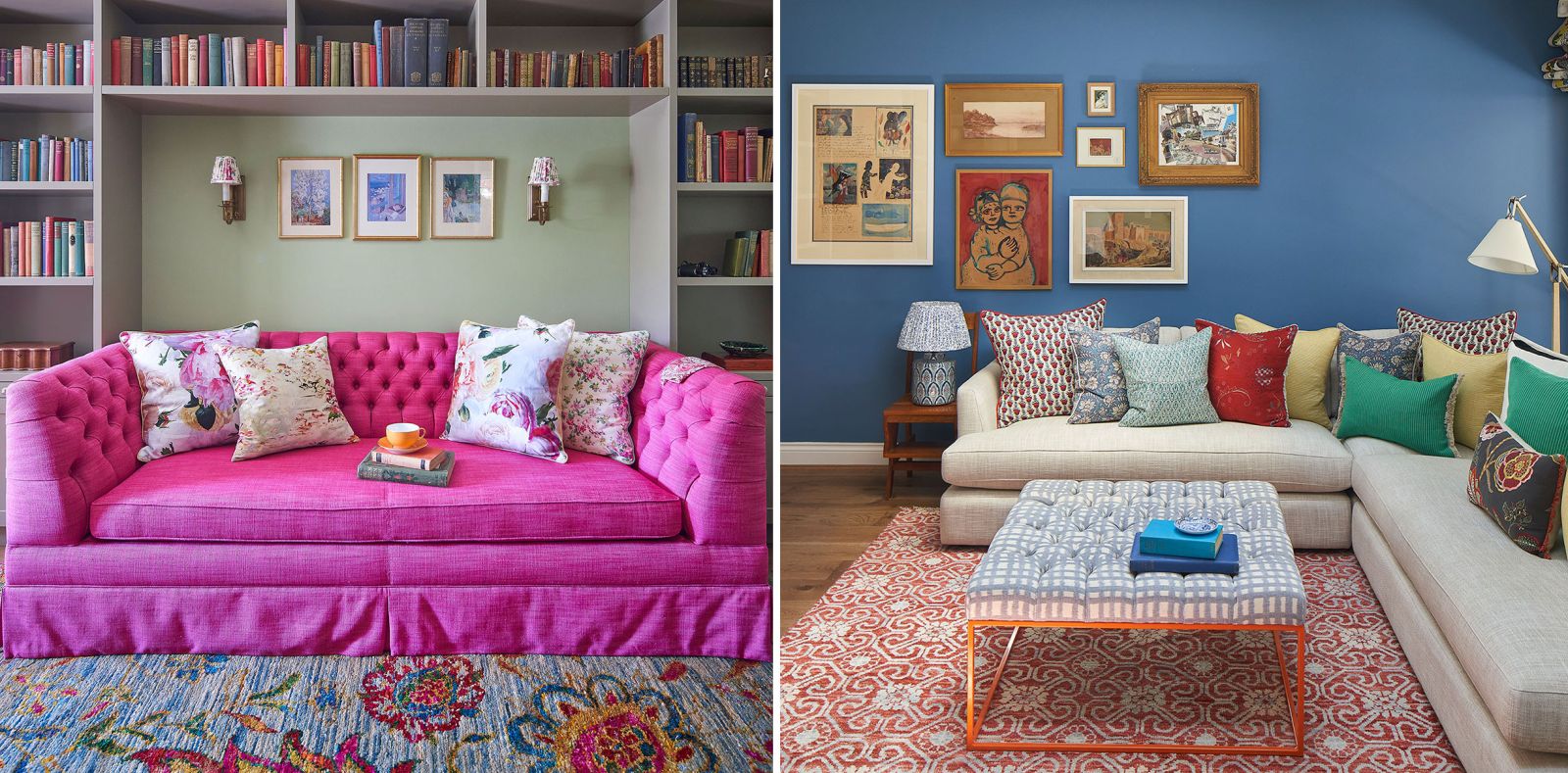 Tina: Can you please talk about the inserts for cushions?
Chrissie: There are even trends of fillings in cushions. Recycled polyester inserts from PET bottles are very popular and they are good if you have allergies to natural fillings or want something a bit more rugged for the patio or verandah. However, they flatten over time, they cannot be recycled and it takes many centuries for them to break down in the environment. Then there are those of us who like their cushions soft and squishy. Feathers, down or wool are more natural fillers and provide a softness to cushions. They also break down naturally for recycling purposes. I love a feather down mix myself, there's no better feeling than sinking into a good feather pillow.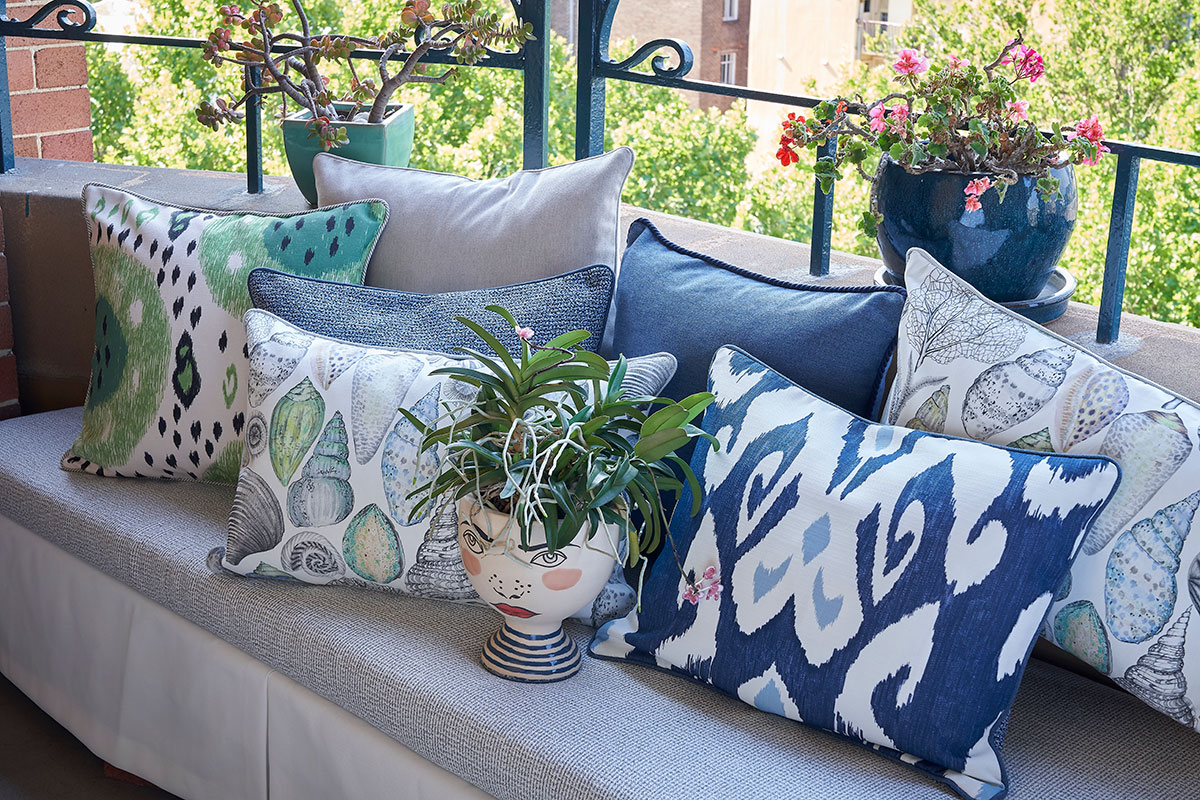 Tina: What are the trends with shapes of cushions?
Chrissie: For the bed, the current trend is to have a long single hero cushion that is 75x45cm. We even have clients wanting them larger.
The round boulder ball is also popular as well as a round cushion with a walled edge.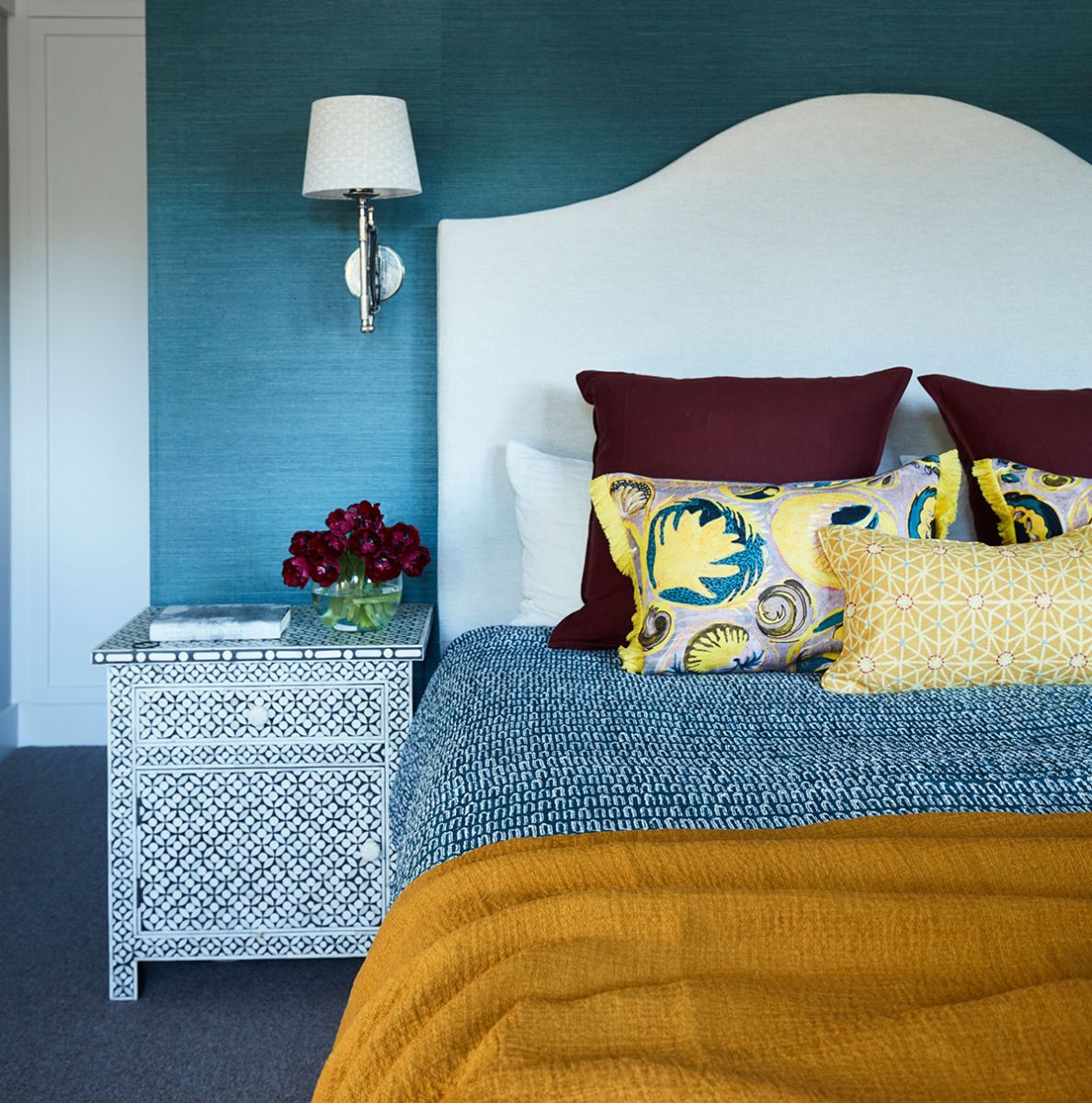 Tina: What is the forecast for popular cushion fabrics?
Chrissie: The trends in fabrics for cushions include linens and velvets and often a combination of the two.
There is a big movement to graphic prints and also a rise in very rich patterns. House of Hackney is a company which does the rich neo-Victorian perfectly. Starting in England and spreading over America, it is a style which is very present on the scene right now. Indian block prints on linen are very appealing to the Australian householder, think Walter G. We are seeing big luscious flowers, think Designers Guild or Bonnie & Neil. Lucy Montgomery also does a fabric in a crisp stripe.
Trims on cushions are very big. Double trims, ruching, long fringes and braids are what our clients are currently requesting.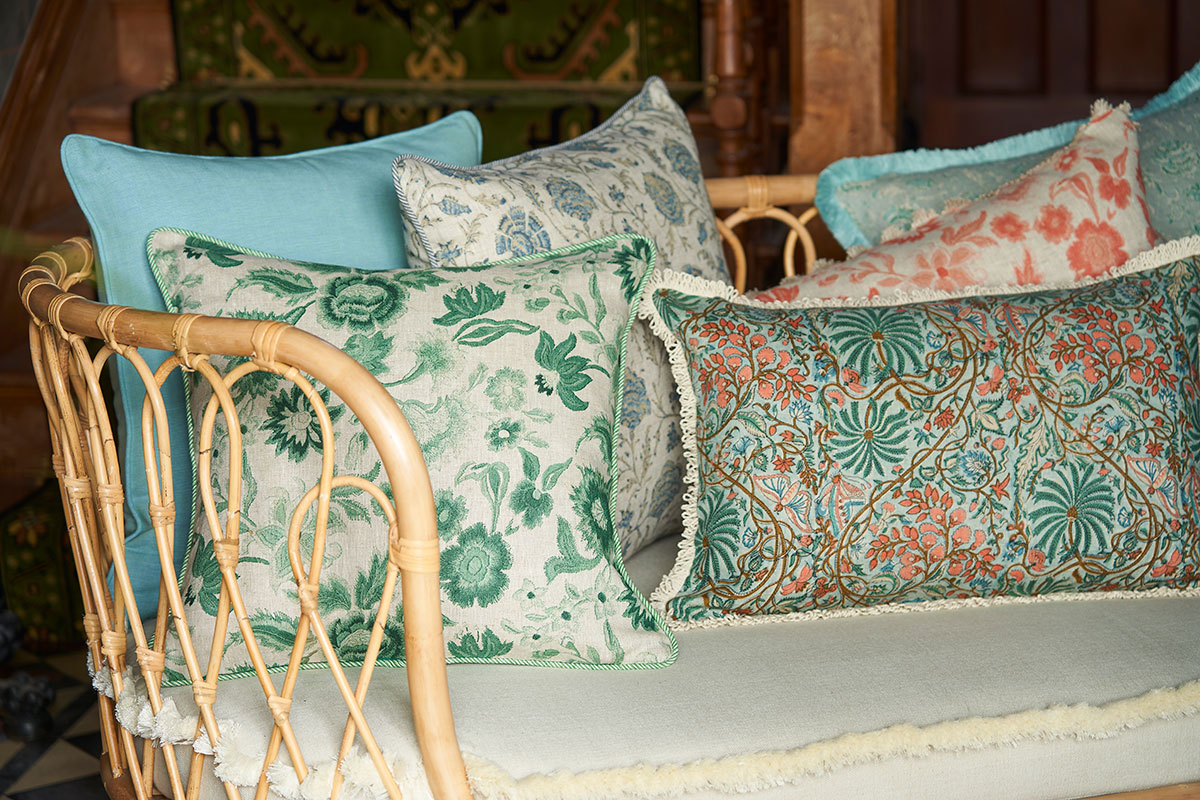 Tina: Where does No Chintz come in to assist the home decorator?
Chrissie: No Chintz is at the forefront of the best possible cushions because we can make your very own bespoke design and size. We also have curated selections of world renown designers doing their own cushions, like Walter G, William Yeoward, Ralph Lauren and Designers Guild.
For advice or to view our range of cushions, visit our website or your nearest No Chintz store at Willoughby, Mosman, Woollahra or Thirroul. Be sure to bring photos of your interior and cushions you already own so we can curate a cushion collection to your style and space.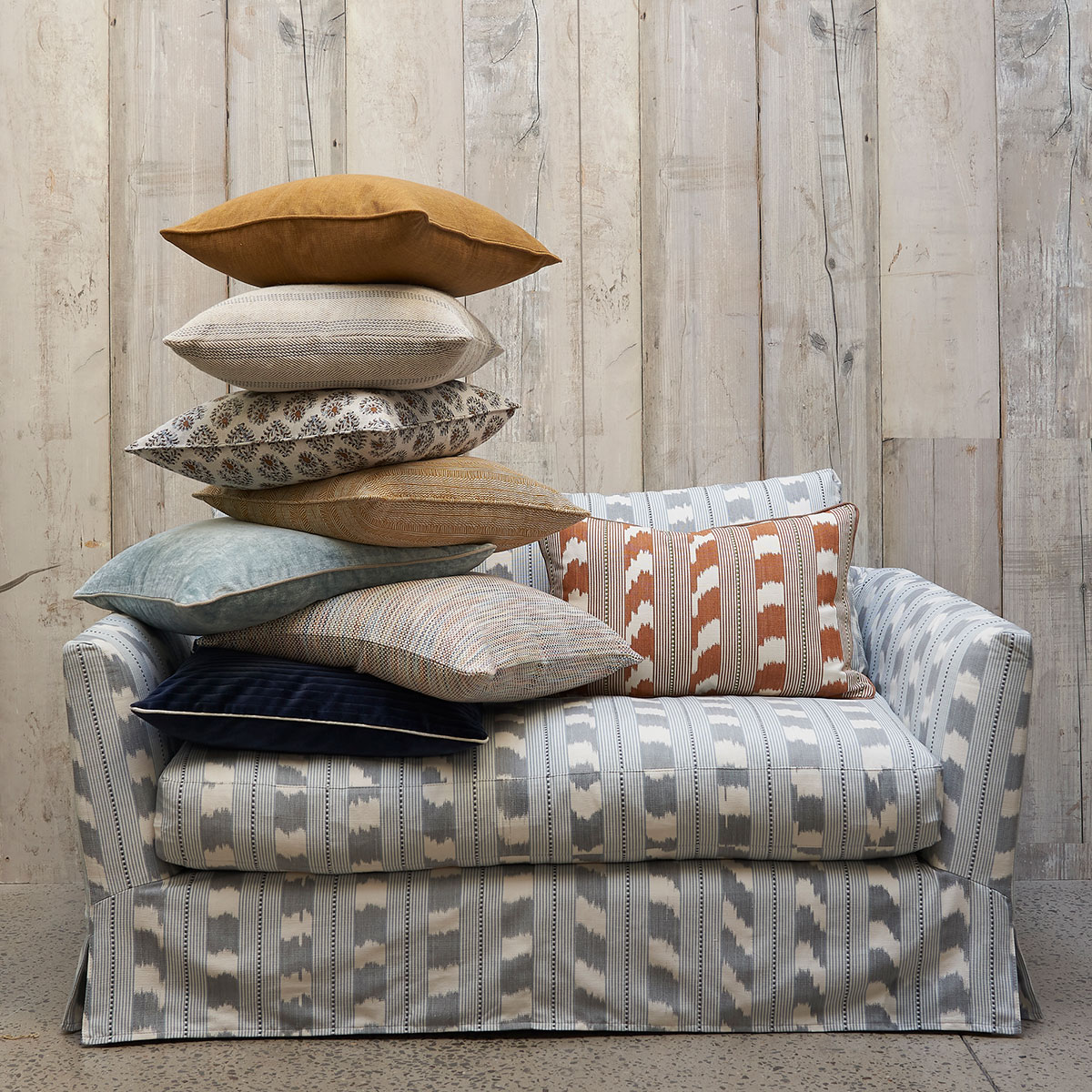 Chrissie was chatting with Tina Gomes Brand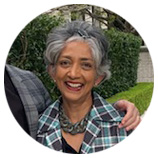 Tina Gomes Brand is a freelance writer who searches out all things creative from food and architecture to travel, fashion and interiors. Brand writes from a broad experience of interacting with various cultures and collaborating with creative people everywhere.
---
Leave a comment