What is the design process for your exclusive No Chintz fabrics and trims?
Date Posted:16 September 2019
In this post Chrissie talks with Tina Gomes Brand and shares the design inspiration and process for our exclusive No Chintz fabrics and trims.
Chrissie was busy at work in her airy warehouse studio in St. Peters recently. Treading carefully around piles of antique woven blankets, tasselled shawls and jewel toned swatches, I asked her:

Tina Gomes Brand: Chrissie, what is the design process for your beautiful bespoke fabrics at No Chintz?
Chrissie: I start with something I'm intrigued by- perhaps a traditionally woven woollen shawl. For instance, I was fascinated by the fringing on this shawl here, and started the conversation with my Indian collaborator about trying to achieve a tassel like it. At first, as often happens, he thought it was too difficult, and expensive to produce, but with some coaxing and encouragement, we came up with someone who could hand knot the tassels with a very similar outcome.
Then perhaps the more muted colours and stripes of the original are expressed in what are good seasonal colours for our Australian aesthetic. I leave alone all the intricate woven geometry of patterning which is not mine, but elevate the essence of amazing traditions to a modern palette and design.
I pay tribute to tribal weaves and designs, rather than lift exact patterns, which in actual fact the tribes have ownership of.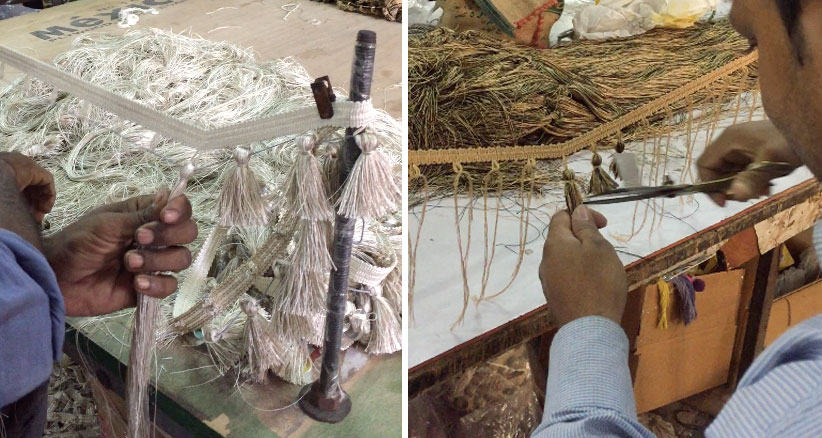 TGB: You are based here in Sydney and your collaborators and factory are in India. How do you communicate to make it all work seamlessly with the outcomes you are looking for?
Chrissie: (chuckles) Well, much can be lost in translation! So I visit India regularly and try to be as hands on as possible. At this charming compound in a heritage listed complex of buildings, I work with the owner and his weavers and dye masters until we're confident the weavers and dyers are able to produce what we've discussed.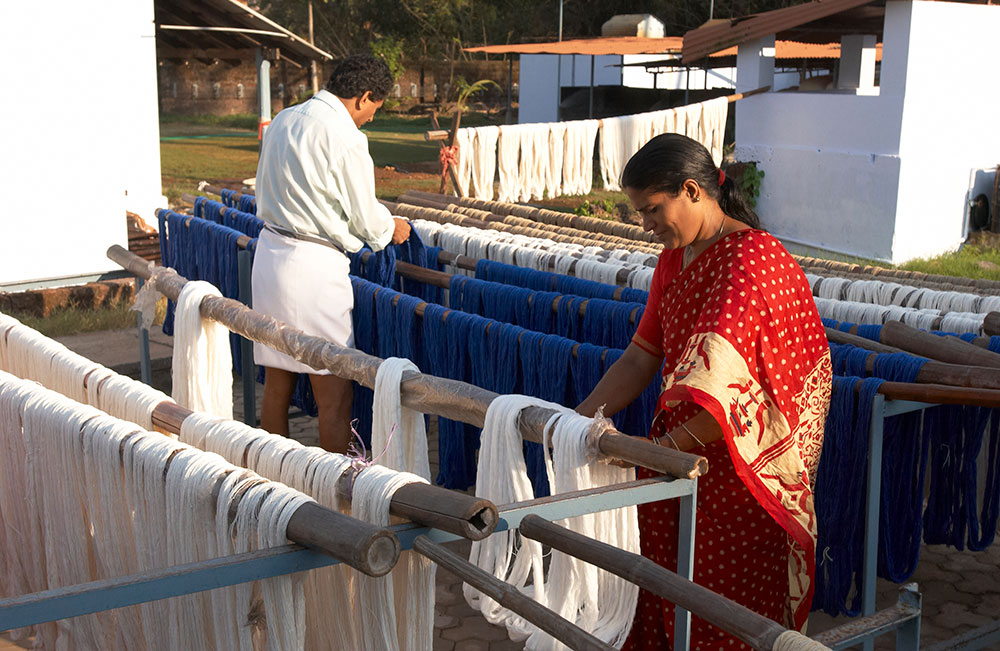 TGB: You have four stores in New South Wales though, and clients to service…
Chrissie: Yes, exactly. So I continue the process with my Indian collaborators from back here in Sydney. Once we decide on various colourways while in India, I am back here with all my sample yarns and then we start the process of tweaking samples which get sent back and forth. Sometimes it will go back and forth a few times before I'm completely satisfied. It's got to be right. Over the years, we've found efficient ways of communicating. I use yarn swatches and draw up what a blanket, for instance would look like; the thickness of stripes, and so on.
TGB: How can you be sure that your colours match up exactly with what's produced in India?
Chrissie: Well, that's a good question! Every time I'm in India, I return with a big box of all the latest colour swatches of yarn from the factory's dye master. So I'm actually using their own coloured yarns to design anything. The way we've worked it out is pretty fool proof- I send them the yarn I've chosen affixed to the design I've worked on, and that means very little room for error.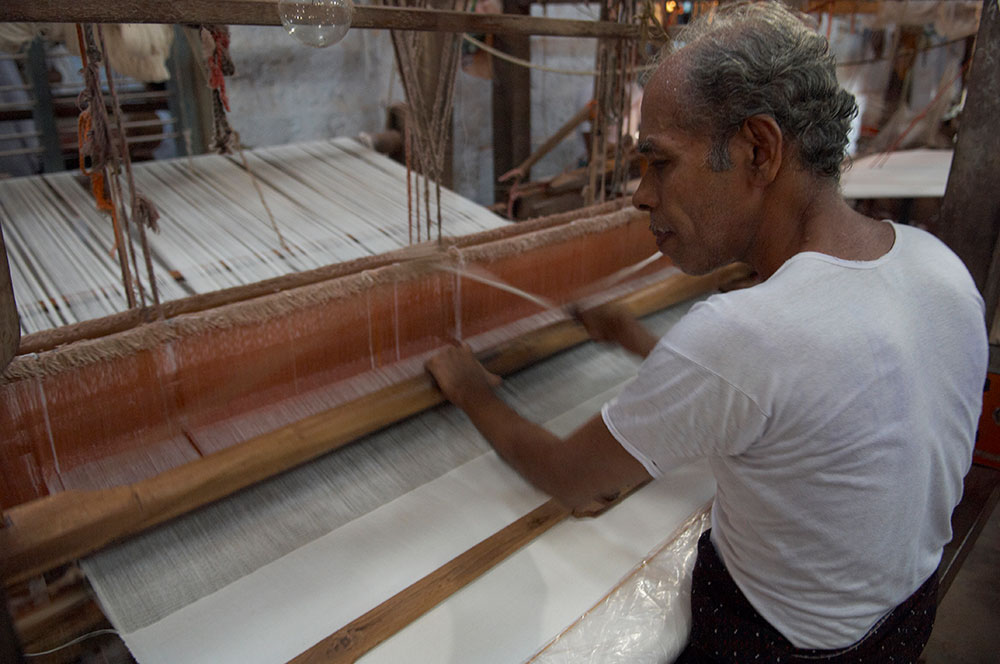 TGB: It sounds pretty challenging, getting it exactly right!
Chrissie: Let me tell you, it can drive me slightly crazy, also because the monsoon season and the dry season can produce a completely different colour effect on what's being woven. Production is in old buildings without air conditioning, open windows and so naturally the climate has quite an effect on what's being made. For instance, weaving whites in the monsoon is fraught with danger as you are susceptible to moisture stains, and the fabrics can take on a yellow tinge. All our whites are produced outside of the monsoon seasons.
By the same token, moisture in the air is a good thing for cotton weaving as it makes the weave strong and taught.
TGB: We've talked about colour in the design process, now give us a glimpse of how you design patterns for your fabrics Chrissie?
Chrissie: I'm not one of those people who sits down and something pops into my head. I play around with colour, come up with patterns, take inspiration from everything I see and experience. I am thinking of design constantly. It doesn't always hit the mark right away of course.
I go to the factory in India, I sit in my office and I work solidly. There are no phones, just a desk, and my list of what needs topping up or filling out in the collection. I go in at 9 am every morning and work solidly until 6 pm each day.
I am always looking for texture.
Weaving is such an ancient tradition – what is it, forty thousand years old? So in a way, there is no ownership of it. It is just how you colour it or move the threads on the looms to produce different outcomes.
Bottom line is that I do not want my fabrics to come out of a lab.
The noted German American textile designer Anni Albers predicted that fabrics of the future would originate from laboratories.
I'd like to think that a handful of us have faithfully avoided that trend. I want my products to be of the earth, and to be able to break down naturally when their time comes.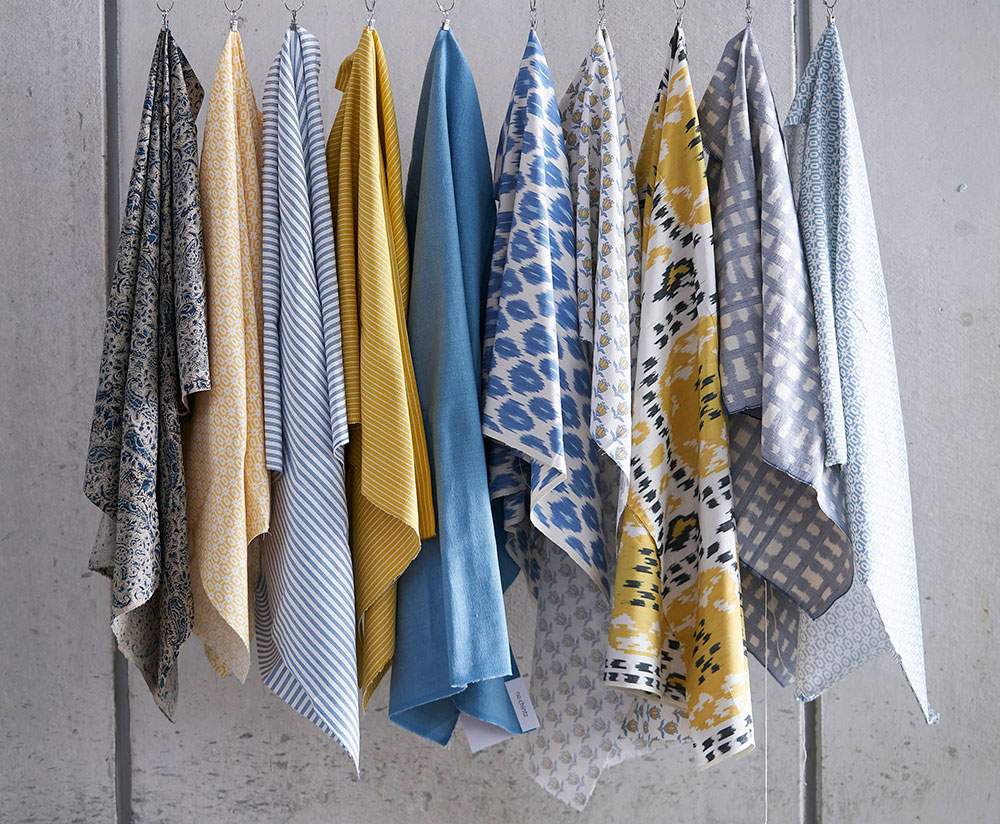 Chrissie Jeffrey was speaking with Tina Gomes Brand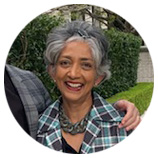 Tina Gomes Brand is a freelance writer who searches out all things creative from food and architecture to travel, fashion and interiors.
Brand writes from a broad experience of interacting with various cultures and collaborating with creative people everywhere.
---
Leave a comment