Get Set for Summer Entertaining with our new Napery Collection
Date Posted:1 November 2022
In our latest article, Chrissie shares what inspired her colourful new collection of napkins, tablecloths and placemats.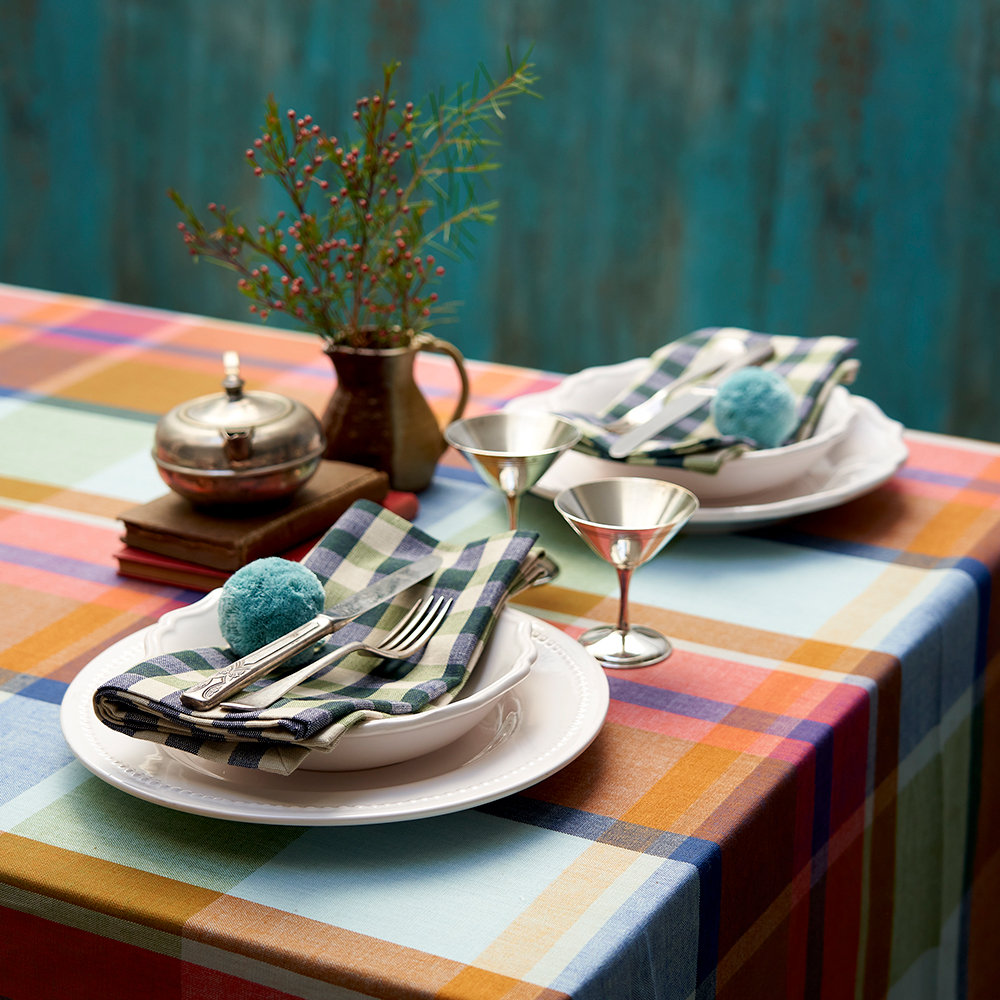 Chrissie and I had a quick catch up recently because as holiday items sneak into stores and online catalogues, one cannot help but think about the end of year gatherings up ahead. I was keen to find out what No Chintz has available for the festive season…
Tina: Hi Chrissie! Busy time, and I'm glad I caught you. Please tell us what you have in-store for the festive season?
Chrissie: Yes, we always have options for tablecloths, runners, placemats and napkins and this year is no different.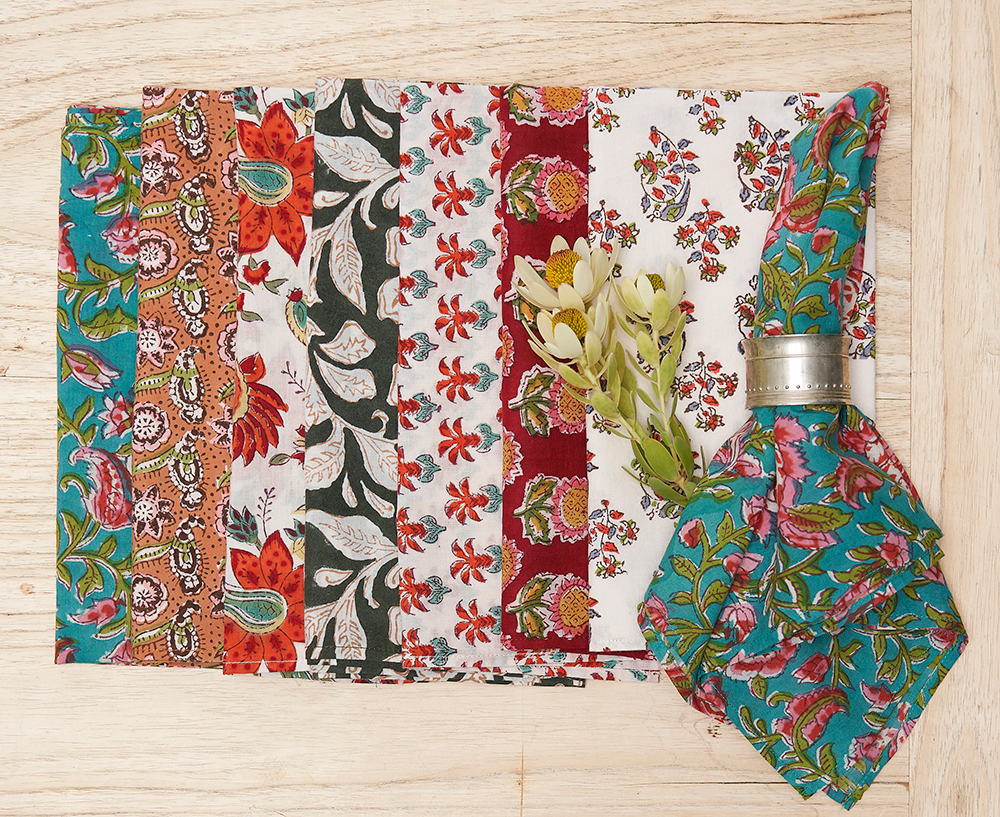 Tina: How have you decided on the themes for this year?
Chrissie: More and more we find ourselves moving away from the red and green themes, creating our own unique colourways which are lighter and brighter, to suit the season we're in.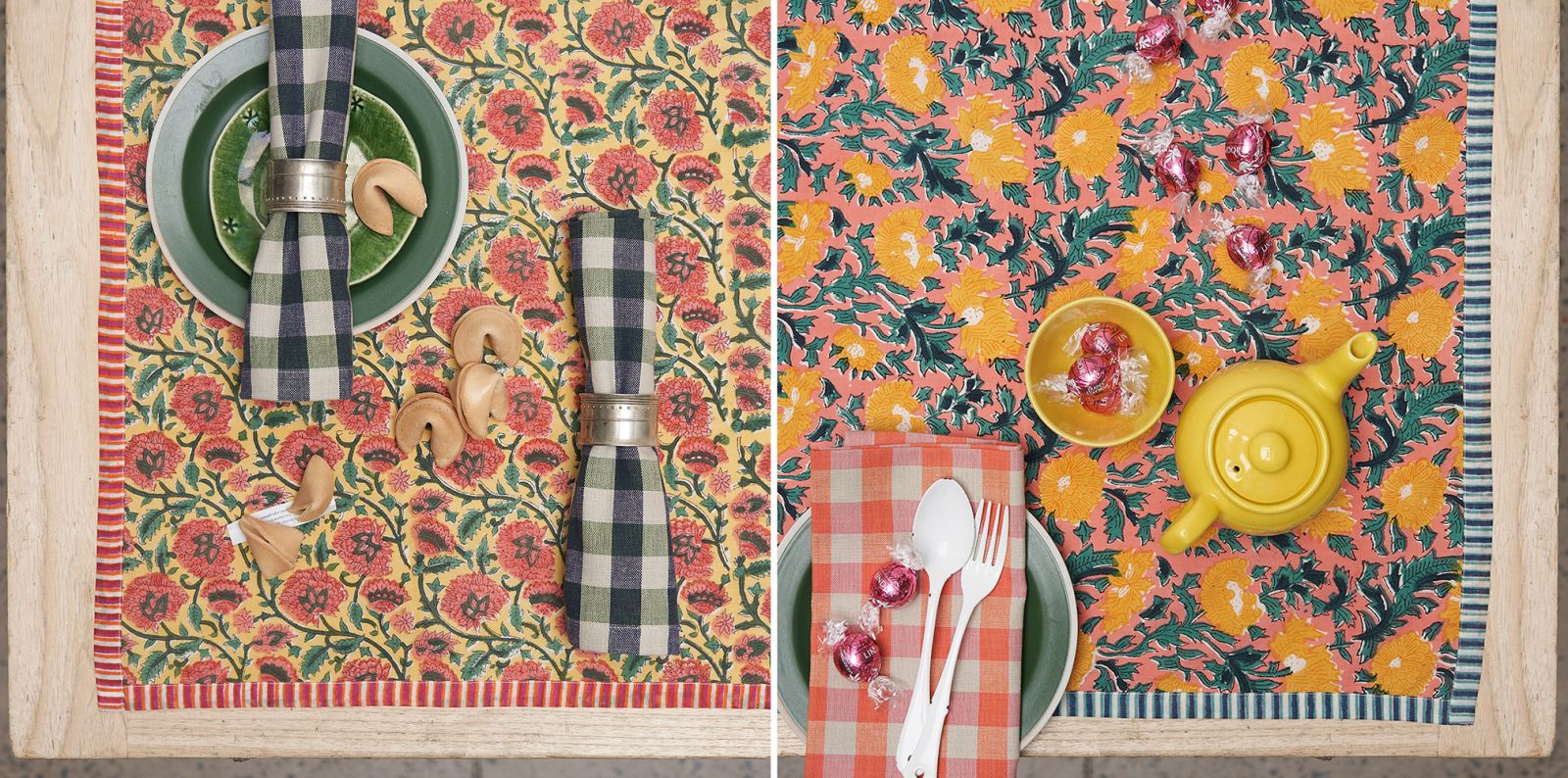 Tina: Can you be more specific about what you have in-store for this year?
Chrissie: Yes of course! There are two streams of designs coming. While traveling in the Pink City of Jaipur a few months ago, I came across some limited-edition block print fabrics in a heavier weight. The colours were special, in warm greens and pinks and reds.
I immediately felt that these colourways would be great for festive tablecloths. We've made big tablecloths: 165 x 340cm wide. They are bound on the edge in a lovely contrasting stripe.
These are practical cloths, not a lot of white in them so the host can relax and not worry about the odd spill.
I wanted these tablecloths to be versatile, and wash easily.
The napkins don't match, but instead they co-ordinate, to further enhance the relaxed and fun feel. It feels put together at the spur of the moment.
This is a very small and limited range, so you won't be seeing it on your friends' tables.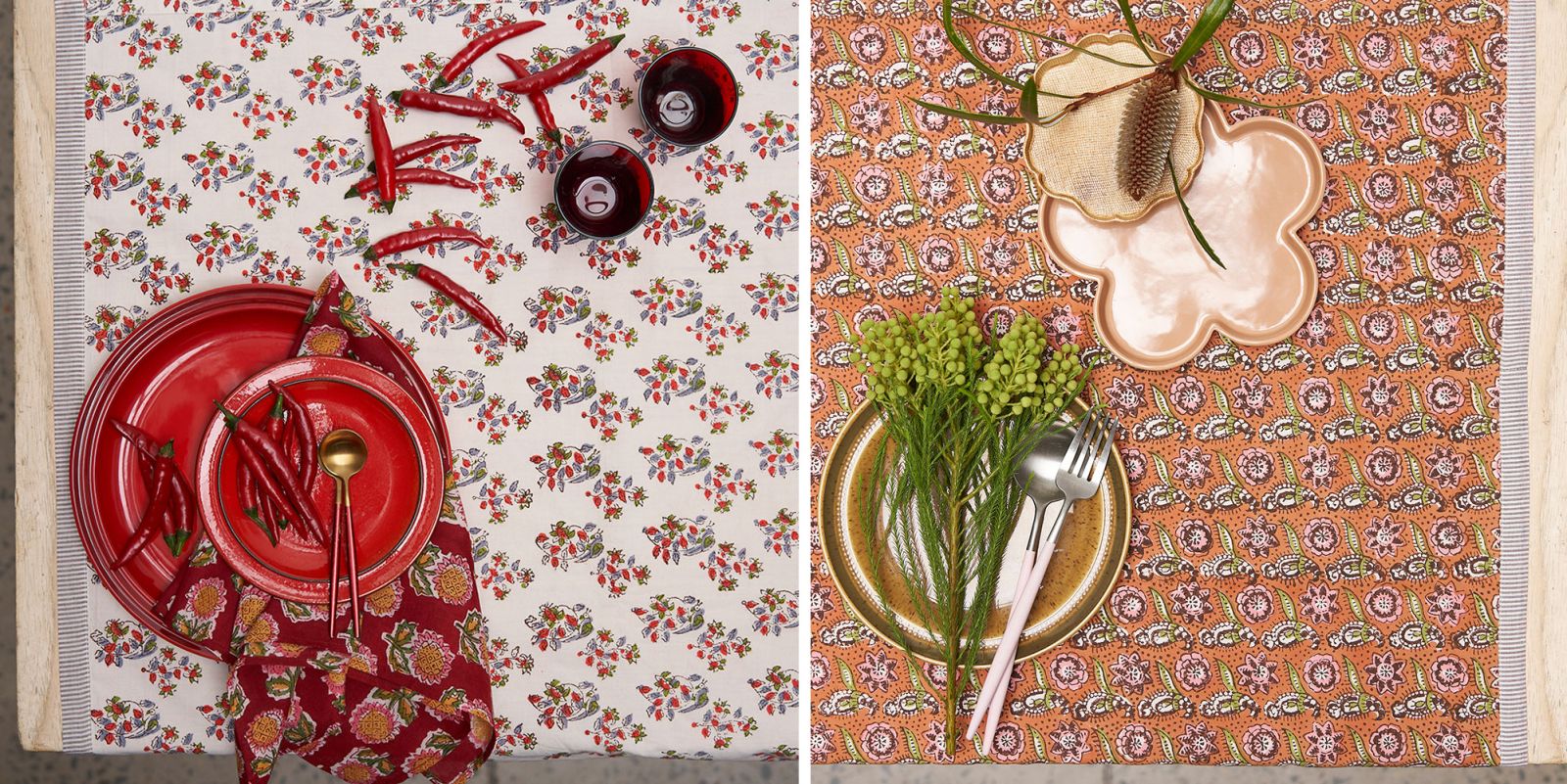 Tina: And what about the second offering, Chrissie?
Chrissie: We've not done this in years, but I brought on board a young artist called Jason, a textile designer.
He has come up with a plaid. They are based on an old Madras check.
The colourways are stunning: Aquas, oranges and pinks, and the other in warmer tones of greens, navy and russets.
There is a place mat, and a two-tone gingham napkin.
Also, a heavier weight cotton, these larger sized tablecloths double up quite easily as throws.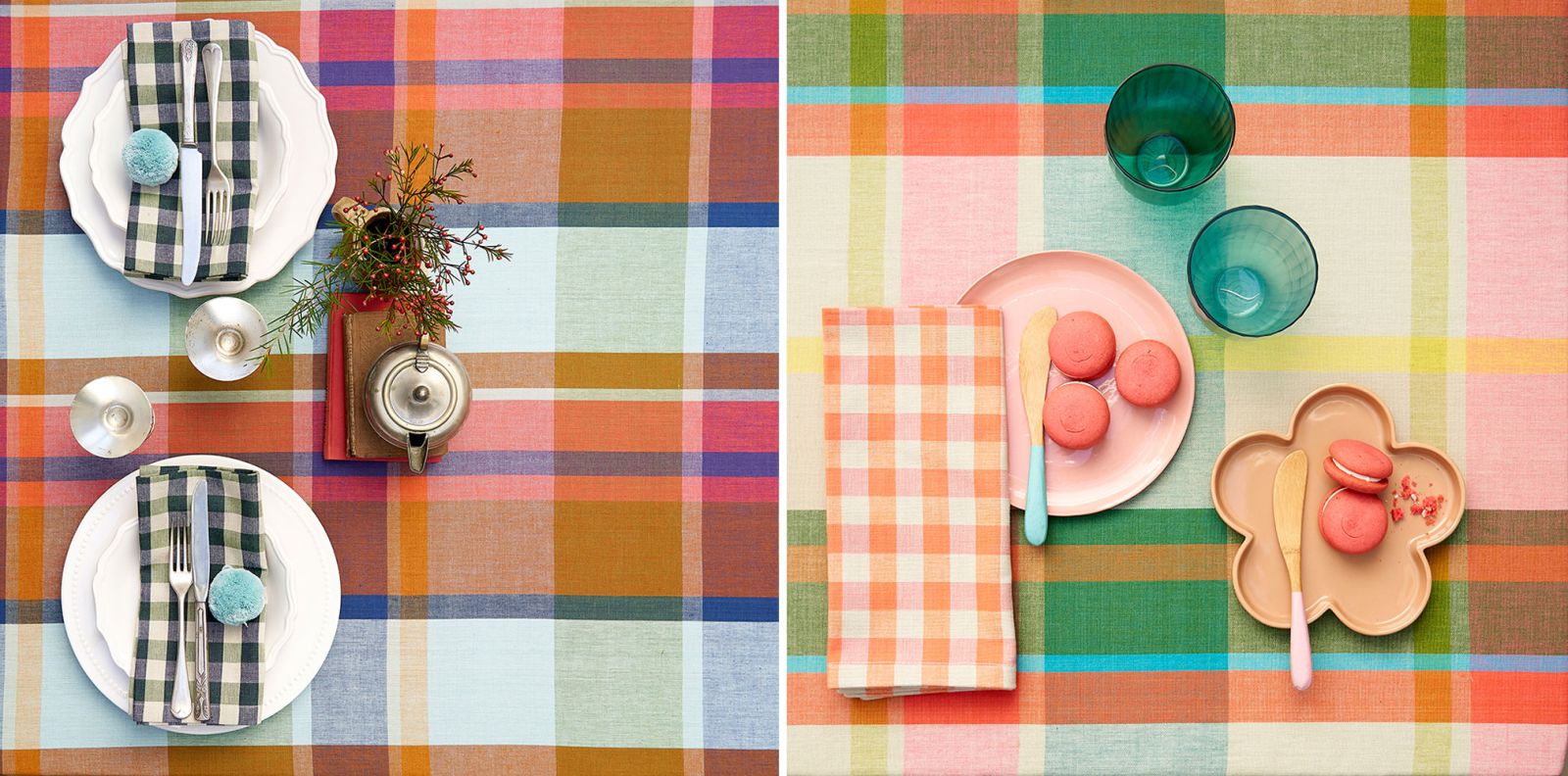 Tina: why a plaid?
Chrissie: We've had people ask for it. Quite specifically not tartan, but a plaid. So we've paid attention. I hope by deconstructing the plaid and infusing it with amazing colours, it will really appeal to the Australian host.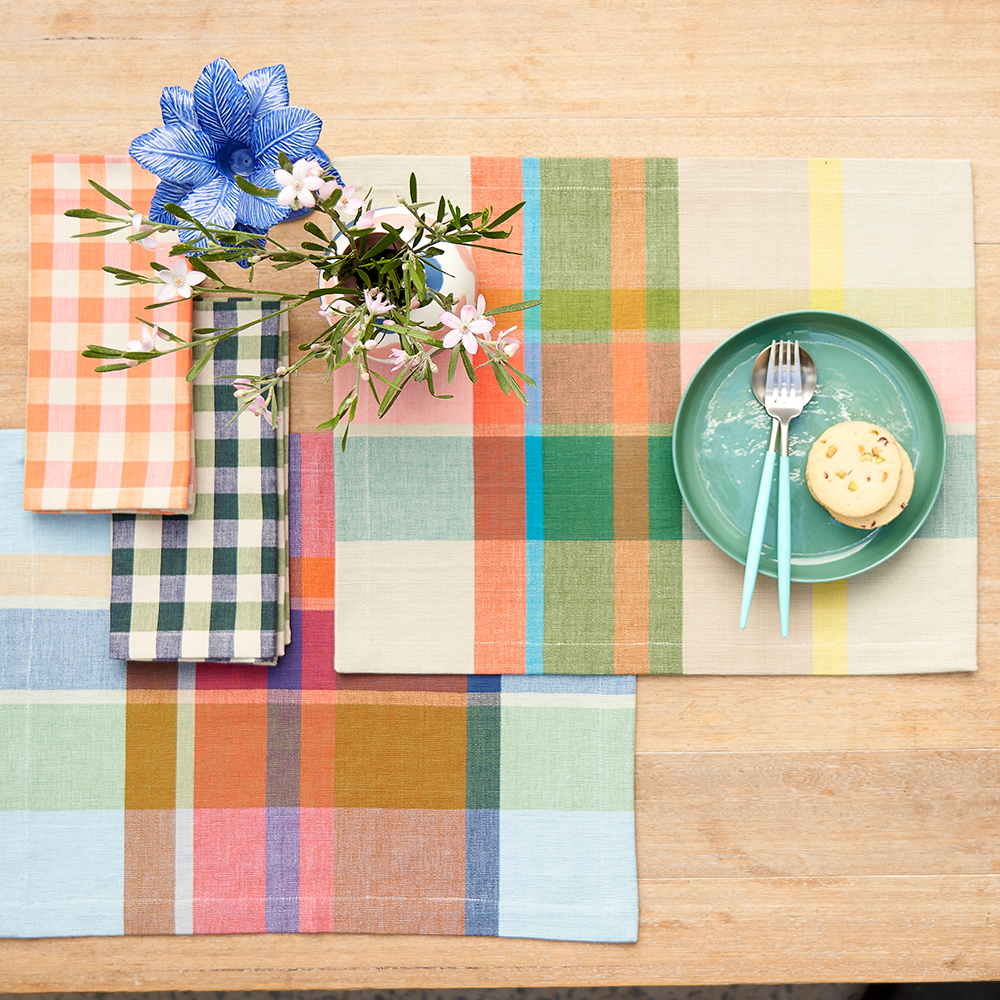 Tina: What do you predict for table decorating this year?
Chrissie: Well, with the wet weather, much more indoor gathering for starters!
We think the tablescaping will be low key, having fun and being crafty, stay tuned for a blog post coming up. We're going into the warehouse home of a well known Sydney fashion influencer and noted hostess where she will be using one of our cloths and decorating her table for the Holidays!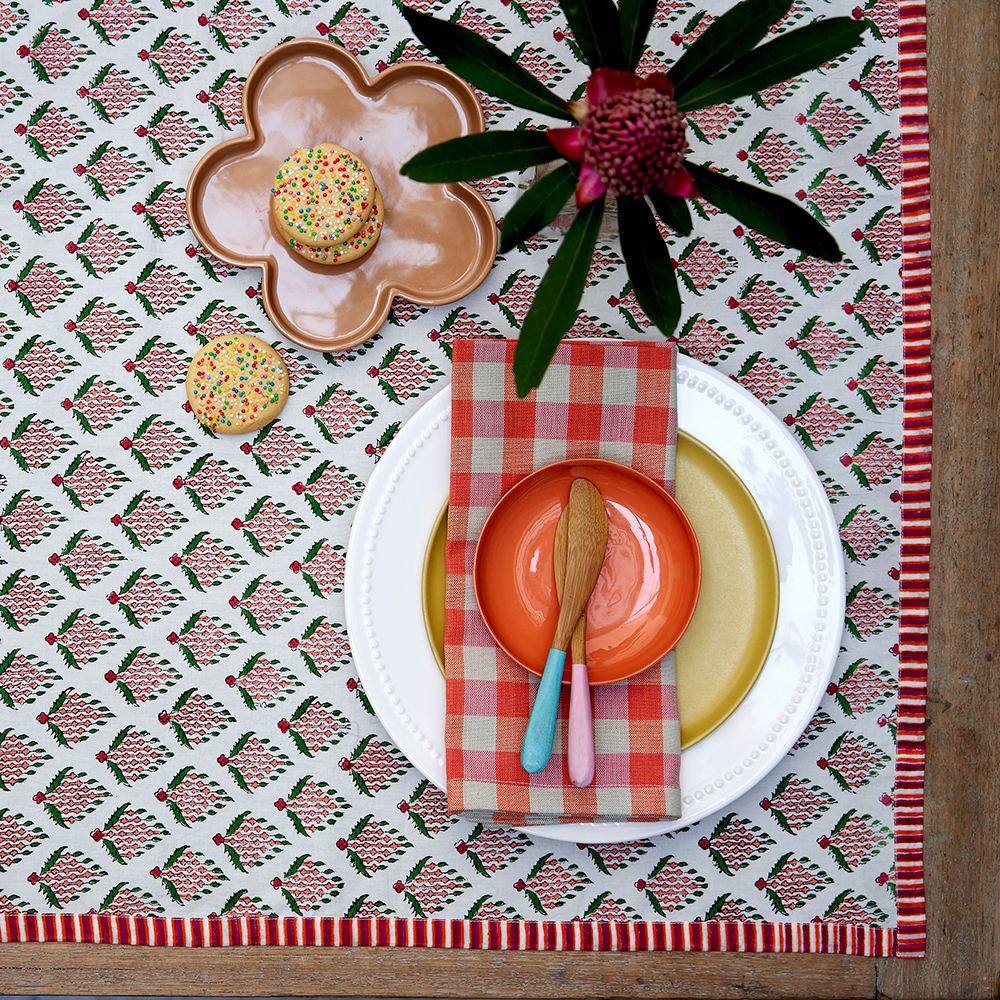 Chrissie Jeffrey was chatting with Tina Gomes Brand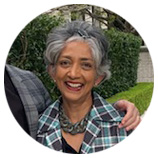 Tina Gomes Brand is a freelance writer who searches out all things creative from food and architecture to travel, fashion and interiors. Brand writes from a broad experience of interacting with various cultures and collaborating with creative people everywhere.
---
Leave a comment