Ask Chrissie: Tina Talks Tablescaping
Date Posted:25 November 2019
In this edition, Chrissie invites Tina Gomes Brand to dress two festive season tables, and asked her these questions...
In this edition, Chrissie turned the tables so to speak, on Tina Gomes Brand who has been writing the No Chintz newsletters lately. She invited Tina to dress two festive season tables, and asked her these questions...

Chrissie: Hi Tina! How do you choose a theme for the festive season?
Tina: Something will catch my eye or spark an interest and lodge itself in my head in the crazy couple of months that most of us experience leading up to the season. One Christmas while living on the east coast of America, someone dropped a hessian sack of fresh cranberries around. They had to be the theme! I filled glass jars of all descriptions with them and mixed it up with glass baubles of different sizes and colours. They formed the centrepiece of our table that year, sitting on the empty hessian sack it came in, and surrounded by branches of deep green fir. I try and keep it very straightforward. I like quick results and don't tend to do anything too fiddly. I'm all for being able to re-purpose what I use. This year was easy - I walked into No Chintz last month and saw these amazing block prints that had just come in. These beautiful cloths on my table will set the theme for me. They are not traditional Christmas prints which means I can use them all through the year and dress them differently.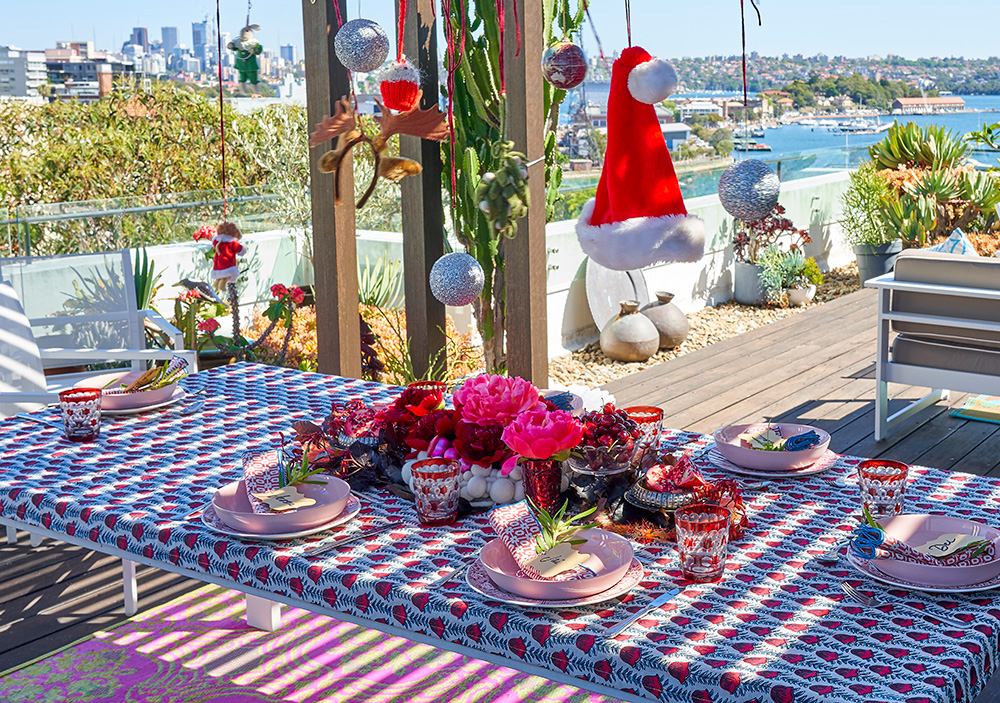 Chrissie: Do you have any golden rules?
Tina: Yes! When entertaining, eliminate anything that needs a lot of attention at the last minute. The moments before an event are focused on guests: reminding myself of what's going on in their lives and what any personal habits might be. For instance are they nervous around dogs, or do they usually start the evening with a soft drink. Being one step ahead and focussed on each person makes a guest feel special. Set the table the night before. If it is a seated dinner at a large table, put some thought into a seating plan. Perhaps even arrange to swap some guests during the meal so everyone gets a chance to chat with each other. Entertaining is always about the guest and ensuring they have a good time. A folded napkin on the plate, or a large bunch of fragrant herbs in a favourite old jug just clearly say you've thought about making it nice. Also always remember to ask a newcomer to your home if they have any dietary restrictions. It is amazing how often a guest will forget to volunteer that information.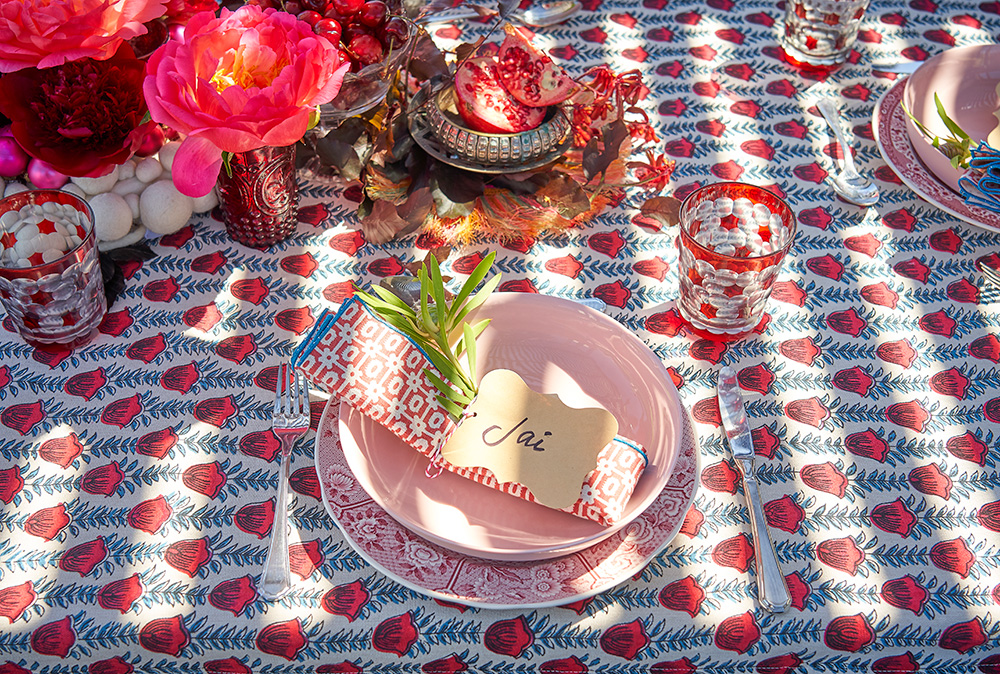 Chrissie: What are your top three tips for making it easy?
Tina: I am all about easy as life is so busy!
Plan ahead: once you've decided what you're doing, write it down. Take photos on your phone. Anything to make it quick and simple. It is such a busy time and so much is going on - it is easy to forget the details so writing things down really helps. Menu, guests, table setting, presents, groceries, etc make lots of lists and stick to them!

Pick a theme: My two boxes of Christmas decorations are faithfully dragged out each year. They consist of treasures from over many years, and most have a sentimental value. Picking a theme each year introduces a new element and freshens the traditional pieces you've used over the years. Pick one colour/object/texture as your main element. It may be anything from lemons to brown butcher's paper, to the colour pink. Weave whatever you're planing into that element. For instance: if you pick brown paper as your theme, cut a length of butcher's paper as a table runner to lay over your traditional Christmas cloth, and also use it to wrap your presents. Make paper chains from brown paper, alternating with red and green craft paper and string over your windows. If you decide apples are your new element, use them to decorate your table, and also hang some on your tree amongst your beloved old pieces. Polish up some green and red apples and pop them in an old basket with a welcome sign nestled in it by your front door. Be adventurous. Pick a theme without worrying about it too much. When I randomly picked the colour pink as a theme one year, I was delighted at how well it went with green and red, the traditional colours of Christmas. Pink and green wool to tie presents, and a pink bauble on every plate held a name card. I scattered pink and orange bougainvillea from a neighbour's back fence across a table of white candles. Easy, and simple, but a nice clear theme running through the family decorations and tying it all together.

Host a working bee: invite whoever is going to be at your celebration a week or two beforehand. Over a cup of tea or some wine, it is a lovely time to chat about the year while you make name cards, tie ribbon, fold napkins, wash glasses or make decorations. These friends will arrive on the day feeling happy they've contributed to the event.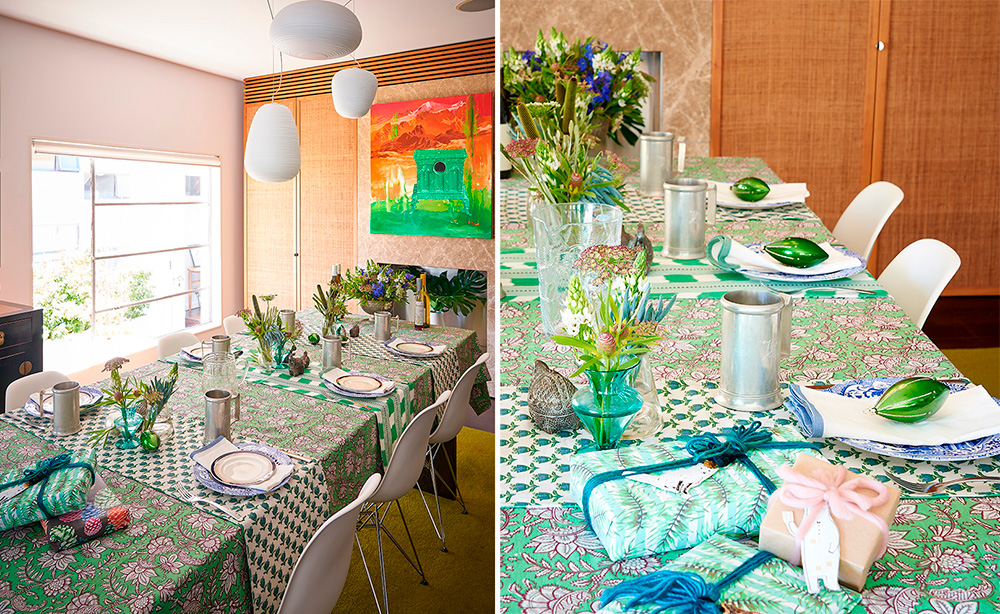 Chrissie: How has the way you entertain for special occasions changed over the years?
Tina: I suppose we entertained more formally while living in America. It was always a seated three course meal for dinner. For many years we'd travel back to Australia to celebrate Christmas arriving just days before. Not much time to decorate, but we always managed to make it festive. A simple string of ikea lights would always drop down from the balcony to the front door so friends in the neighbourhood knew we were back in town. Table decorations sometimes consisted of pots of herbs from the supermarket in brown paper bags gathered and tied with thick red wool. We'd then use the herbs afterwards for the rest of our stay.
Here we tend to have passed entrees with cocktails beforehand while lounging on the deck, and then sit down to a leisurely meal. Americans get up pretty promptly to depart after a meal, but I can take more time now as Australians don't expect to rush off.
With dietary restrictions on the rise, I tend to cook many more vegetables, less carbohydrates, and usually fish for a protein. It seems to cover most bases.
Also I'm so happy to outsource a few things now where i had to do everything myself before. Why not order my Christmas wreath from a crafty neighbouring friend who's raising funds for a charity?
I keep flowers for the table short and low. I love finding unusual combinations of flowers and mixing things up- succulents always feature, but I keep them to scattered small vases and jars, so people don't have to crane their necks talking to someone across the table. I always go for the longer lasting flowers or even flowers and succulents in pots around Christmastime as I want the setting to last; after all, it is the season where friends drop by in a continuous stream from pre-Christmas to over New Year. I'll arrange these in a wide vessel, cover with moss and scatter found gum nuts, Christmas baubles, pomegranates, cherries or other colourful fruit around the base. Sometimes amongst the flowers, i place our little silver animal figurines which we've collected on travels and tuck little tea candles in amongst the groupings. Even putting out tall silver candlesticks, the feel is relaxed as mine are unpolished with their aged patina, and tall and short candles are grouped so there's no rigid line up. I never want a guest to feel daunted on approaching a table, and really believe a relaxed and cheery table sets the tone for the meal. Isn't that what eating together is all about?
While I used to fuss about polished candlesticks and starched napkins back in the day, my attention now is more on an informality which hopefully is no less special because of the love and thought it all still comes with.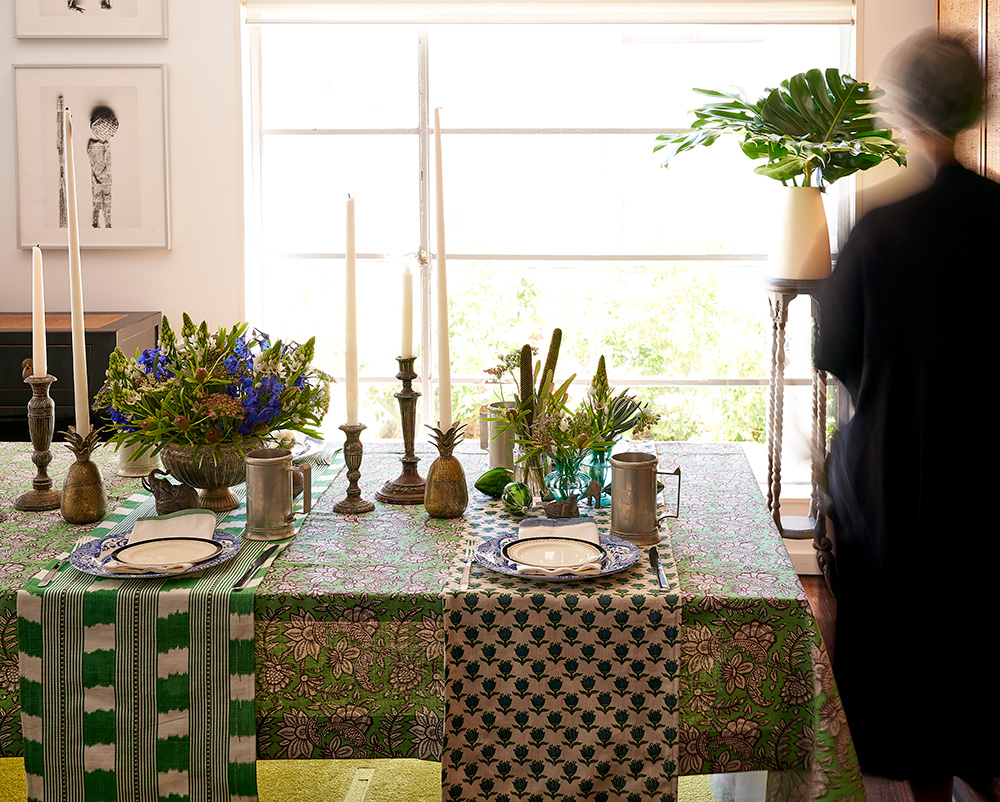 ---
Leave a comment