The Do's and Don'ts of Decorating Your Home with Cushions
Date Posted:12 July 2021
We all seem to have piles of cushions around the house, but is there a way of making them work to the best possible effect in our interior spaces? I had a chat with No Chintz expert, Chrissie.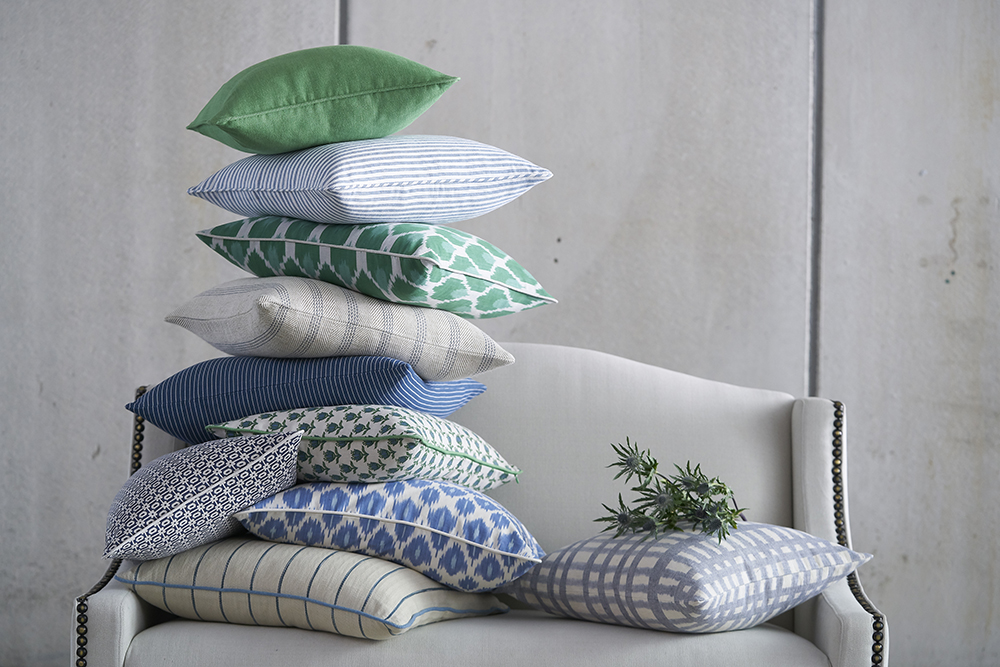 Tina: Hi Chrissie! First off, tell us please, what is the function of a cushion?
Chrissie: There are so many functions of a cushion! Let me list some of them:
- Back in the day, women did needlepoint and embroidery and cushions became a good way of showcasing their expertise to visitors. Made up into round or square little pillows stuffed with horsehair, the cushion added cheer and became an added piece to an armchair or a sofa to prop an arm, or place behind one's back in the not too comfortable furniture pieces of bygone years.
- These days the uses are many. Cushions are a subtle way of pulling the colours from its environment, from the furnishings, drapes and rugs, back onto a piece of furniture to present a cohesive space.
For example, you may have a black and white sofa and another sofa in the same room that's tangerine.
If you took a little bit of that tangerine, maybe a little bit of white and you put it back on that sofa in the form of a cushion, it could really make that tangerine sofa look like it belongs in the group.
- Here's another clever use: let's face it we all have less than perfect rooms to contend with, or furniture we've inherited which we don't love. Or quite commonly, we might own a piece of furniture that we have picked up on a whim, at a sale, and then brought it back home to find it doesn't really work. Adding the right cushion is a way of making a room feel like everything was intended.
- Because we sit so much more than our ancestors, we need cushions for support - they provide additional comfort while sitting, and can prop us up in useful ways, behind the shoulders, at our arms and so on while we are sitting.
We also like deeper sofas nowadays, so the deeper the sofa, the more cushions you need to support your back.
If you have a narrow sofa, be spare with the cushions, and do a thin fill.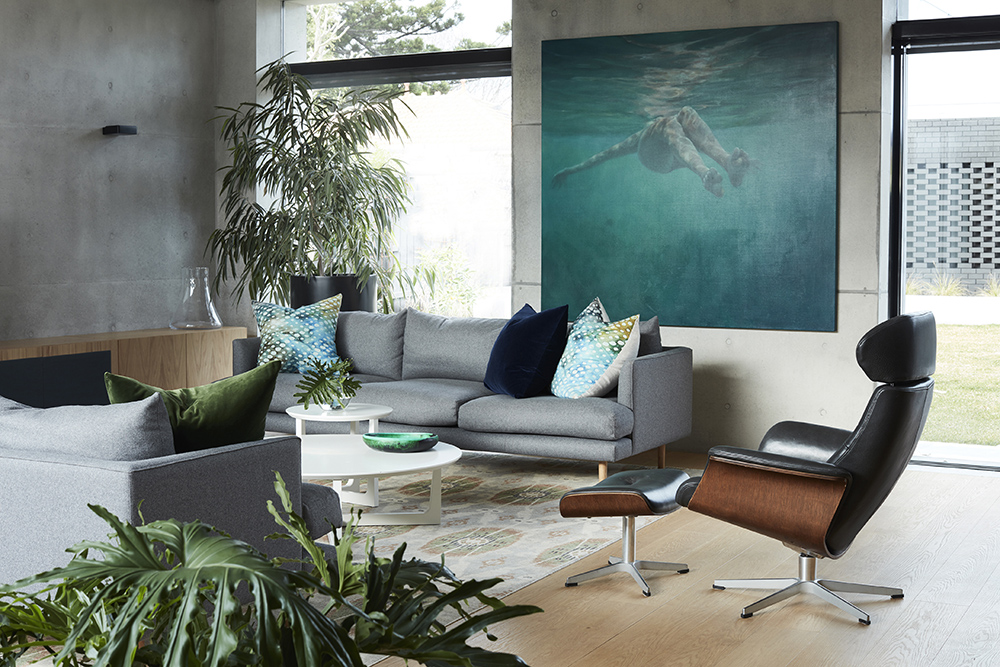 In a deep sofa, you can really layer it up with lots of different sized cushions.
An armchair can usually only accommodate one cushion. If you're slight of build, a cushion in a deep armchair or sofa really does help with support.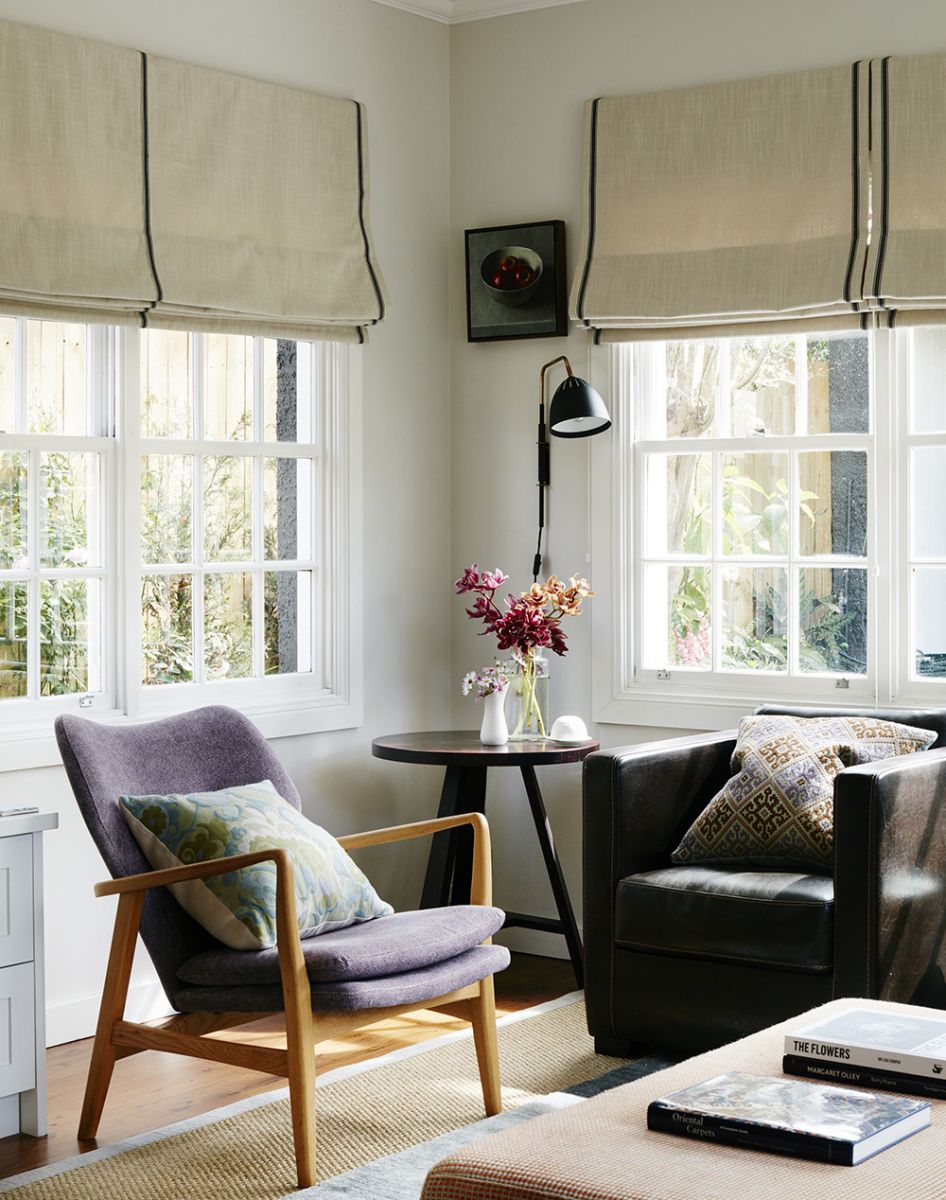 With taller people, it is easy enough to remove the cushion to give them the length of leg they need to sit comfortably.

Tina: What are things to avoid when choosing a cushion Chrissie?
Chrissie: In a monotone environment, where the decorator has chosen all creams or off whites and whites, it is not a great idea to use cushions as a 'pop of colour'.
It is a scary visual when brightly coloured cushions are introduced into a very pale room because what the cushion does is kind of punch you in the face!
I cannot emphasize this enough though: if you have a very plain interior, try not go too far overboard with overly bright patterns and textures in your cushions. It makes the contrast way too great.
Another big no -no: do not have cushions in the same fabric as the sofa.
Stay clear of the cheap poly fillers; so that they have weight and can sit well, they should be feather or a feather mix fill.
If you are allergic to feather, I would encourage you to get a really good quality down, and make sure you clean them regularly.
Good inserts are very important.
Cushions are a luxury. Treat them as such.
If it is a high use area of a household filled with children and animals, just avoid cushions altogether.
Tina: Okay, I think we are clear on the don't. Tell us what the dos are when choosing cushions.
Chrissie: So first off, choose cushions for comfort.
Once you've decided how many you need, then you work out the balance.
Usually, the darker colours go on the back, patterns and lighter colours towards the front.
Of course, if the sofa or armchair is a lighter colour, you would put the lighter coloured cushions towards the middle and the darker or stronger colours on either side.
Do play with scale: try not to have too many even sized cushions if possible. If going for an oversized cushion, try for no more than two, then play up contrasts by using different textures: velvet, linen, and so on make an interesting mix.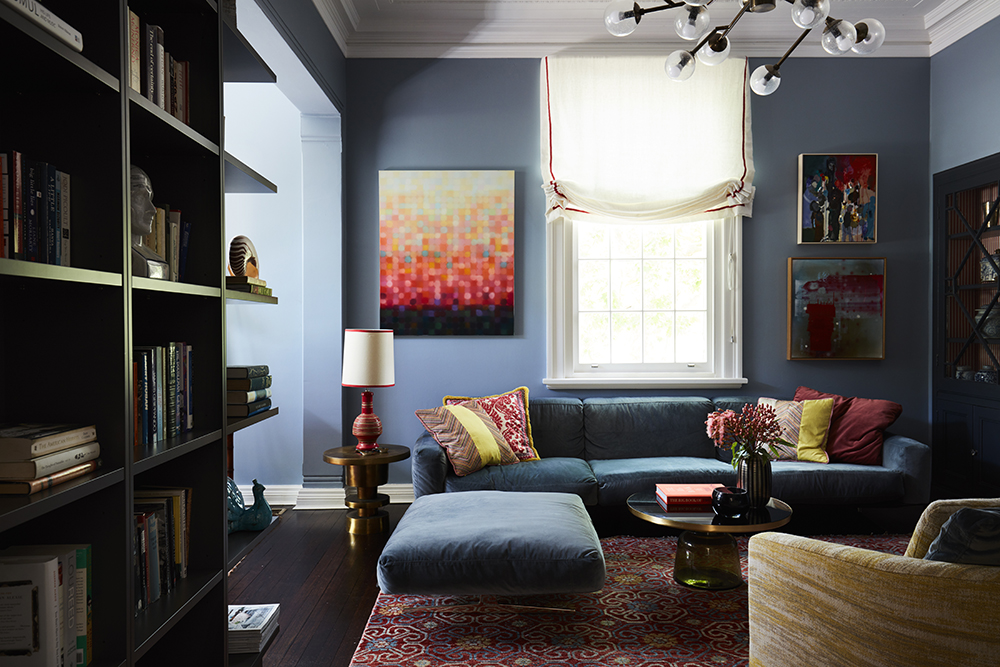 If you're not really a person who likes patterns much, you can add the variety with fabric textures and colours and trims.
It really all boils down to personal preference. If you're quite modernist in your taste and need cushions but don't really want to make a big statement, then you keep it low key with fewer patterns and focus on the comfort aspect.
You can always add some interest to a plain cushion with trims of rope, fringes, piping and braids.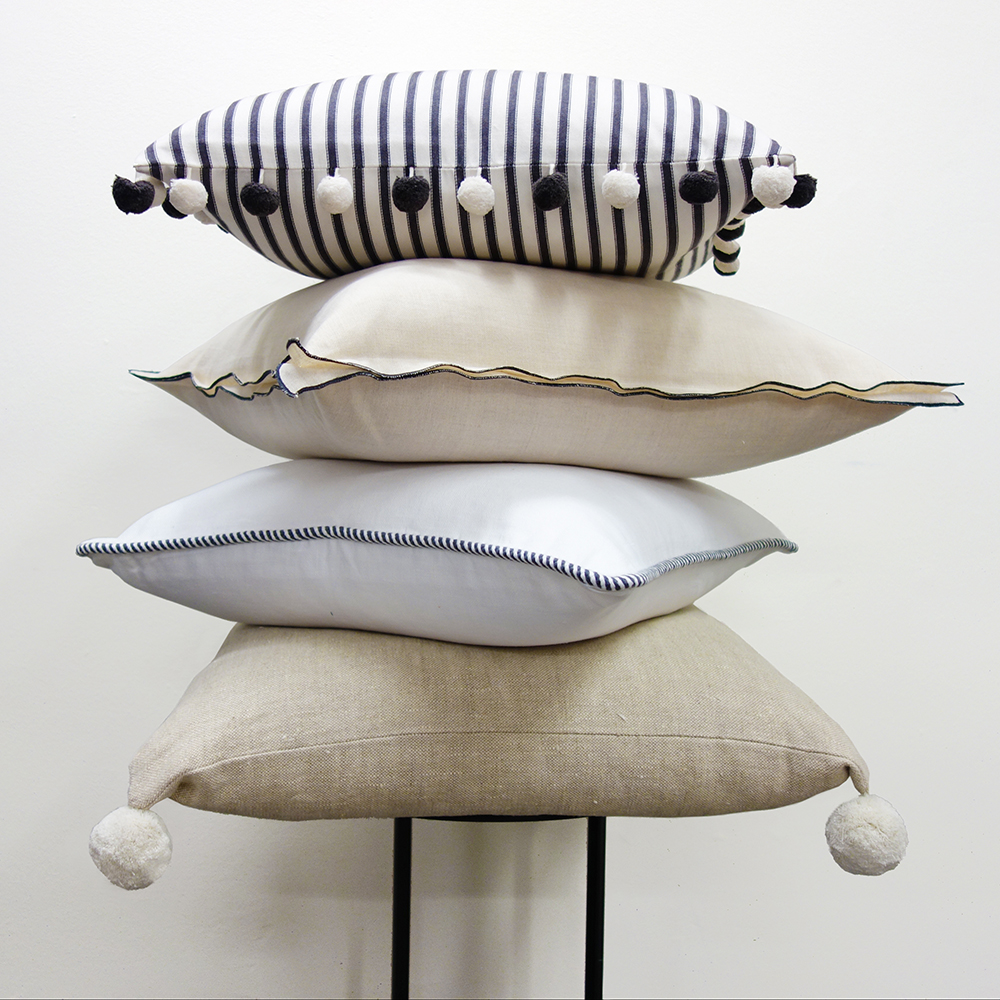 When clients have very plain sofas, I encourage them to look at their rugs and to use them as a jumping up point to bring something back onto the sofas. If the client has gone so far as to match the sofas with the rugs, then I'd encourage them to find a departure in their cushions by using texture or sheen.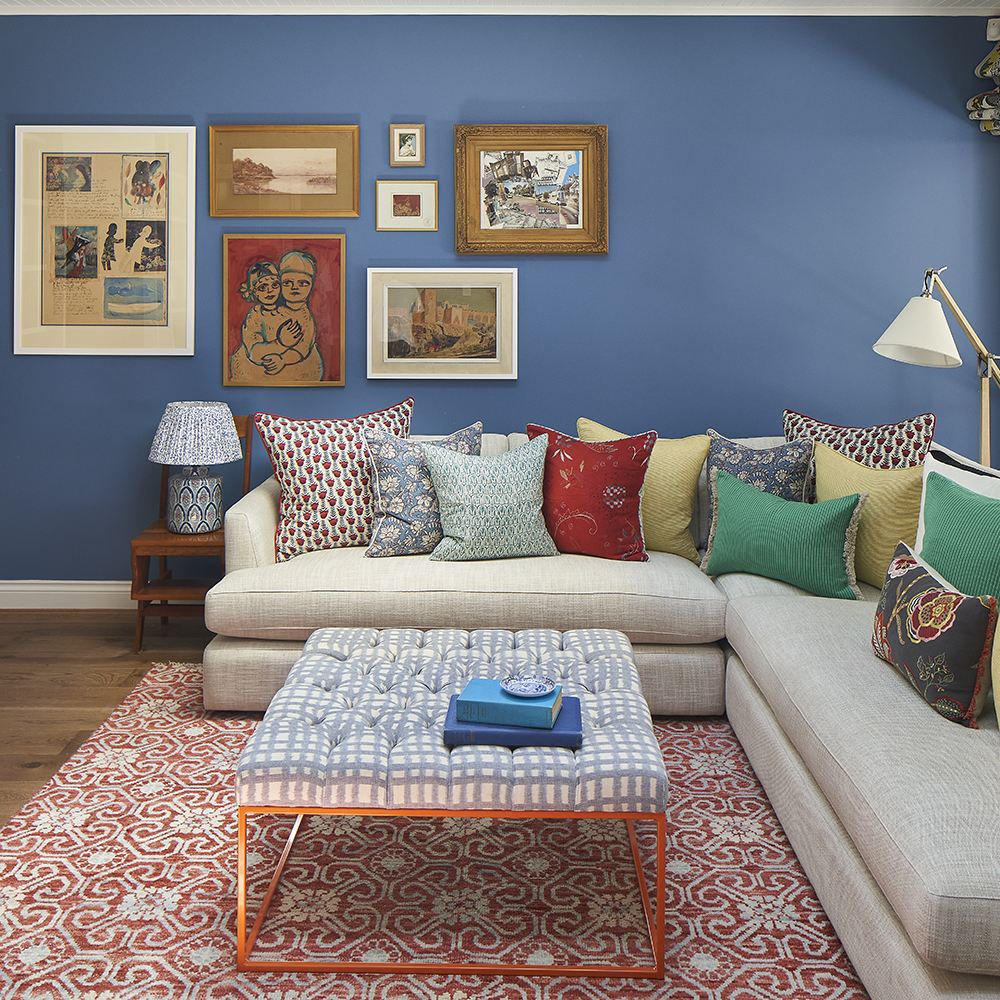 Do always go for the best quality you can afford. You are better off having a few good quality cushions than a pile of cheap ones.
Tina: What are your thoughts about cushion on beds Chrissie?
Chrissie: I prefer fewer and larger cushions on beds myself. But it is really personal taste isn't it?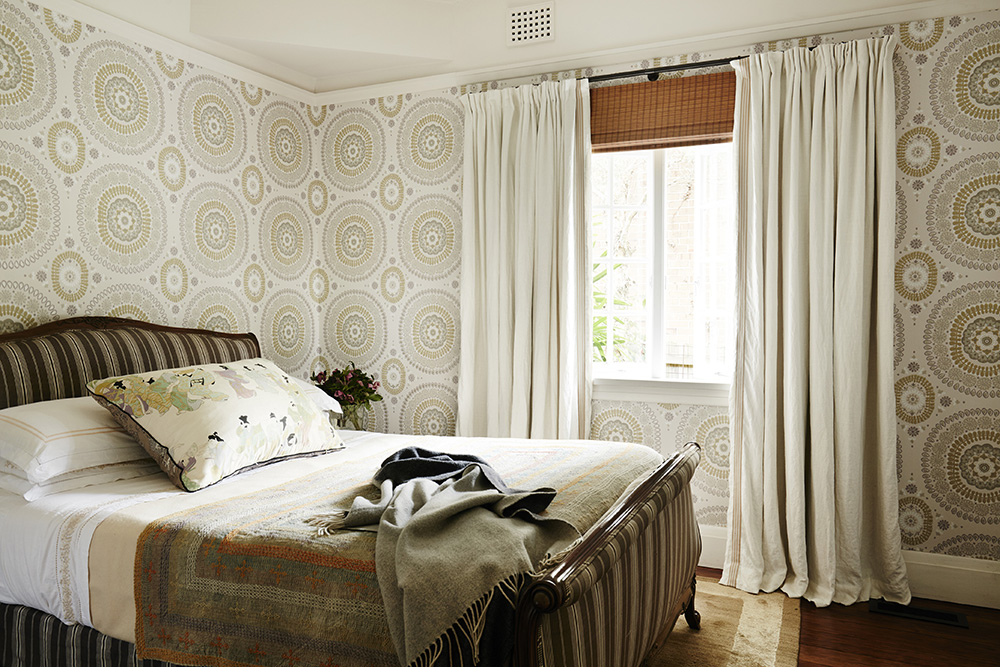 For younger beds, I tend to keep it simple: one bigger cushion and one small one. Perhaps a round one or something fun.
I find most people go for plain bedding. To liven things up, I would go for a strong bedhead perhaps, to add some interest.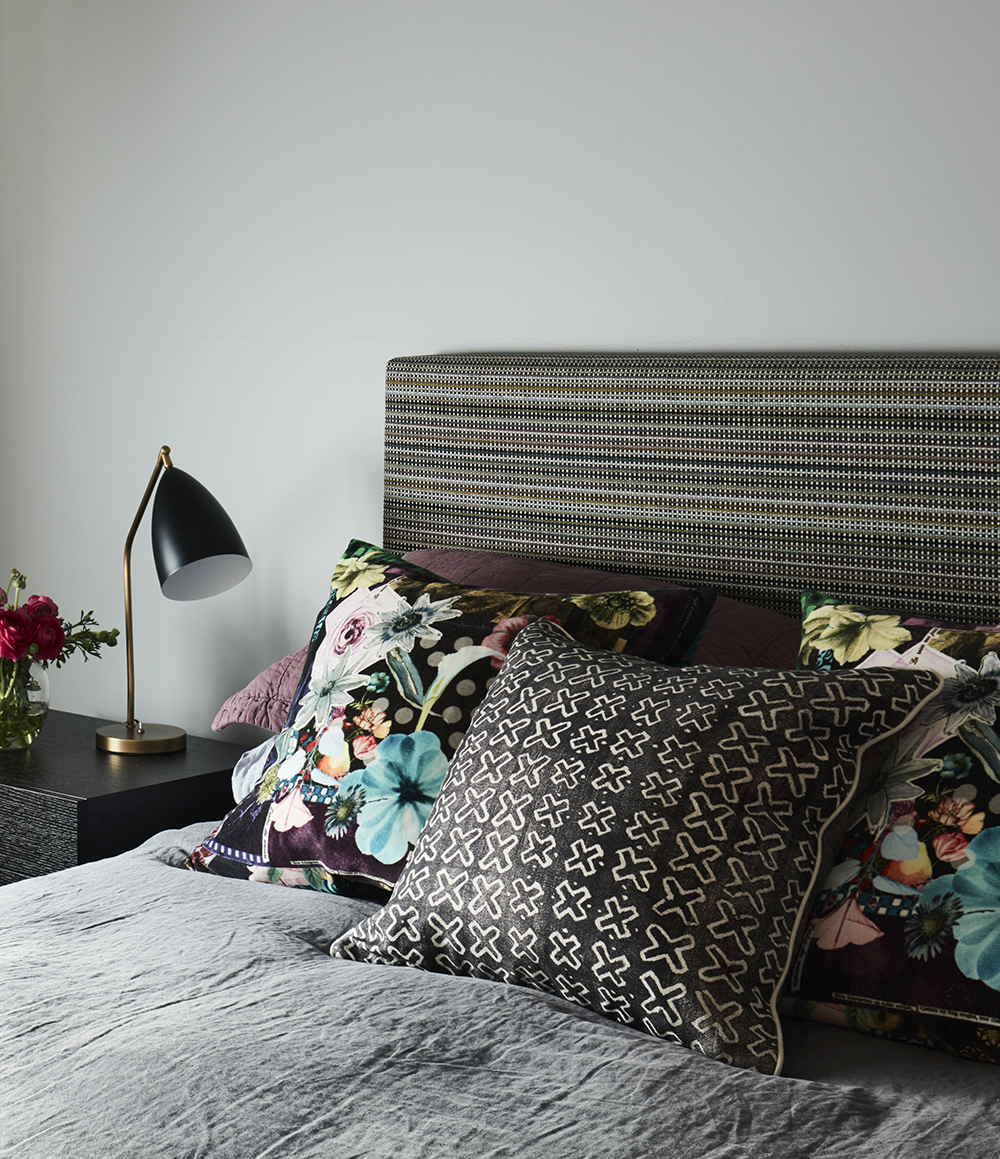 Tina: What about outside- outdoor rooms seem to be growing in popularity
Chrissie: There has been a big growth for outdoor lounges, poolside furniture on patios and loggias.
We are all wanting to get outside onto decks and verandahs. There is a focus on making built in seats into outdoor areas, and No Chintz are doing a lot of custom cushions and bench seat pads for these spaces. Big and deep benches certainly demand cushions for more comfort, and support.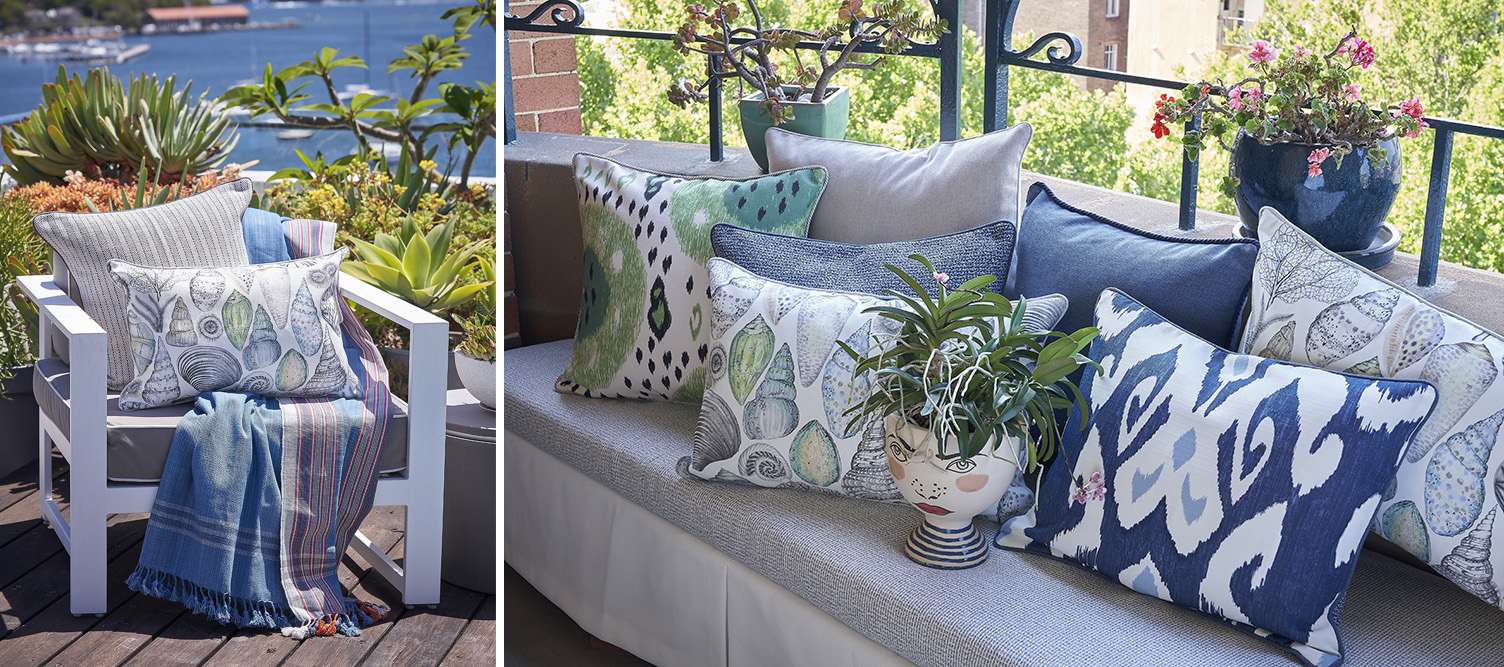 No Chintz has a wide range of outdoor fabrics and cushions and I'm glad to say there's been such a big surge in the production of outdoor fabrics which last well and are fade and moisture resistant.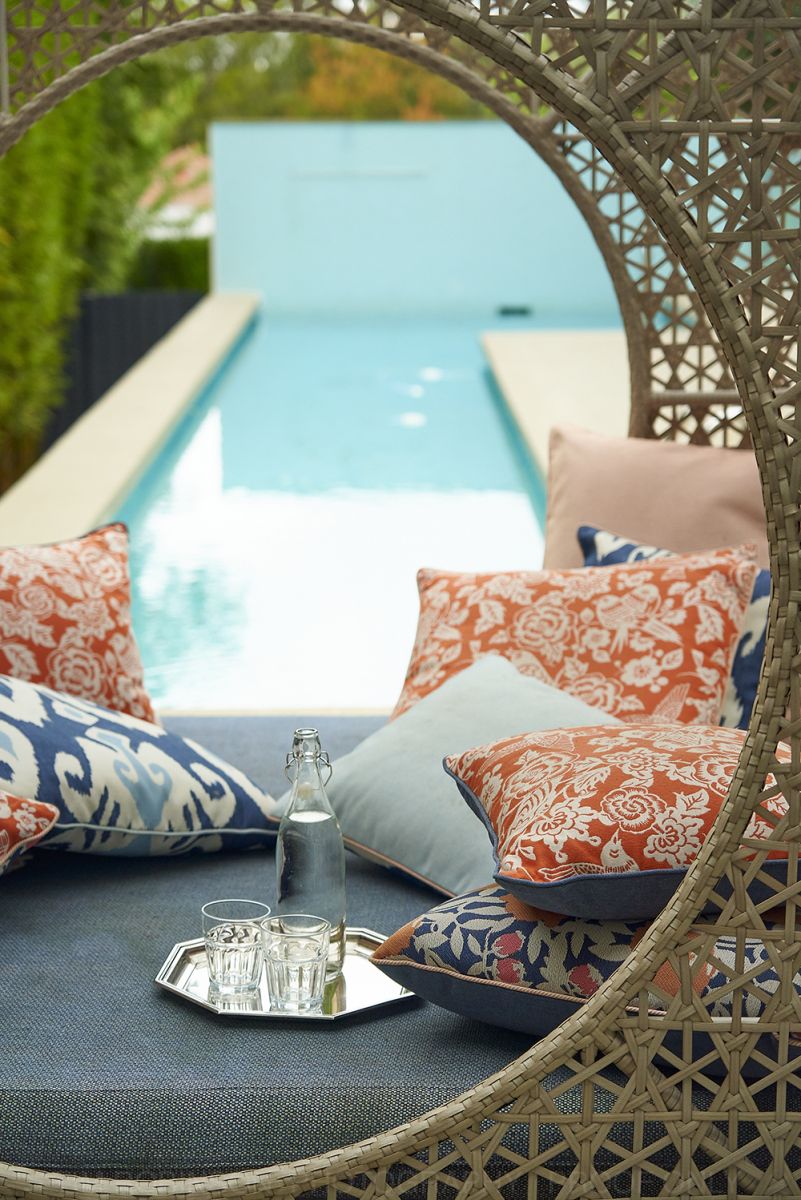 In Australia there is Walter G, Bonnie and Neil and there other brands from overseas like William Yeoward, John Durian and Designers Guild.

Tina: Great lot of tips, Chrissie! Final instructions before we go cushion shopping?
Chrissie: Hahah! It's really entirely up to your personal taste! But since you asked, here goes:
Be thoughtful.
Fight the instinct to introduce a 'pop of colour' but follow influences from the room itself.
Don't use too many riotous patterns, just one or two, and then layer with more solid coloured cushions.
Bottom line is; you don't need a lot of 'hero' cushions, just a few picked out that are of good quality, luxurious pieces with lovely textures, embroideries or other embellishments. And then the supporting cushions can be quite plain.
And lastly: … don't forget we are always there to assist. Ask us for any help. Online or in person. Our trained interior designers are glad to assist.
Browse our range of No Chintz, designer cushions and cushion inserts in store and online.
Want to create a custom cushion? Contact our team or call your nearest No Chintz store and we can provide you with expert advice and a quote.
Chrissie Jeffrey was chatting with Tina Gomes Brand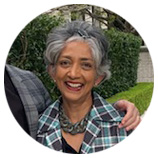 Tina Gomes Brand is a freelance writer who searches out all things creative from food and architecture to travel, fashion and interiors.
Brand writes from a broad experience of interacting with various cultures and collaborating with creative people everywhere.
---
Leave a comment