Anna Spiro Textiles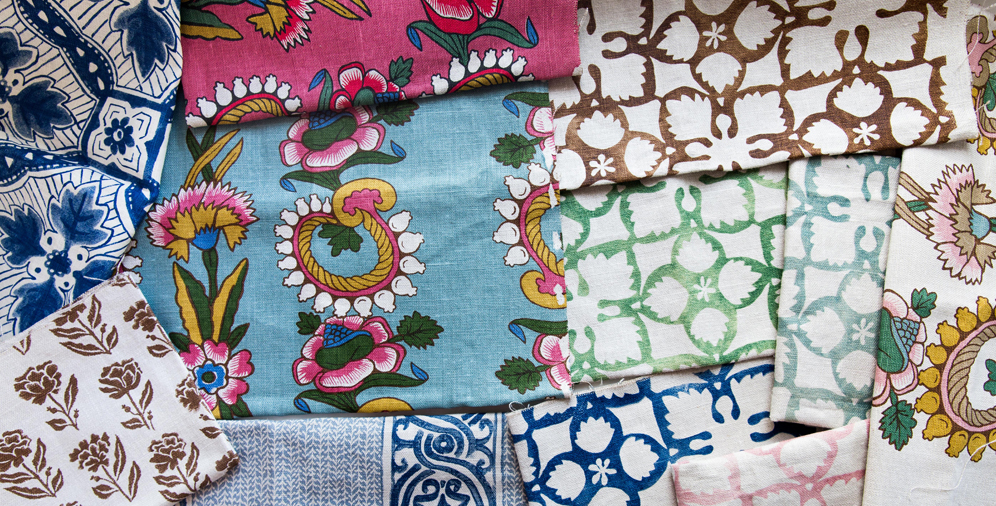 Established from a life-long passion for textiles, pattern and colour, Anna Spiro Textiles is the collaboration of acclaimed Interior Designer Anna Spiro and her brother Sam Spiro. Made exclusively by hand in Australia, the collection is first illustrated and then screen-printed onto fine Belgian Linen.
Below are some of our favourite Anna Spiro Textile styles but if there is a specific Anna Spiro fabric or product you are searching for, please contact us and we can source it for you.
'Request a Quote', enter the designer / fabric name in the message field and submit your enquiry so we can provide you with an accurate quote.
OUR FAVOURITE ANNA SPIRO FABRICS
FLORA OYSTER LINEN - SEA MIST

Printed Width: 148cm
Horizontal Repeat: 12.5cm
Vertical Repeat: 12.5cm

FLORA OYSTER LINEN - SAFFRON

Printed Width: 148cm
Horizontal Repeat: 12.5cm
Vertical Repeat: 12.5cm


FLORA OYSTER LINEN- SUMMER'S DAY

Printed Width: 148cm
Horizontal Repeat: 12.5cm
Vertical Repeat: 12.5cm


FLORA OYSTER LINEN - RAIN

Printed Width: 148cm
Horizontal Repeat: 12.5cm
Vertical Repeat: 12.5cm

OTTO - GREEN

Printed Width: 135cm
Horizontal Repeat: 1.5cm
Vertical Repeat: 32cm

OTTO - BLUE

Printed Width: 135cm
Horizontal Repeat: 1.5cm
Vertical Repeat: 32cm

CHLOE - BLUE

Printed Width: 135cm
Horizontal Repeat: 60.5cm
Vertical Repeat: 40.5cm


CHLOE - RED

Printed Width: 135cm
Horizontal Repeat: 60.5cm
Vertical Repeat: 40.5cm


CHLOE - YELLOW

Printed Width: 135cm
Horizontal Repeat: 60.5cm
Vertical Repeat: 40.5cm


CHLOE - PINK

Printed Width: 135cm
Horizontal Repeat: 60.5cm
Vertical Repeat: 40.5cm

CHLOE - GREEN

Printed Width: 135cm
Horizontal Repeat: 60.5cm
Vertical Repeat: 40.5cm

CHLOE - PALE BLUE

Printed Width: 135cm
Horizontal Repeat: 60.5cm
Vertical Repeat: 40.5cm

TATTIE - MULTI

Printed Width: 138cm
Horizontal Repeat: No pattern match
Vertical Repeat: 103cm


FLORA NATURAL BASE CLOTH - LAPIS

Printed Width: 138cm
Horizontal Repeat: 12.5cm
Vertical Repeat: 12.5cm


FLORA NATURAL BASE CLOTH - ZING

Printed Width: 138cm
Horizontal Repeat: 12.5cm
Vertical Repeat: 12.5cm


FLORA NATURAL BASE CLOTH - SPRING

Printed Width: 138cm
Horizontal Repeat: 12.5cm
Vertical Repeat: 12.5cm


FLORA NATURAL BASE CLOTH - MEADOW

Printed Width: 138cm
Horizontal Repeat: 12.5cm
Vertical Repeat: 12.5cm