Christian Lacroix Fabric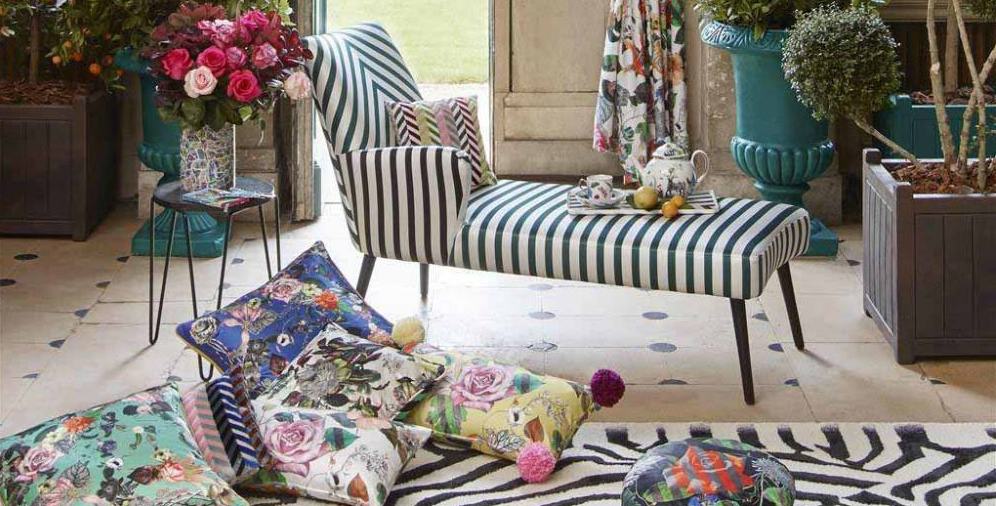 The House of Lacroix's extravagance and spirit, are matched only by their determination to fulfil a unique vision for your home. The extraordinary collection of Christian Lacroix fabrics is made up of eclectic textile designs (suitable for curtains and upholstery) for glamourous interiors.
Below are some of our favourite Christian Lacroix styles but if there is a specific Christian Lacroix fabric or product you are searching for, please contact us and we can source it for you.
'Request a Quote', enter the designer / fabric name in the message field and submit your enquiry so we can provide you with an accurate quote.

OUR FAVOURITE CHRISTIAN LACROIX FABRICS
OISEAU DE BENGALE MARAIS
A fantastic imagining of flora, fauna, print and palm, treated in the quintessential Christian Lacroix style with extraordinary detail. This fabric is digitally printed onto a fine cotton ground is perfect for evocative curtains, blinds, cushions and bed covers.


Width: 137cm
Horizontal Repeat: 137cm
Vertical Repeat: 100cm

OISEAU DE BENGALE CAMELIA
A fantastic imagining of flora, fauna, print and palm, treated in the quintessential Christian Lacroix style with extraordinary detail. This fabric is digitally printed onto a fine cotton ground is perfect for evocative curtains, blinds, cushions and bed covers.


Width: 137cm
Horizontal Repeat: 137cm
Vertical Repeat: 100cm

OISEAU FLEUR BOURGEON
An enigmatic jacquard weave of a breathtaking botanical scene in a grand scale with embroidered detailing, celebrating the flamboyant essence of Maison Christian Lacroix. This statement design evokes glamour and drapes beautifully for curtains.


Width: 138cm
Horizontal Repeat: 138cm
Vertical Repeat: 160cm

WAKAME BOURGEON
A contemporary damask print imagined via undulating fronds of seaweed. This incredible jacquard woven design from Christian Lacroix Maison can be used for curtains and cushions.

Width: 135cm
Horizontal Repeat: 66cm
Vertical Repeat: 60cm

PRÊTE-MOI TA PLUME BOURGEON
Highly ornate artistry illustrates every nuance and detail of bird feathers, arranged in a free flowing formation. Digitally printed onto a soft, pure cotton ground, this design is perfect for a wide range of interior applications from upholstery to curtains. Machine washable at 30c on a gentle cycle.

Width: 137cm
Horizontal Repeat: 137cm
Vertical Repeat: 99cm

SOFT L'AVEU RUISSEAU
An ombré geometric cut velvet in tones of undulating colour from Maison Christian Lacroix. This design is available in three colourways and is perfectly suited for upholstery, cushions, curtains and blinds.


Width: 138cm
Horizontal Repeat: 35cm
Vertical Repeat: 50cm

WISTERIA ALBA MAGENTA
A glorious embroidery of richly shaded trailing wisteria juxtaposed against a striking graphite hued, pure cotton ground. This evocative floral fabric drapes beautifully for curtains for your Maison Christian Lacroix scheme.


Width: 129cm
Horizontal Repeat: 65cm
Vertical Repeat: 79cm

WAKAME RUISSEAU
A contemporary damask print imagined via undulating fronds of seaweed. This incredible jacquard woven design from Christian Lacroix Maison can be used for curtains and cushions.

Width: 135cm
Horizontal Repeat: 66cm
Vertical Repeat: 60cm