Christopher Farr Fabric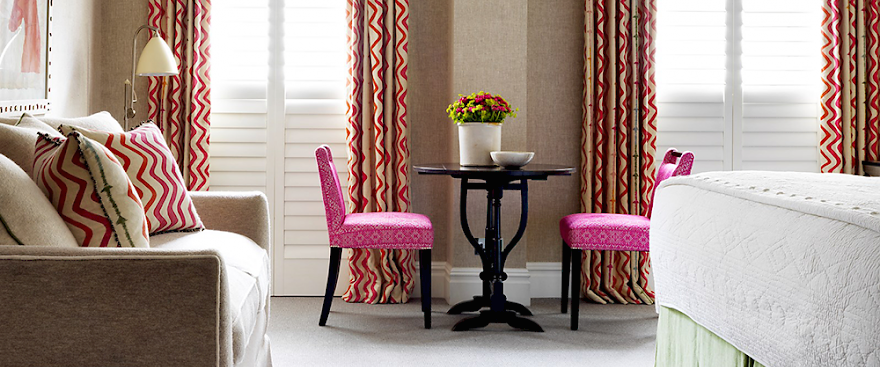 Cloth was founded in 2000 as a collaboration between Christopher Farr, Matthew Bourne and Michal Silver. Drawing on their art and fashion backgrounds, Cloth very quickly focused its collection around prints. Together, they discovered an artisanal print house on the outskirts of London that became a laboratory for Cloth experiments and played a central role in the development of the collection. The collection currently comprises more than 60 designs of prints and weaves, utilizing the highest quality fabrics, from combed Egyptian cottons and Belgian linens to dyed acrylic fabrics suitable for outdoor use.
Below are some of our favourite Christopher Farr styles but if there is a specific Christopher Farr fabric or product you are searching for, please contact us and we can source it for you.
'Request a Quote', enter the designer / fabric name in the message field and submit your enquiry so we can provide you with an accurate quote.

OUR FAVOURITE CHRISTOPHER FARR FABRICS
DAY - HOT PINK
Width: 132cm
Horizontal Repeat: 65cm
Vertical Repeat: 77.5cm

EDEN - GREEN
Width: 134cm
Horizontal Repeat: 66cm
Vertical Repeat: 96.1cm

LA JUNGLE - DARK INDIGO
Width: 134cm
Horizontal Repeat: 33.5cm
Vertical Repeat: 37.1cm

LA JUNGLE - HOT PINK
Width: 134cm
Horizontal Repeat: 33.5cm
Vertical Repeat: 37.1cm

CARNIVAL - CORAL
Width: 132cm
Horizontal Repeat: 132cm
Vertical Repeat: 98.4cm

BELFOUR OUTDOOR - LIMONE
Width: 132cm
Horizontal Repeat: 66cm
Vertical Repeat: 81.6cm

CACTUS FLOWER OUTDOOR - VERDE
Width: 132cm
Horizontal Repeat: 22cm
Vertical Repeat: 22cm




MILLE FEUILLES OUTDOOR - AZZURRO
Width: 132cm
Horizontal Repeat: 44cm
Vertical Repeat: 109.2cm

LAPAZ PERENNIALS PERFORMANCE - AZZURRO
Width: 137cm
Horizontal Repeat: 34.3cm
Vertical Repeat: 36.8cm