Cloth Fabric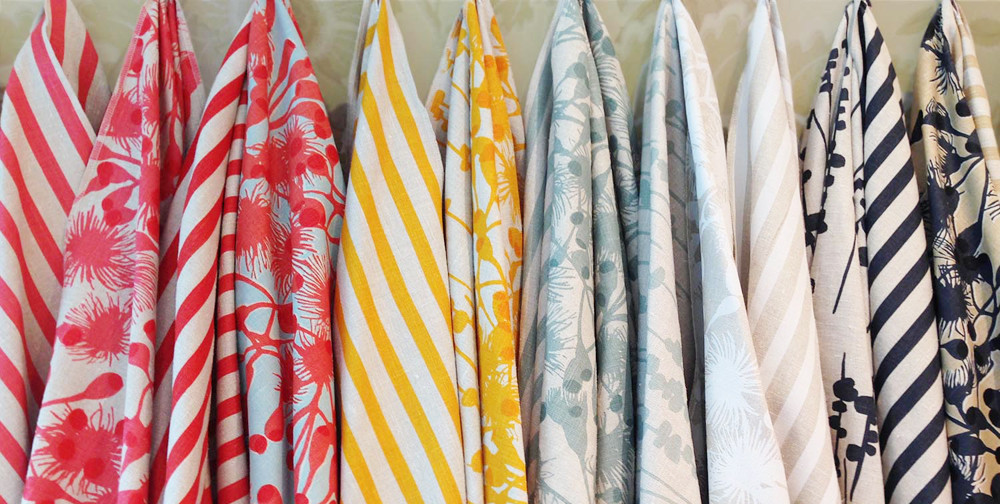 Cloth is a textile company based in Sydney, established in 1995 by Julie Paterson. They design and make contemporary furnishing fabric for the home and commercial interiors. The majority of their work is created by hand as flat bed screen printed yardage fabric using short batch production processes and natural basecloths. All their fabric is made in Australia.
Below are some of our favourite Cloth styles but if there is a specific Cloth fabric or product you are searching for, please contact us and we can source it for you.
'Request a Quote', enter the designer / fabric name in the message field and submit your enquiry so we can provide you with an accurate quote.

OUR FAVOURITE CLOTH FABRICS
GUMBLOSSOM 3 - SURF
Corymbia ficifolia is a bloodwood tree that loves warm coastal areas. It caught my eye properly when I was on holiday in San Francisco. I stopped in my tracks when I noticed that all the trees lining the streets were flowering in a profusion of scarlet red. I recognised them - the red flowering gums from Western Australia. They looked fabulous and so at home on the city streets of California.


Width: 135cm
Vertical Repeat: 70cm

POD 7 - CHARCOAL
There are these gone-to-seed calistamons near where I live. Bottle brushes with strings of dried seed pods hanging down over the path. Bushes gone wild on the walk to my studio.




Width: 135cm
Vertical Repeat: 70cm

BANKSIA - MARINE
Marine is a new colourway for Banksia, a deep dark southern ocean blue. This new colourway is printed on unbleached soft linen. This linen is the perfect weight for curtains. The Banksia was taken from a series of Julie's lino prints based on her sketches of native plants growing in her studio garden.




Width: 137cm
Vertical Repeat: 127cm

STONEY BLUE COLLAR ON OYSTER
Stoney refers to the irregular shapes and surfaces seen in the NSW hinterland from a distance, pared down to its essence. Bar stripe is one stripe to fit all, or at least most. Not too thin, not too fat and in a bit of a classic. Two Up are waterholes, taken from Julie's sketch book from years ago. Together - this mix of big and small scale prints in freshly coloured blues are reminders of the our beautiful waterfalls and waterways in all of their hues.



Width: 135cm
Vertical Repeat: 70cm

IRONBARK 6 - MARINE ON RAW
Printed on 100% Soft Linen lightweight cream.
This print is a loose interpretation of the heavily textured trunk of the ironbark tree, a slow growing native found in the forests of NSW.
This is a seasonal colourway.



Width: 134cm
Vertical Repeat: 110cm

THATCH 109 - GRASS
Thatch was inspired by the weave of old rattan furniture. The scale, texture and multi directions of the design mean this print is very, very useful for upholstery. No pattern matching required, you see.




Width: 135cm
Vertical Repeat: 70cm

CANOPY 109 - GRASS ON OATMEAL
Canopy is based on the Kentia palm, native to Lord Howe Island and famous for being the most commonly grown indoor palm in the world. Yes indeed.





Width: 135cm
Vertical Repeat: 70cm

SPOTCHECK 1001 - REDRUSE ON RAW
Spotcheck Redrust is printed on heavyweight raw linen. A classic Cloth red that feels dug up straight from the ground. Based on a small painting of Julie's from 2005 depicting the interconnected patterns of a spreading city, Spotcheck represents urban sprawl rolling over the contours of the land.



Width: 134cm
Vertical Repeat: 68cm

BRUMBY 3 - REDRUST ON RAW
Brumbies Redrust is printed on lightweight raw linen cotton. A burnt red and chalk white on raw. Earthy and rich. The Brumbies are the wild horses of Australia that Julie had read about as a girl in England. This design was made when her niece Matilda was born.

Width: 133cm
Repeat: 59cm