Designers Guild Fabric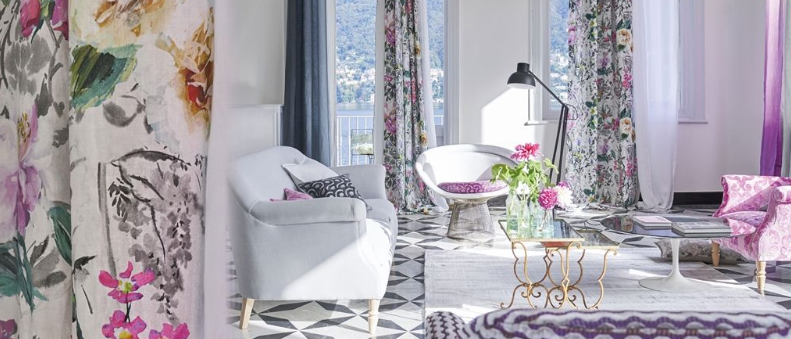 Established in 1970 by Tricia Guild, Designers Guild produces a bespoke range of furnishing fabrics, wallcoverings, cushions and more.
The Designers Guild range currently has nearly 9,000 fabrics including printed floral and geometric fabrics; plains, checks and stripes, jacquards, tapestries, silks, velvets, trimmings and children's collections. The highest qualities of cloth are sourced; from combed Egyptian cottons and Scottish linen unions to Swiss woven damasks.
Below are some of our favourite Designers Guild styles but if there is a specific Designers Guild fabric or product you are searching for, please contact us and we can source it for you.
'Request a Quote', enter the designer / fabric name in the message field and submit your enquiry so we can provide you with an accurate quote.

OUR FAVOURITE DESIGNERS GUILD FABRICS
PAHARI AMETHYST
Intricately painted blooms and flower heads with an almost photographic quality are arranged on a distressed filigree pattern, highlighted with almost iridescent butterflies. Digitally printed onto pure linen with a soft tumbled finish suitable for curtains, blinds and cushions. The scale of this floral print creates a contemporary feel.

Width: 134cm
Horizontal Repeat: 134cm
Vertical Repeat: 101cm


JANGAL ECRU
Exotic branches of leaves painted with exquisite detail flow gently onto a softly frescoed ground. This versatile design is digitally printed onto pure linen with a softly tumbled finish suitable for curtains, blinds and cushions.

Width: 134cm
Horizontal Repeat: 134cm
Vertical Repeat: 104cm


MINAKARI COBALT
Expansive painterly blooms and trailing leaves are artfully arranged with a kaleidoscopic geometric background in vivid, vibrant colours . Digitally printed onto pure linen with a softly tumbled finish suitable for curtains, blinds and cushions.

Width: 140cm
Horizontal Repeat: 140cm
Vertical Repeat: 103cm


KASUTI ALCHEMILLA
The epitome of glamour - this luxurious statement striped satin fabric woven with silk, combines wide bands of colour with a graphic floral embroidery in black with an almost raised appearance. In one statement colourway suitable for curtains, blinds and cushions.



Width: 132cm
Horizontal Repeat: 132cm
Vertical Repeat: 38cm


MONSERRATE VIRIDIAN
A classic geometric cut velvet, woven with rayon and cotton to create a resilient and stunning two-tone affect. Available in 11 beautiful colours, Monserrate is suitable for all types of upholstery as well as curtains, cushions, bedcovers and blinds.


Width: 141cm
Horizontal Repeat: 6cm
Vertical Repeat: 6cm


QUELUZ DUCK EGG
A sumptuously heavy and luxurious velvet featuring an abstract check combining classic houndstooth patterns. Cleverly woven combining the velvet pile with chunky chenille yarn for added depth and texture. One monochrome colour-woven colourway plus three piece-dyed shades. Washable and highly durable, perfect for all upholstery applications as well as curtains, cushions and bedcovers.

Width: 125cm
Horizontal Repeat: 16cm
Vertical Repeat: 31cm


JARDIN CHINOIS JADE
Distinctive brushstrokes create layered leaves on a paint-speckled ground to illustrate an atmospheric bamboo garden. Combining contemporary touches and tones with elements of classical brushwork, this decorative design is influenced by the ornamental style of nineteenth-century Asian art which was much revered by aesthetes, artists and influential thinkers of the time. This heavyweight digitally printed velvet is an ideal fabric for luxurious curtains, upholstery and cushions.

Width: 132cm
Horizontal Repeat: 132cm
Vertical Repeat: 97cm


SPRING TULIP BUTTERMILK
Exquisite artistry captures a grand scale vision of painterly tulips, imagined in soft, sensuous shades of colour. This striking floral fabric is digitally printed in one colourway on a durable pure cotton ground, a perfect fabric for curtains, cushions and upholstery.

Width: 140cm
Horizontal Repeat: 140cm
Vertical Repeat: 97cm


GRANDIFLORA ROSE EPICE
A celebration of spring flowers – this beautiful floral cotton fabric is digitally printed in two joyful colourways on durable, brushed cotton. Inspired by plants woman Gertrude Jekyll and her vivid planting schemes that sought to present garden design as an art form. A beautiful, statement floral fabric for curtains, upholstery or cushions.




Width: 140cm
Horizontal Repeat: 140cm
Vertical Repeat: 88cm