Harlequin Fabric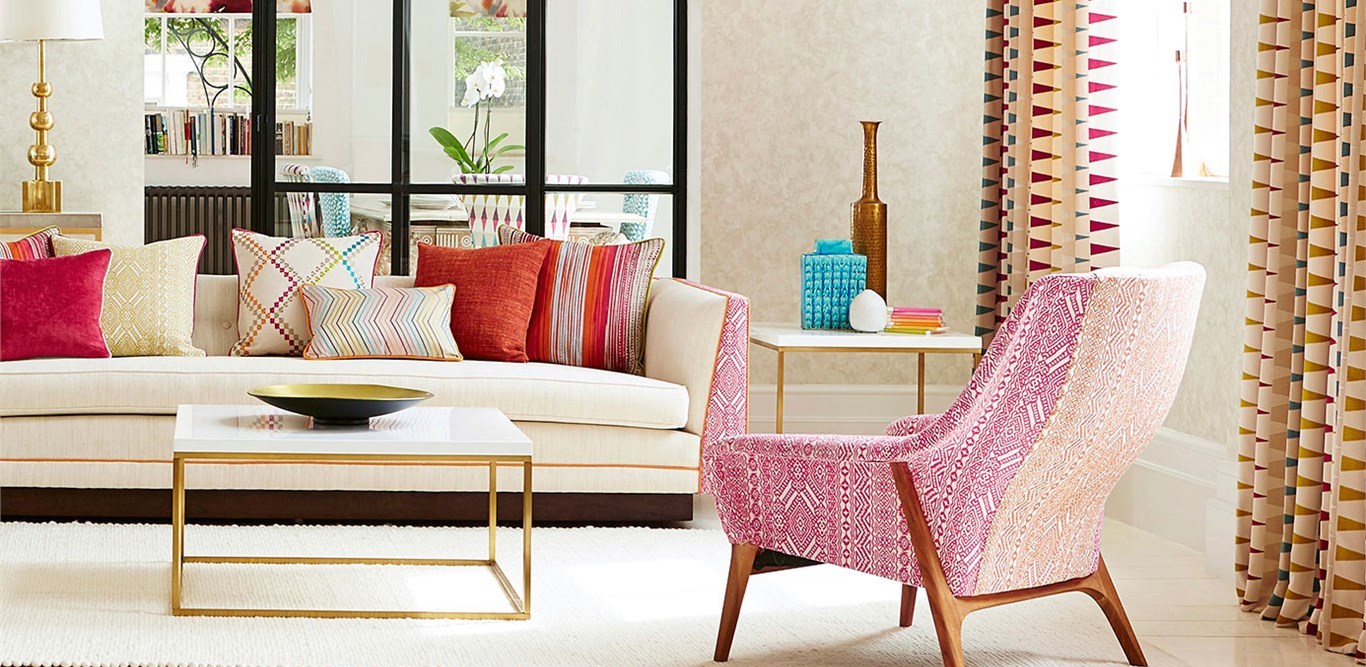 Harlequin specialises in cutting-edge design, and within its comprehensive portfolio of designer fabrics you will discover an amazing breadth of prints and weaves in a dazzling array of colours and textures. From bold and contemporary to understated and classically elegant, there's a vast choice and a world of opportunity to help you transform your home!
Below are some of our favourite Harlequin styles but if there is a specific Harlequin fabric or product you are searching for, please contact us and we can source it for you.
'Request a Quote', enter the designer / fabric name in the message field and submit your enquiry so we can provide you with an accurate quote.

OUR FAVOURITE HARLEQUIN FABRICS
INTO THE WILD
Journey through this colourful jungle of acacia leaves and tall trees in search of friendly giraffes, proud lions, striped zebras and majestic elephants. Hand drawn with felt tip, this chalkboard inspired design is truly stunning.


Width: 140cm
Horizontal Repeat: 142cm
Vertical Repeat: 90.9cm

WORLD AT YOUR FEET
Which shoes will it be today? Dress up and conquer the world with this colourful collection of favourite footwear. Beautiful pen detail gives these fun shoes their sparkly, magic powers!



Width: 139.5cm
Horizontal Repeat: 69.5cm
Vertical Repeat: 63.5cm

HIDE & SEEK - POPPY / MARINE / OCHRE
As day breaks, jumping foxes leap over fresh meadow flowers, playing a game of hide and seek in this wonderful outdoor world. Fluttering butterflies dance to the Blue Tits song as bounding bunnies join in the fun. Everywhere you look, this beautifully hand painted sumptuous satin is full of life.


Width: 138cm
Horizontal Repeat: 138cm
Vertical Repeat: 66.5cm

TRANSVERSE - INK
Inky brush mark detail casts subtle shapes and shadows across the ground of this showstopping fabric thats inspired by the angularity of architecture.

Width: 141cm
Horizontal Repeat: 69cm
Vertical Repeat: 107cm

ACUTE - TOBACCO / SLATE
This striking jacquard velvet was inspired by the shapes and structures of New Yorks iconic skyline. Raised velvet detail charts the heights of towering buildings across three versatile colour combinations.


Width: 139.5cm
Horizontal Repeat: 34.2cm
Vertical Repeat: 42cm

DISTORTION - TOBACCO / SLATE / CLAY
A graphic take on a modern ikat thats representative of cut marble, Distortions colourful ombre is printed on a sumptuous cotton/velvet.



Width: 134cm
Horizontal Repeat: 44cm
Vertical Repeat: 50cm

EXPOSE - MARBLE / COAST / SLATE
Translucent, layered leaves show the interaction between light and shade in this painterly Harlequin design thats reminiscent of photographic techniques.




Width: 138cm
Horizontal Repeat: 68cm
Vertical Repeat: 66cm

EXTENSITY - CALICO / EBONY
This carefully curated selection of architecturally inspired fabrics uses Empower Plains cotton satin ground for easy co-ordination. Corded applique embroidery, contrasts against the simplicity of hard, yet elega



Width: 138cm
Horizontal Repeat: 45.8cm
Vertical Repeat: 22.8cm

OSCILLATION - CASCADE / ROSE QUARTZ
Digitally printed onto a cotton satin ground this shattered horizontal stripe is reminiscent of long exposure photography where crowds rush amongst bustling streets. A lightweight fabric with a lovely drape different colours blend like a woven ikat.



Width: 137cm
Horizontal Repeat: 69.5cm
Vertical Repeat: 69.5cm