Morris & Co Fabric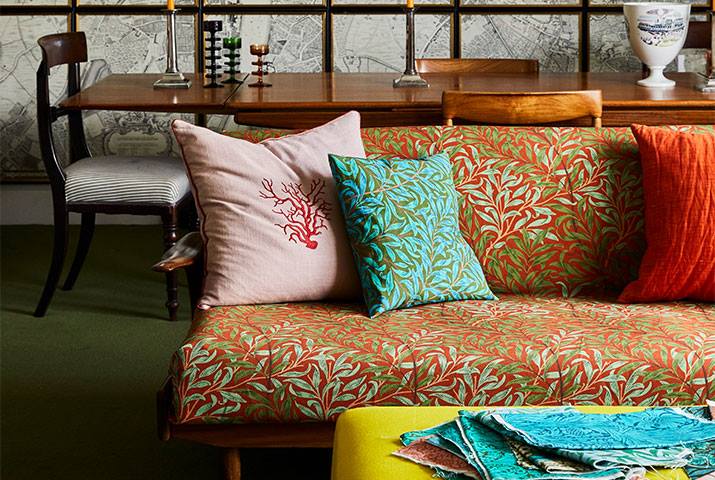 Founded in 1861 by William Morris, his designs have timeless and classic appeal, and the fresh interpretations, using innovations in printing and weaving technology have created relevant and classic fabric and wallpaper designs that offer enduring influence and style.
Below are some of our favourite Morris & Co styles but if there is a specific Morris & Co fabric or product you are searching for, please contact us and we can source it for you.
'Request a Quote', enter the designer / fabric name in the message field and submit your enquiry so we can provide you with an accurate quote.
OUR FAVOURITE MORRIS & CO FABRICS
BACHELORS BUTTON
Inspired by an archive pattern book with Bachelors Button on the cover, were proud to say this design was the catalyst for Ben Pentreaths Queen Square Collection. Given a modern twist and an undeniable vibrancy, dramatic swirling leaves painted in the style of a medieval fresco coil amongst this show stopper of a fabric. Suitable for drapes and upholstery.



Printed Width: 137.2cm
Horizontal Repeat: 45.7cm
Vertical Repeat: 45.7cm

CHRYSANTHEMUM
Prepare to be wowed by the vibrancy of this 1960s inspired Morris & Co. fabric recoloured by Ben Pentreath in his signature palette. With a powerful Japanese influence and full of personality, coral and turquoise tones pair wonderfully with an olive ground to give this 1886 adaptation of a Jeffrey & Co. wallpaper a modern twist. Suitable for drapes and upholstery.



Printed Width: 142cm
Horizontal Repeat: 28cm
Vertical Repeat: 51.5cm


DAFFODIL
Ben Pentreath has taken the distinctive daffodils that grace this design and pumped up the colour! Created by John Henry Dearle c.1891, the original drawing survives and can be seen at the William Morris Gallery in London. Scaled down slightly and produced on a cotton/linen cloth, the Dark Olive colourway is utterly magical with its bright, almost electric blue ground and eye-catching teal detail.



Printed Width: 137.2cm
Horizontal Repeat: 13.7cm
Vertical Repeat: 22.8cm


KENNET
The curvaceous flowers and trailing leaves placed on a bed of smaller entwined flora and fauna showcase the inky movement of this cosy, comforting 1883 design. Team the Aqua/Pink colourway with our Sunflower wallpaper for a painterly, heritage look or make a statement with the green tones and inky blue stems of Olive/Turquoise.


Width: 137.2cm
Horizontal Repeat: 22.9cm
Vertical Repeat: 68.8cm


MARIGOLD
This design from 1875 is hugely versatile, working with ease in any part of the home it also looks beautiful on cushions, blinds or chairs. Crisscrossing an entire spectrum of colour, choose from the nostalgic versatility of Olive/Pink, the retro vibes of Orange/Pink, the contrasting vibrant pops of Turquoise/Navy and the striking embossed look of Navy/Orange.


Printed Width: 142cm
Horizontal Repeat: 35.4cm
Vertical Repeat: 33.3cm


BAMBOO
Bamboo has been adapted from a design by E.W. Godwin of 1872. Like Morris Godwin was dedicated to beautifying the home and Oscar Wilde referred to him as One of the most artistic spirits of this century in England. Godwin was highly influenced by Japanese design and often used bamboo motifs in his work.

Printed Width: 137cm
Horizontal Repeat: 46cm
Vertical Repeat: 42cm


PURE HONEYSUCKLE & TULIP EMBROIDERY
Elegant in design and colour, this fabric features tulips appliqued in velvet and was inspired by Morriss watercolour paintings of Honeysuckle from 1876. The Morris & Co. studio created this new artwork with fine ink, pencil and watercolour.


Width: 129.5cm
Horizontal Repeat: 64.7cm
Vertical Repeat: 57cm


PURE BACHELORS BUTTON PRINT

Dramatic swirling leaves coil around on this monochrome fabric. The Morris & Co. studio enlarged the original 1892 design and painted it in the style of medieval frescos with dramatic effect creating a show stopping, full-width fabric.


Width: 139cm
Horizontal Repeat: 139cm
Vertical Repeat: 120cm


PURE MARIGOLD PRINT
A tranquil monotone print designed by Morris in 1875 and one of the few designs Morris produced for both wallpaper and fabric. This versatile fabric is printed on upholstery-weight linen and an additional colourway printed on a lightweight linen with a subtle pearl effect adding a luxurious sheen.


Width: 140cm
Horizontal Repeat: 34.5cm
Vertical Repeat: 32cm