Ralph Lauren Fabric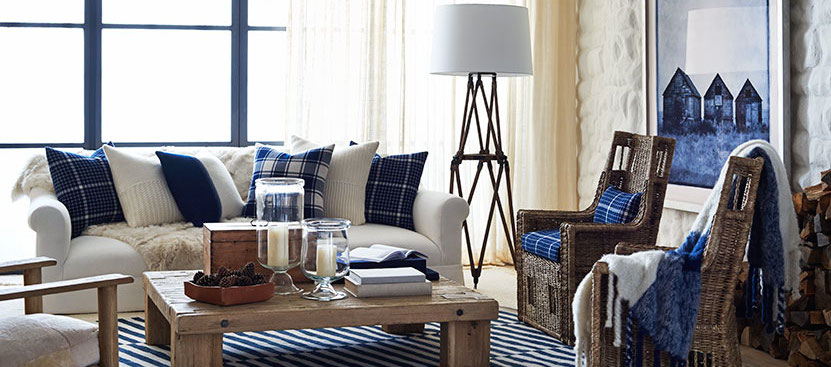 With a focus on authenticity and quality, Ralph Lauren produces heirloom-quality fabrics woven by skilled artisans from around the world.
Below are some of our favourite Ralph Lauren styles but if there is a specific Ralph Lauren fabric or product you are searching for, please contact us and we can source it for you.
'Request a Quote', enter the designer / fabric name in the message field and submit your enquiry so we can provide you with an accurate quote.

OUR FAVOURITE RALPH LAUREN FABRICS
WASHINGTON FLORAL - VERDANT
The Rhododendron is widespread in the Pacific Northwest and is the state flower of Washington. Evergreen and hearty, they have a robust and masculine attitude. We have coloured them in rich earth tones to porcelain blues, to highlight their strength and versatility as a motif, when a more rugged look is required. Digitally printed.


Width: 137cm
Pattern Repeat: 66cm

DOWN EASTER BOATS - ATLANTIC
A vintage document is accurately translated to give a lighthearted and nostalgic air to the collection on this cotton and linen ground perfect for upholstery as well as curtaining and accessories. All the charm of the original is captured.




Width: 137cm
Pattern Repeat: 49.5cm

SCRIMSHAW FLORAL BLOCKPRINT -SLATE
Beautiful blockprint floral toiles in two colours.

Width: 137cm
Pattern Repeat: 22.8cm

KILCHURN PLAID - DUNE
Natural tones with hints of red and blue combine to form this stunning plaid.


Width: 152cm
Pattern Repeat: 23.4cm

AMES COVE EMBROIDERY - ANTIQUE IVORY
A rustic linen is hand embroidered with native flower motifs which has the authentic look of a family heirloom from a previous generation. Suitable for upholstery too.

ALESSANDRIA DAMASK - LINEN




Width: 137cm
Pattern Repeat: 78cm

AMERICAN BEAUTY - SPRING
The best selling rose in the United States, and the state flower of the District of Columbia, the American Beauty grows in vigorous shrubs, and similarly the layout for this print is enormous columns of lush blooms. When simply ordinary just will not do.


Width: 137cm
Pattern Repeat: 55cm

MISSOURI FLORAL - AUGUST
The Oleander depicted here, just as in real life, is known for its hearty ability to adapt to many environments. The fabric is an easy layering scale with colourations that suit many schemes. Even layered with itself, it sets a balmy mood in warm colourations.

COLLINS TARTAN - ANCIENT
Haberdashery meets traditional plaid in this stunning tartan; adding a heritage appeal to a traditional interior, or a classic touch to a modern scheme.




Width: 137cm
Pattern Repeat: 19.5cm