Sanderson Fabric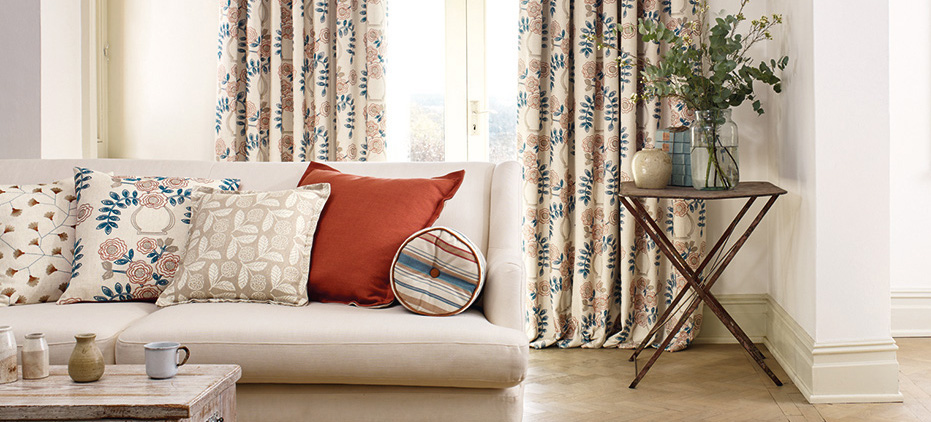 The first Sanderson fabric range of printed cottons was produced in 1919. The Sanderson range of designer fabrics today includes printed designs on cotton, linen and silk, together with jacquard and dobby weaves, embroideries, sheers and a wide range of plains suitable for curtains, upholstery and soft furnishings.
Below are some of our favourite Sanderson styles but if there is a specific Sanderson fabric or product you are searching for, please contact us and we can source it for you.
'Request a Quote', enter the designer / fabric name in the message field and submit your enquiry so we can provide you with an accurate quote.

OUR FAVOURITE SANDERSON FABRICS
BIRDS & BERRIES - FERN
Walk through the woods and forage for berries and fruits with this delightful scene of stylised birds fruits and berries in fresh contemporary colourways. Team with plains or Sanderson Dorton Velvets to pull a scheme together. Printed using Ecofast inks on a sustainably sourced cotton.


Width: 140cm
Horizontal Repeat: 92.5cm
Vertical Repeat: 63.5cm

LOPHURA - ENGLISH GREY
Taken from an archive document and with its classic chinoiserie appeal block printed pheasants flowers and leaves adorn this stylised Sanderson fabric.




Width: 141cm
Horizontal Repeat: 141cm
Vertical Repeat: 74cm

SUMMER PEONY - VINEYARD / ROSE
Abundant blooms generous and ever giving feature on this lovely cottage garden scene of beautiful peonies delicate butterflies and friendly bees. Bold and richly coloured the Vineyard/Rose and Newby Green colourways are available in a sumptuous velvet.


Width: 132cm
Horizontal Repeat: 132cm
Vertical Repeat: 73.5cm

VIOLET GRASSES - COBALT
Taking its inspiration from Wicken Fen this contemporary oasis of grasses and flowers captures the undeniable beauty of the English countryside. A painterly brush mark weft creates a textural look across this woven jacquard akin to the gentle ripples of water.


Width: 137cm
Horizontal Repeat: 69cm
Vertical Repeat: 68.6cm

CANTALOUPE
An elegant, large-scale painterly design of oversized fruits and leaves in soft, watercolour tones adorn this easy to use Sanderson fabric.

Width: 139cm
Horizontal Repeat: 139cm
Vertical Repeat: 90cm

INDRA FLOWER - HIBISCUS
The softly diffused edges of this archive design give the look of a woven ikat, printed to create a gloriously colourful trail of stylised birds and flowers. The perfect way to liven up a room, add drapes in Hibiscus and upholstery in Emerald and Indigo/Cherry.


Width: 139cm
Horizontal Repeat: 69cm
Vertical Repeat: 59cm

NIYALI - ANNATO / MIDNIGHT
With its bold colours and complex pattern representative of the ikat silks woven in Uzbekistan, this colourful multidirectional repeated motif is printed on a lovely dual purpose cotton satin.





Width: 140cm
Horizontal Repeat: 46cm
Vertical Repeat: 60.5cm

PAMIR GARDEN - CREAM/INDIGO
Inspired by a document in the Sanderson archive titled Animal Kingdom, Pamir Garden is a fantastical fabric that reflects the 1970s fashion for exotic patterns and global cultures. Representative of a Persian garden, this oasis scene of floral sprigs, stylised trees, tigers and antelopes, has been repainted in a fresco style with a crackle glaze effect in the ground to give a time-worn look.

Width: 141cm
Horizontal Repeat: 93cm
Vertical Repeat: 77cm

KASURI WEAVE - SEA GLASS
The source for this design was an Uzbek adras robe, woven with pre-printed warps to create a beautifully blurred motif. This dual-purpose woven jacquard displays a bold ethnic design on a viscose ground, complete with a subtle lustre.


Width: 140cm
Horizontal Repeat: 69cm
Vertical Repeat: 81cm