Walter G Fabric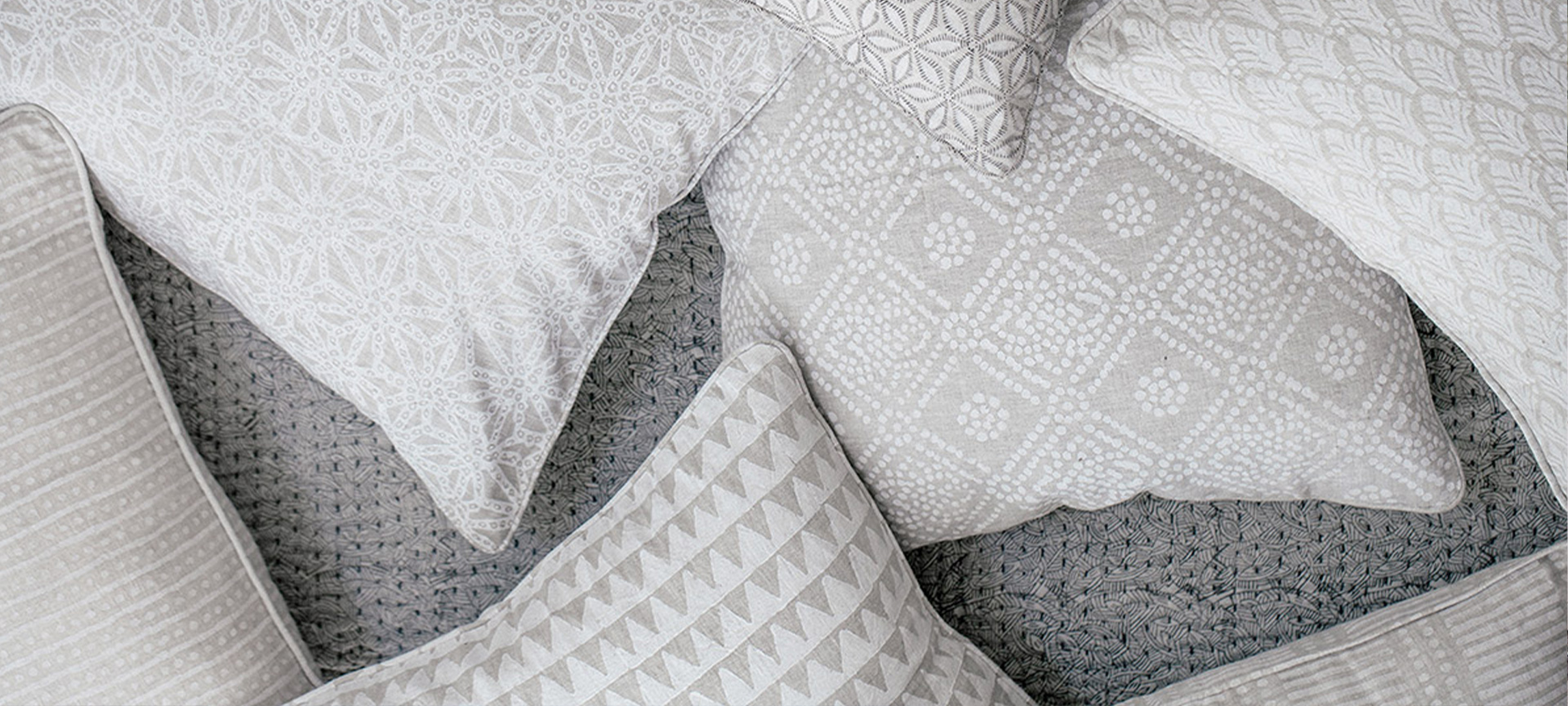 Walter G is an Australian-owned and Sydney-based boutique textile house founded by Lauren Emerson and Genevieve Hewson. Taking inspiration from old textiles and new surroundings, they work closely with a wonderful team of artisans in Rajasthan to collaboratively produce a tactile range of hand block and mud printed fabrics.

Channelling the relaxed vibe of coastal living, through pattern, fresh colour, texture and nostalgia – Walter G's fabrics are designed to be mixed and matched to elevate an interior with both style and comfort.
Below are some of our favourite Walter G styles but if there is a specific Walter G fabric or product you are searching for, please contact us and we can source it for you.
'Request a Quote', enter the designer / fabric name in the message field and submit your enquiry so we can provide you with an accurate quote.

OUR FAVOURITE WALTER G FABRICS
HAVANA INDIAN TEAL LINEN
This design is the result of several years of globetrotting. Designed in Havana, Cuba and inspired by an antique applique found on travels through India, this is a Walter G favourite. Havana has been hand block printed by artisans in India.
Width: 140cm
Horizontal Repeat: 13cm
Vertical Repeat: 13cm

TICKING INDIAN TEAL LINEN
Ticking takes a simple stripe and enhances it with an outline, giving the print depth and scope. This design has been hand block printed by artisans in India.

Width: 140cm
Horizontal Repeat: 1cm
Vertical Repeat: 2cm

SCOPELLO CELADON LINEN
Inspired by a treasured ceramic collected in Sicily, Scopello plays with tonal variation and a scalloped form to add depth and inspire opulence. Scopello has been hand block printed by artisans in India.

Width: 140cm
Horizontal Repeat: 15cm
Vertical Repeat: 20cm

MORO CELADON LINEN
A modern interpretation of a traditional scollop design, Moro is enhanced by the subtle imperfections created by the hand block printing process.


Width: 140cm
Horizontal Repeat: 16.5cm
Vertical Repeat: 11cm

TANGIER SAFFRON LINEN
The form of Tangier was influenced by traditional African woven textiles, using soft undulating lines to create movement. Tangier has been hand printed on 100% linen.

Width: 140cm
Horizontal Repeat: 18cm
Vertical Repeat: 12cm

LUXOR SAFFRON LINEN
Inspired by the splendour of the ancient Egyptian monuments throughout the city of Luxor, this design reflects the artistic style of Egyptian art. Featuring a lush palm motif, this directional design has been hand block printed on 100% linen.

Width: 140cm
Horizontal Repeat: 17cm
Vertical Repeat: 8cm

BATIK DEEP OCEAN WOVEN
Using Sunbrella performance yarns, we have translated one of our signature designs, Batik, into a luxurious yet durable woven fabric. From the family sofa to the pool lounge, this fabric has you covered.


Width: 137cm
Horizontal Repeat: 8.9cm
Vertical Repeat: 9.88cm

SAQQARA ATLANTIC WOVEN
The namesake of this design, Mali, is the home of African mud cloth, a artisanal craft that hugely inspired this design. Mali is a simplistic but directional design that makes a bold statement.



Width: 137cm
Horizontal Repeat: 17.78cm
Vertical Repeat: 23.47cm

BATIK ALBATROSS WOVEN

Using Sunbrella performance yarns, we have translated one of our signature designs, Batik, into a luxurious yet durable woven fabric. From the family sofa to the pool lounge, this fabric has you covered.

Width: 137cm
Horizontal Repeat: 8.9cm
Vertical Repeat: 9.88cm