William Yeoward Fabric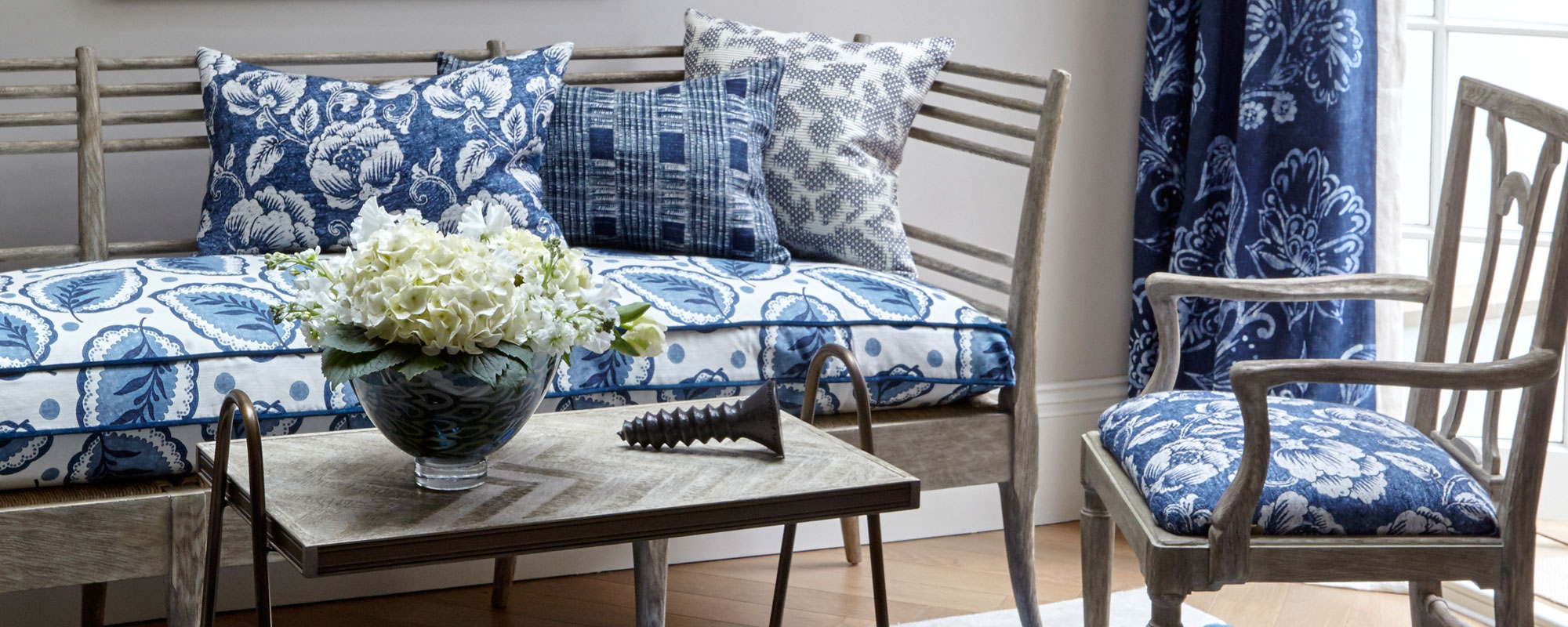 William Yeoward is one of London's leading creative forces, with a reputation as a style maker, retailer and designer of beautiful products for the home. His extensive range of fabrics offers a variety and diversity useful for any decorative scheme from ultra-modern contemporary to rich country house classic. Elegant, luxurious and totally timeless.
Below are some of our favourite William Yeoward styles but if there is a specific William Yeoward fabric or product you are searching for, please contact us and we can source it for you.
'Request a Quote', enter the designer / fabric name in the message field and submit your enquiry so we can provide you with an accurate quote.

OUR FAVOURITE WILLIAM YEOWARD FABRICS
JASHAM INDIGO
A stunning combination of print and embroidery, brought to life by delicate stitchwork that frames the design wonderfully. Peaceful and easy, this pure cotton design is evocative of a woodland stream. A great design for curtains, blinds and cushions. In two versatile colourways.

KAVANA DENIM
An inspired abstract geometric trellis in timeless tones of blue and white. Rather like the toiles of the nineteenth century, this highly ornate, digitally printed linen union design could be used as an all over room decoration; on walls, as curtains, covers and general upholstery. In one stylish colourway.

PELLENPORT DENIM
Directly inspired by a vintage batik print, wonderfully decorative foliage overlaid on an elegant stripe with rich textural details. Digitally printed on a textural linen union and available in two brooding colourways, this stunning design is perfect for all manner of interior applications.

SUREKHA MIDNIGHT
The gardens of the Azure coast and the moonlit gardens of the Southern French hills inform this beautiful print. Abundant with flowers and foliage, this energetic design is brilliant for curtains, blinds, bedcovers, cushions and general upholstery. In three glorious colourways.

SABBRA PEACOCK
Inspired by the magnificent gardens of the Alhambra in Seville and the exotic use of colour pigment. A colourful and artistic rendition of geometric pattern and digitally printed onto a viscose linen ground cloth. Perfect for curtains, blinds, bedcovers, cushions and general upholstery. In one brilliant colourway.

FRANCISCO PEACOCK
Moorish architectural influences form the basis for this dramatic scale design with rich teal and red ornamental detailing. Digitally printed onto rich viscose linen for a sophisticated interior statement.




MATANTA PEACOCK
This exquisitely stitched embroidered fabric details a new take on dimension and scale for William Yeoward. With Moorish architectural influences in rich evocative tones on a soft linen toned ground, this contemporary ethnic all over design is perfect for curtains, cushions and blinds..

MONTRACY ROUGE
An expressive and characterful drawn paisley print with intricate block print details. Available in two colourways, from the rich and vibrant to cool and serene. Digitally printed onto a wonderful viscose linen for statement upholstery as well as curtains, cushions and blinds.


GALLETTA CHARCOAL
A richly embroidered design that is made up of individual small patterns that create a powerful statement. A smart and contemporary monochromatic linen cotton blend which is perfect for dramatic curtains, blinds, cushions and bedcovers. In one striking colourway.