Pymble House Transformation
Date Posted:20 April 2020
Featured in the May issue of Australian House & Garden, this recent No Chintz project is the result of a stunning interior transformation.
Taking an unhurried approach to renovating this large family home, the extensive No Chintz updates are a confident expression of this family's way of living. The rich polish of beautiful paint colours and patterned wallpapers, offset by mellow and inviting soft furnishings is more 'lived in' than 'showcase' in style. Spread over a period of two years No Chintz completely re-decorated the interiors, while local landscape designer Peter Fudge transformed the outdoors.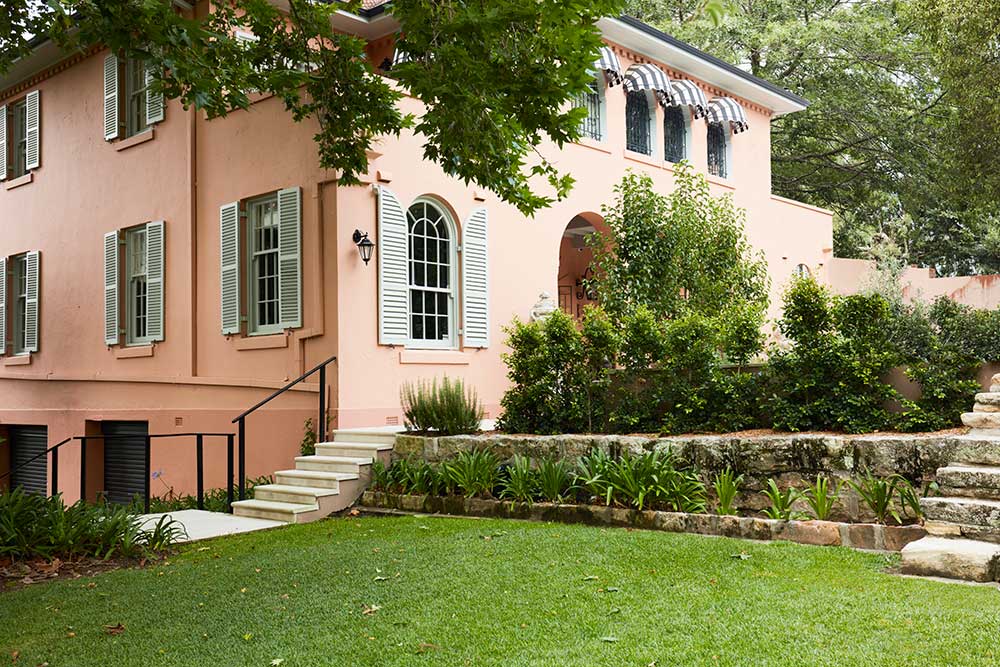 With the client's need for the 1920s home to become more practical, comfortable and easy to live in, No Chintz went to task to fulfill this brief for the family that included children ranging from toddler to teen. The No Chintz team was also mindful of the fact that the new transformation would be housing the family's older pieces of furniture as well as some modern pieces, and their collection of contemporary art.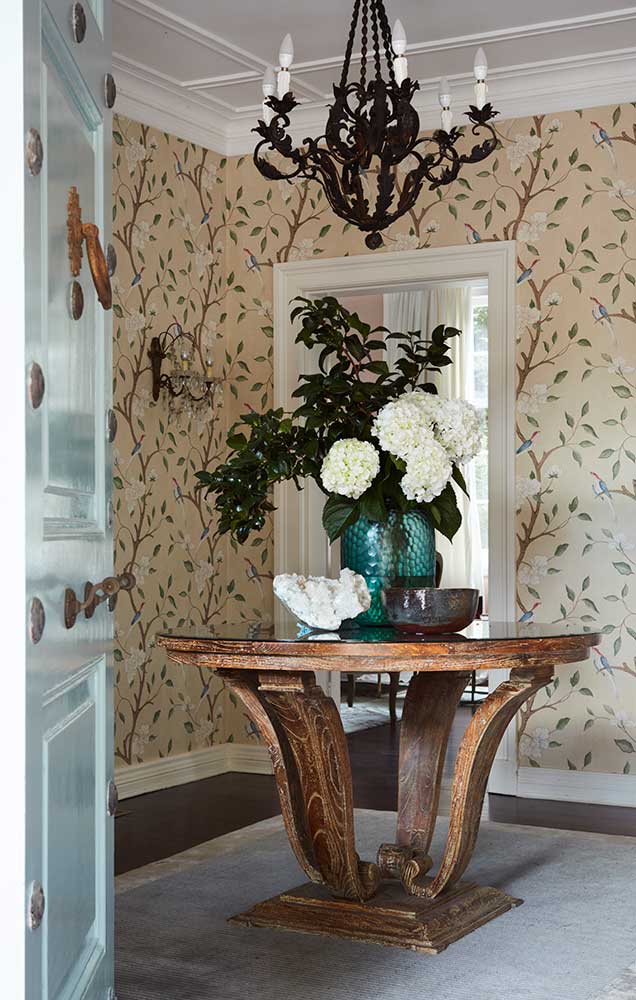 While the Mediterranean style house was solidly built, a few renovations were made to realize its full potential. For instance, a solid wall dividing the living room from the formal dining space was replaced with an elegant black steel framed glass wall.
This transformation immediately allowed more light to wash into the rooms on the ground floor.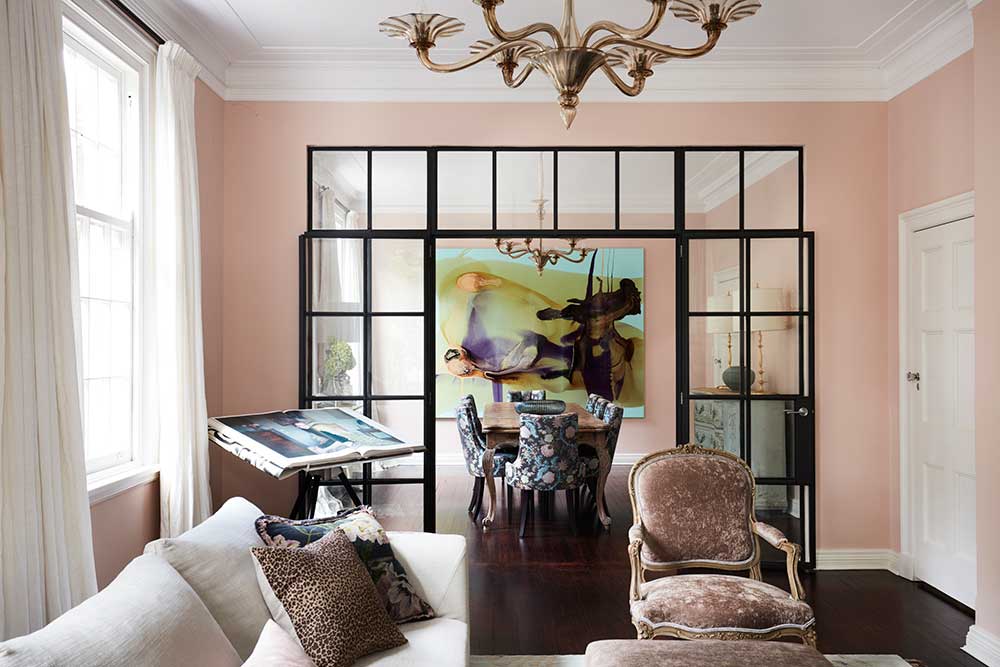 Upstairs, the master bedroom benefitted from a new en suite.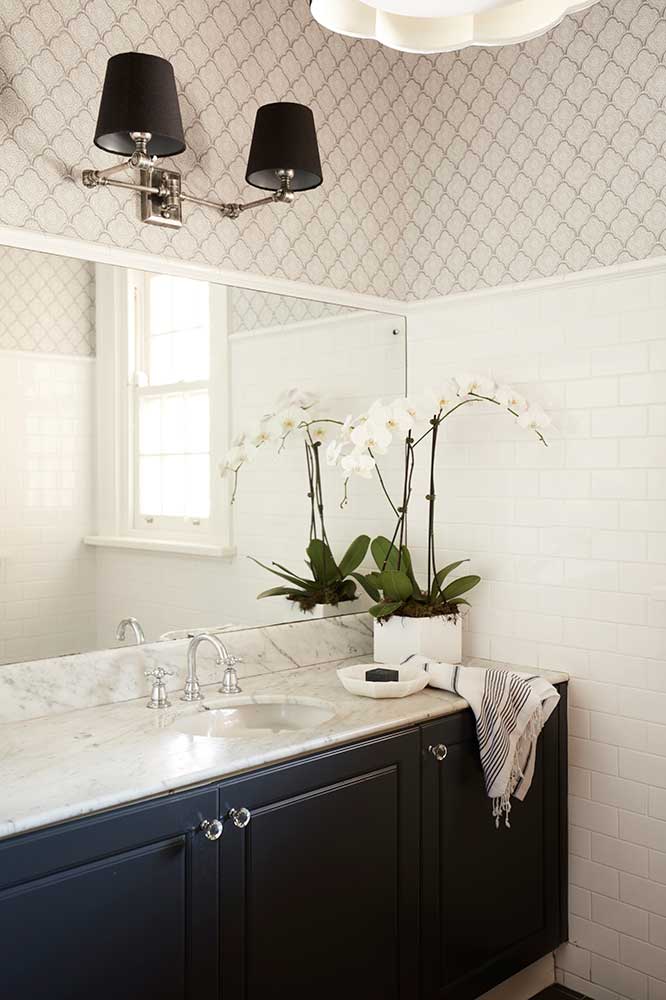 Stepping into the front vestibule, one brings along the outdoors, entering a space wall papered with sweetly climbing branches filled with birds.
Tall doorways lead from here into the dining and living rooms and kitchen, while the bedrooms are privately tucked away upstairs…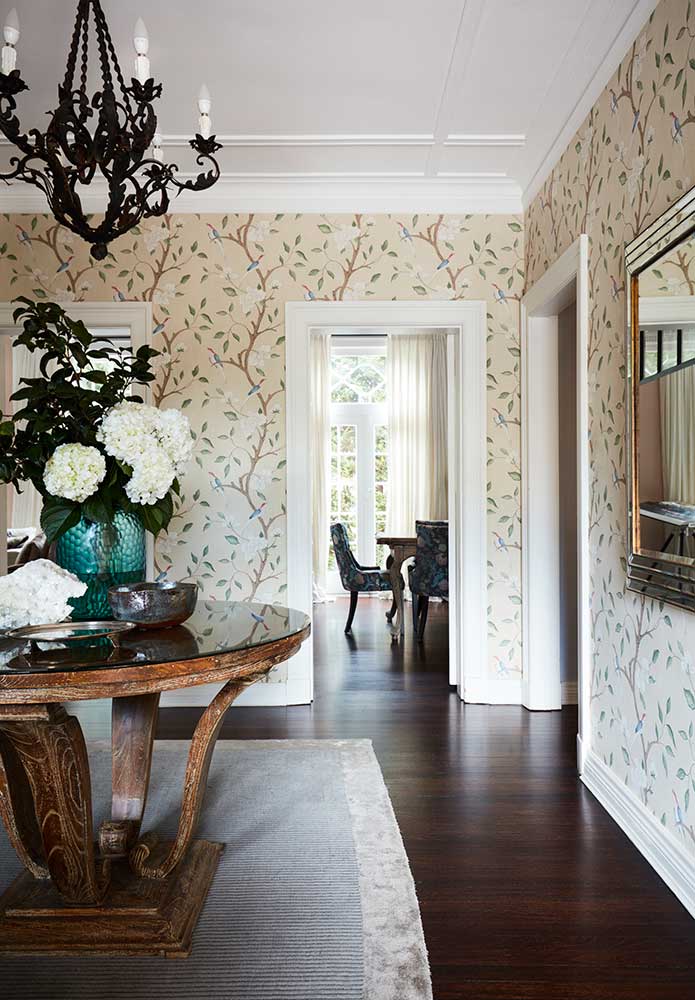 The more casual lounging space is a moody blue, filled with bookshelves and art, and laid out on a generous, patterned, richly hued rug. A large and comfortable sofa and ottoman invite you to sink into them deeply. A sheer roman blind, bordered smartly with a red stripe diffuses the light and gives the space a romantic glow.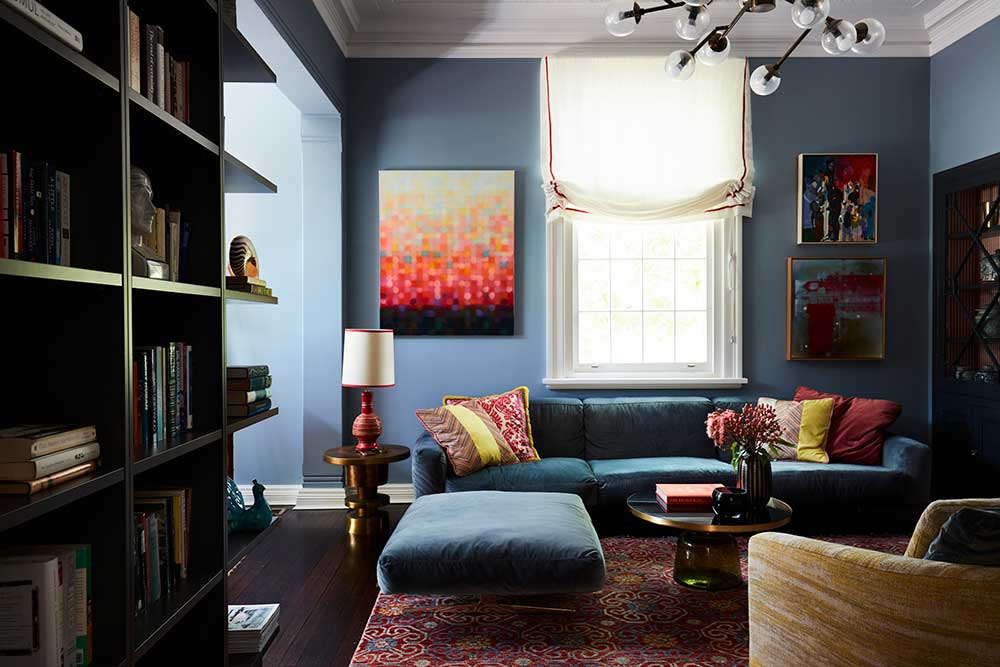 GET THE LOOK: ROMAN BLINDS
Vintage Linen col. Ivory with Pretty Braid col. Red Trim

The more formal rooms of the sitting area and the dining suite are expressed as a pair, linked by furniture that relates from one space to another, and a universal dusty pink for the walls. Tall sheer drapes lend a further softness to the blush, but it is all kept from tipping into 'girly' with strong dashes of blue in the dining chairs.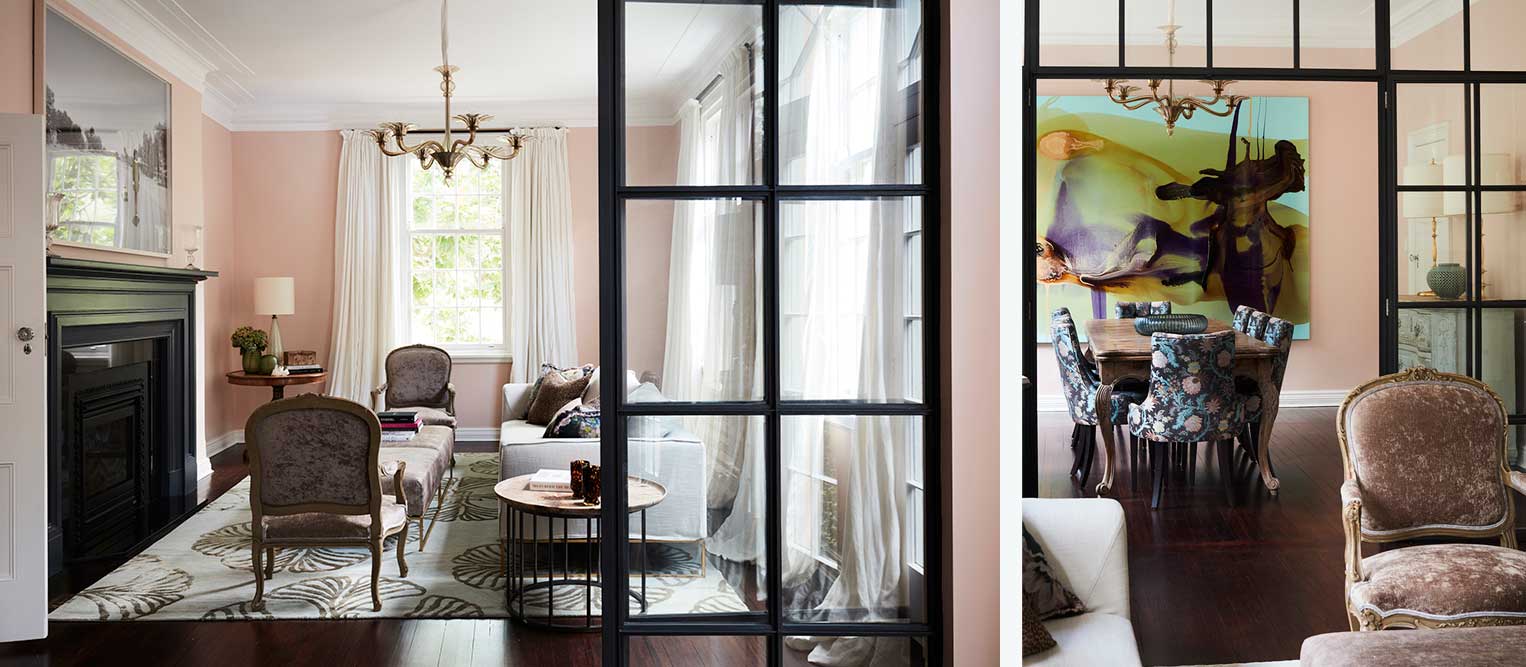 The kitchen, a family retreat, is bright and sparkling white, with terracotta tiled floors, smartly striped blinds and a wonderful old kitchen table taking center stage.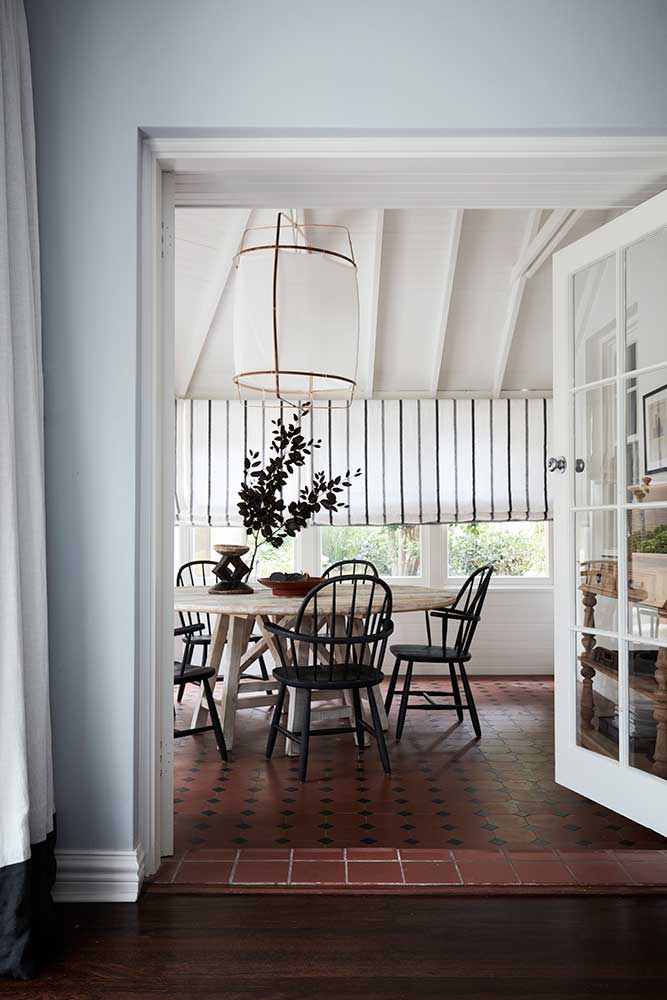 The passage to the upper rooms is painted in a restful pale blue. Here, the rooms are a witty expression of each occupant.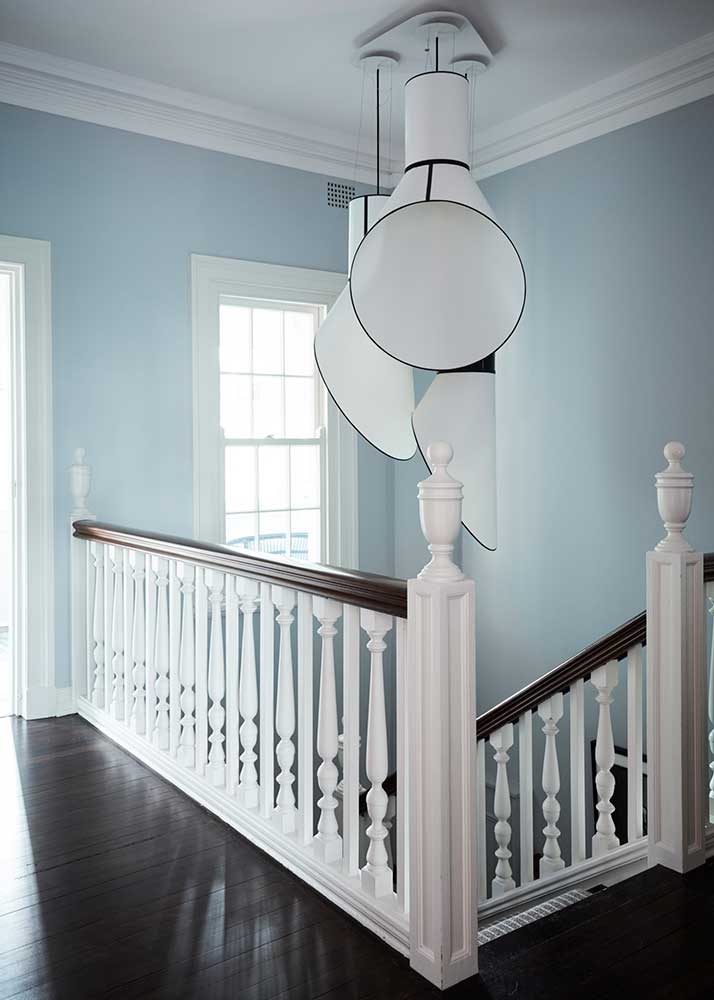 The pretty blue spills into the master bedroom, making it a true sanctuary with elegant upholstered bed head, a chandelier overhead and hints of pink for accents.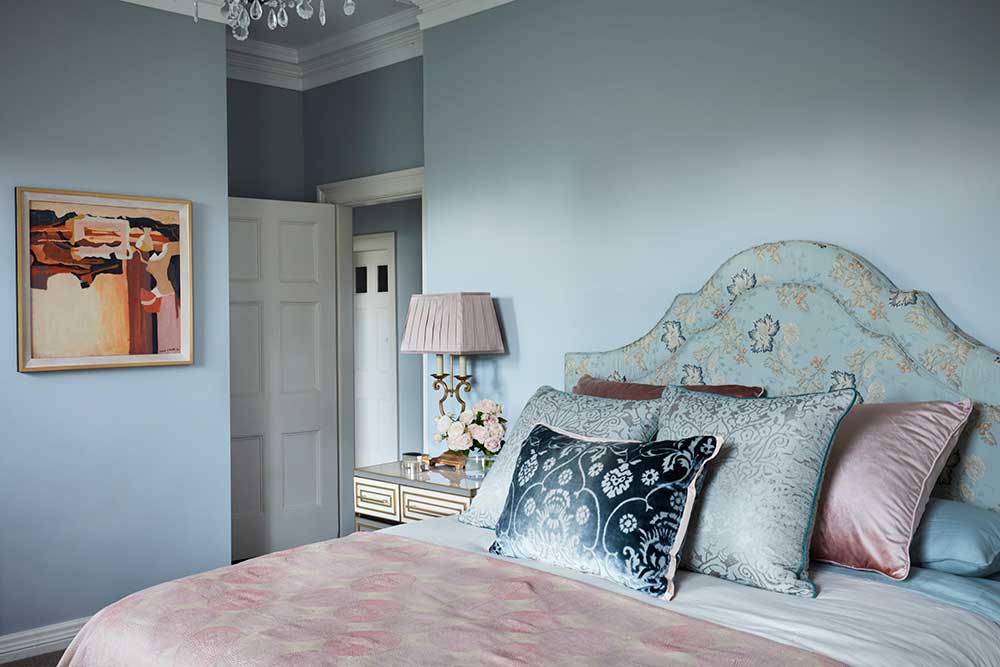 A young girl's bedroom is fresh with latticed flowering vine wallpaper, a white cane bed head, sea grass matting underfoot and a simple white roman blind. The colour theme is further continued in the ensuite; pretty diagonal floor tiles repeat the colour theme as do glassy blue subway tiles on the walls.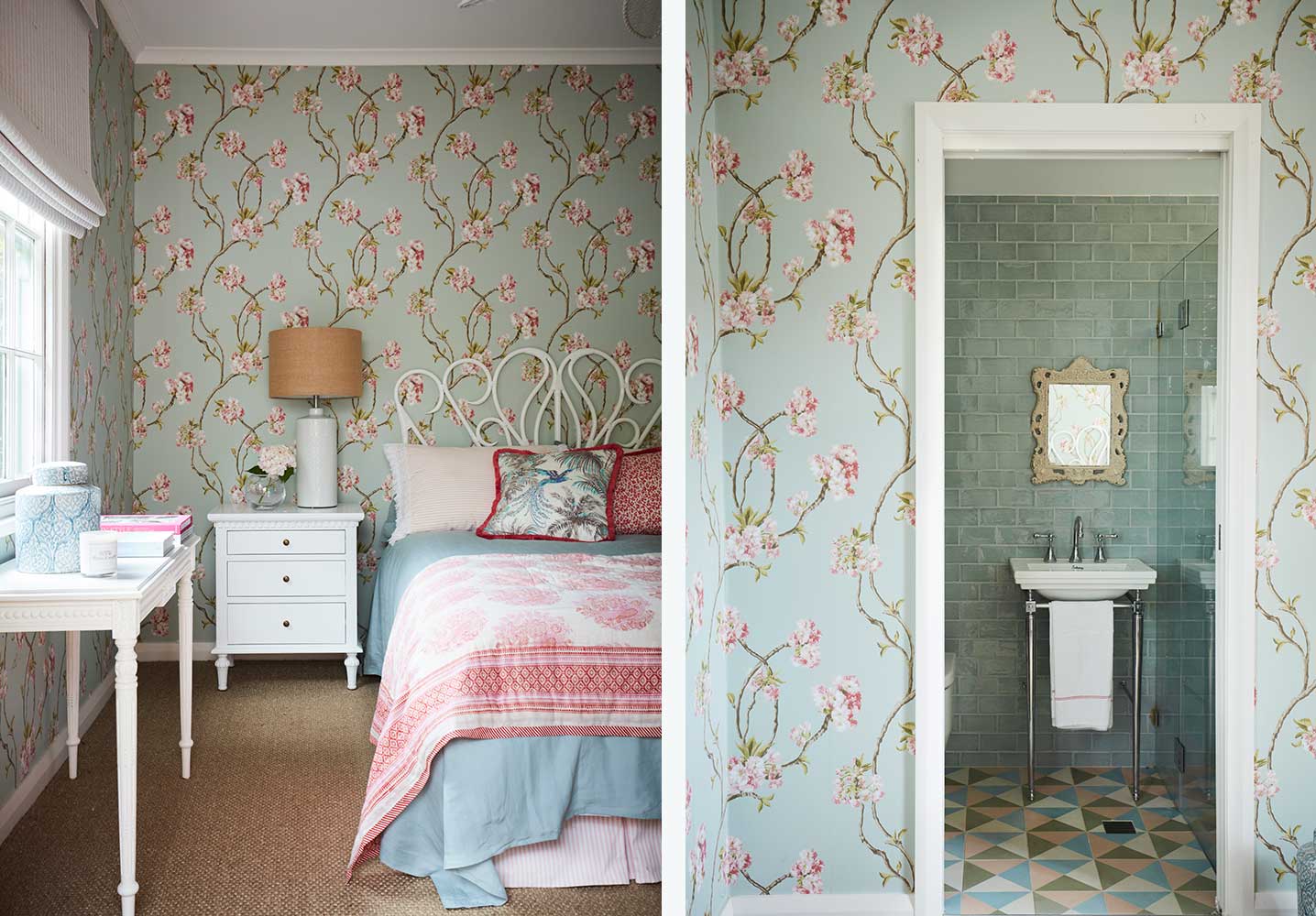 GET THE LOOK:
Quilt: Our "Paisley" Quilt
Cushion: "Bird Of Paradise" with Small Ruche col Pink Trim
Cushion: "Animal" col Pink with Small Ruche col Pink Trim
Bed throw: Ruff col Mist
The youngest family member's bold red striped room is framed on one end with tall linen drapes edged with a fun red and white pompom trim. The space exudes youth and energy; a fringed drum shaped overhead lamp, casts soft light over the narrow room. The ornate bed, fringed lampshade and soft drapes add detail and softness to a strikingly bold room.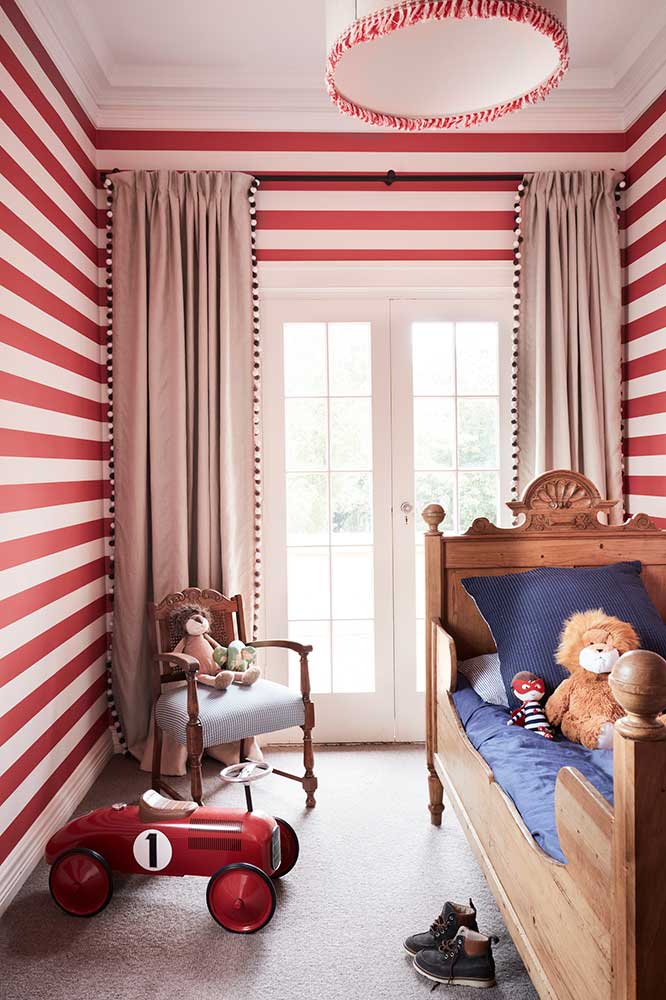 GET THE LOOK: CURTAINS
Mabel Linen col. 'Oatmeal' with Pom Pom Trim col 'Charcoal' and 'White'
This vibrant household is packaged in the classic Mediterranean colours of peachy terracotta. The outdoors, edged with its covered porches of terracotta tiles and views out to green spaces through arched colonnades. The experience of this beautiful home is ticking all the boxes for a family's expression of relaxed comfortable and inviting spaces.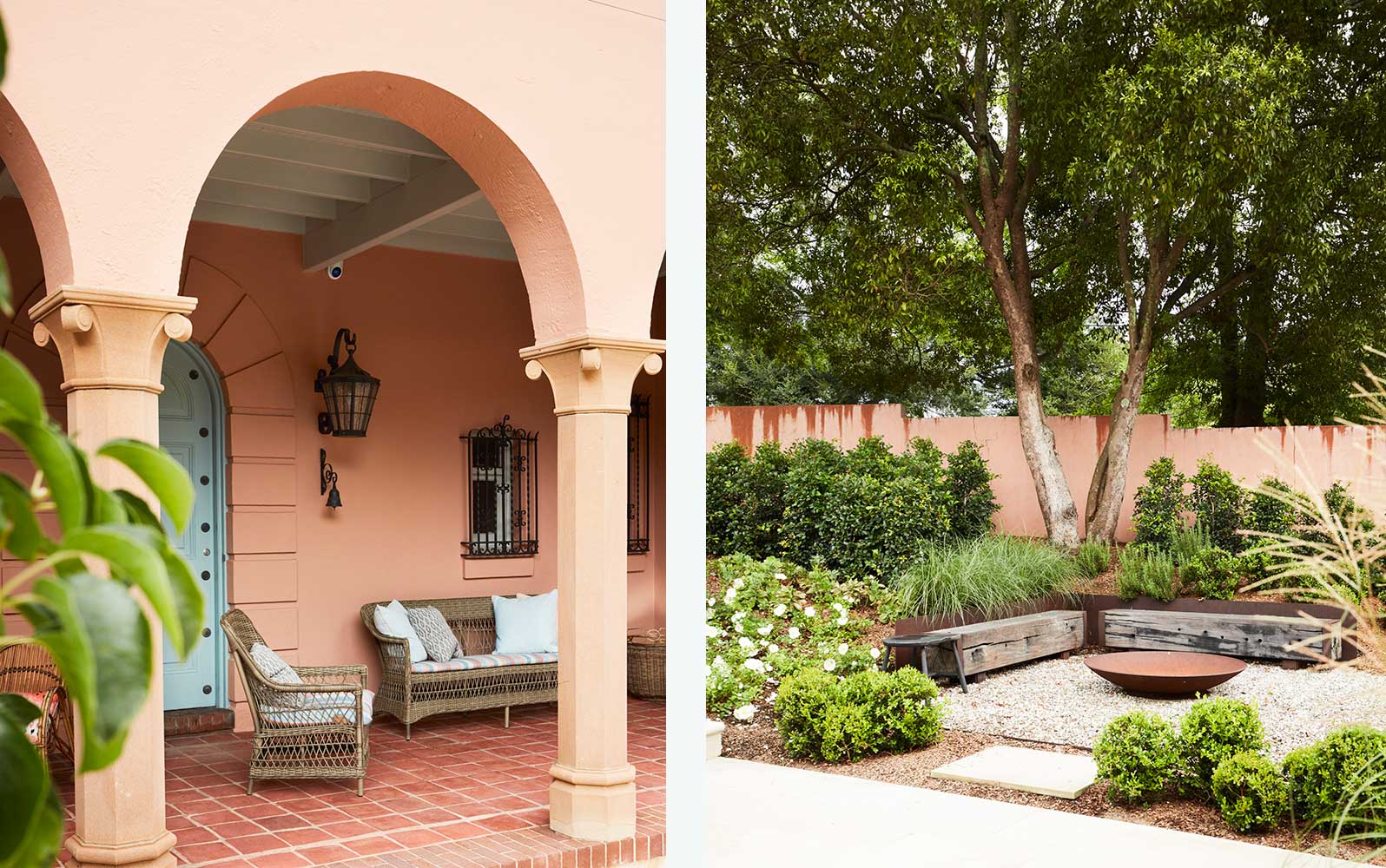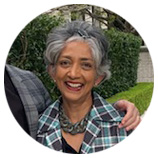 Tina Gomes Brand is a freelance writer who searches out all things creative from food and architecture to travel, fashion and interiors. Brand writes from a broad experience of interacting with various cultures and collaborating with creative people everywhere.
---
Leave a comment