Step Inside Chrissie Jeffery's Colourful Apartment
Date Posted:1 January 2018
The Design Files steps inside Chrissie Jeffery's colourful Potts Point home. Full of inspiration and colour...
The Design Files recently stepped inside Chrissie Jeffery's (

owner and head interior decorator at No Chintz)

colourful Potts Point home.
Words by Lucy Feagins and Photography by Nikki To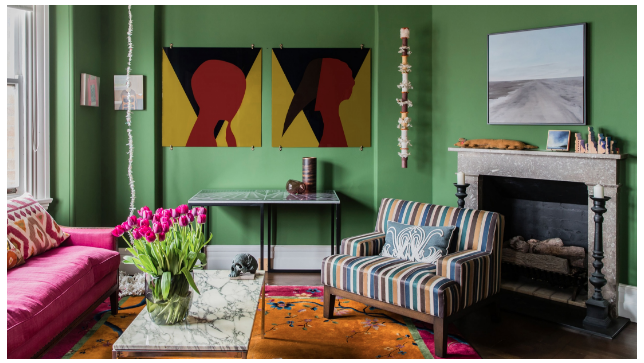 Chrissie Jeffery is an icon in Sydney's interior decoration world. Her business, No Chintz, has been setting trends since Chrissie first opened the doors in 1994.
Known for her distinctive textiles and furnishings, sourced all over the world, Chrissie champions interiors that are bold, and richly layered with colour, pattern and artwork. It's no surprise her own apartment in Potts Point is a study in brilliant maximalism!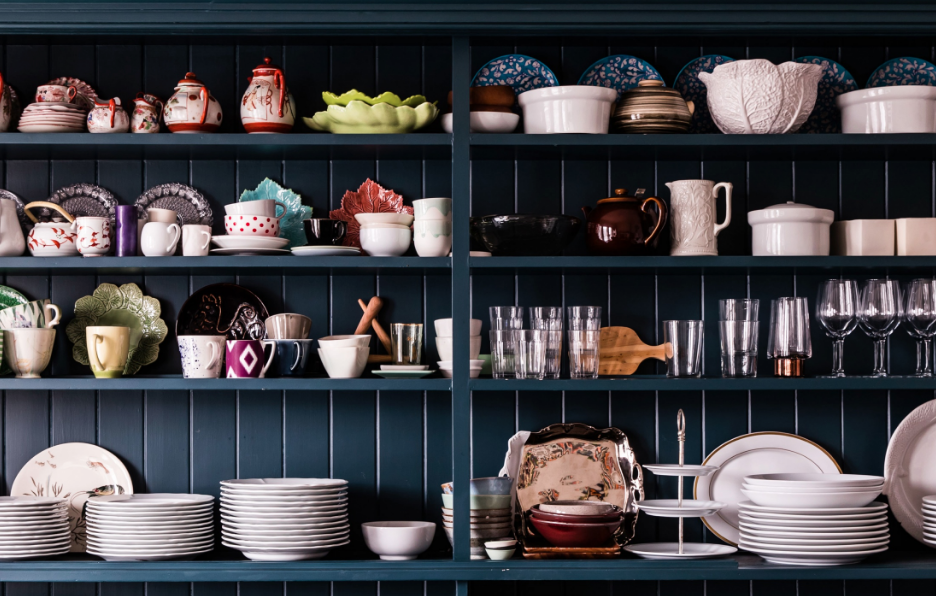 The Potts Point apartment of Chrissie Jeffery of textile and interior decorating business No Chintz, and her husband Richard Banks is a culmination of years of collecting.
The pair have been here five years, and though they haven't structurally altered the apartment at all, they've certainly put their own unique stamp on the place. Ultimately, this is a home decorated with bold, uncompromising confidence – and it shows!
For one thing, each room is painted a different colour, from brilliant emerald green in the living room, to a warm, deep grey in the study/sitting room, the prettiest coral pink in the master bedroom and dusty blue in the guest bedroom. Layered upon this bold palette, of course, is an incredible collection of textiles and upholstered furniture, documenting Chrissie's many years of sourcing the most amazing fabrics and soft furnishings from across the globe.
'I suppose we are those people who have been buying furniture and art for over 25 years,' Chrissie says, thoughtfully, adding that the greatest challenge for such seasoned collectors is getting the balance of placement and juxtaposition right in each room. 'We love colour and textiles, so combining all of this creates a eclectic mix. I love the challenge of making it all work… high ceilings and classic proportion of the rooms does make my task easier!'
The apartment building itself was built in 1912. It was constructed in the style of the American high-rise buildings of the time, and purchased a year later by the Albert family (of Albert Music fame – well worth leaping down that Google rabbit hole, in the early 1900's Frank Albert was a founding member and director of the Australian Broadcasting Company). The Albert family owned the entire building right through until the late 1980's. 'I think that's why it's never been greatly altered, it's listed as an historic building,' Chrissie says.
With its grand proportions and three to four bedrooms (four if you count the dining room) Chrissie and Richard's apartment was originally used by the Alberts for their family and friends in the early years, and later rented out to some interesting Sydney personalities. 'It's a great apartment, large and airy, and with high ceilings,' Chrissie says. 'we love the space and it gives us great happiness to live here.'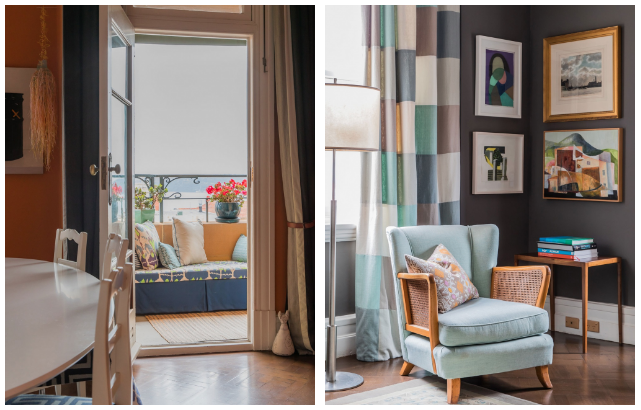 Left: Looking out dinning room door. The bench seat features 'Cashew Love' outdoor fabric.
Right: The antique Swedish armchair has been reupholstered in 'Zanzibar Aqua' fabric, while the curtains are 'Five Colour Patchwork' in 'Atlantic'.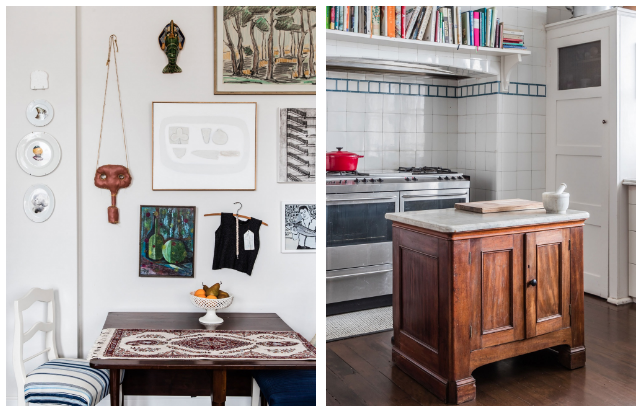 Left: KITCHEN DETAILS - The art wall in the kitchen features an array of artworks collected by Chrissie, and a chair seat, which she covered in 'Deck Chair Stripe' fabric.
Right: KITCHEN - Old wash stand used as small island bench, original tiles and cupboards.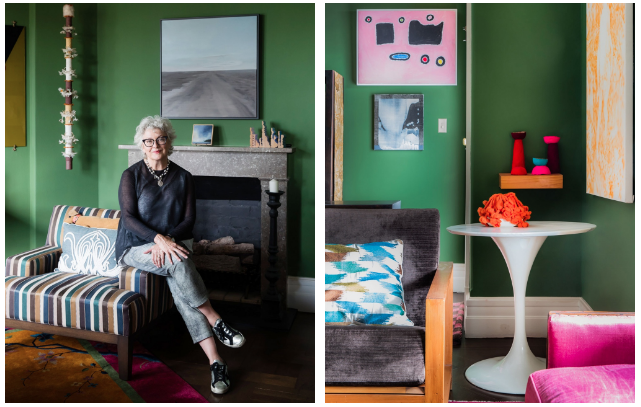 Left: SITTING ROOM - Chinese deco rug from Robyn Cosgrove, armchair from Jardan (covered in Stripe from Donghia), and Chris Langlois artwork above fireplace.
Right: SITTING ROOM DETAILS - Chrissie covered the old cane chair from Copeland de Soos in linen velvet, and the white table is a found base she placed a marble top on. Pink artwork by Ramey Ramsey, above artworks by John Beard and, on right wall, by Fiona Lowry. Crochet bouquet by Sarah Newel and wall sculpture by Ali Noble.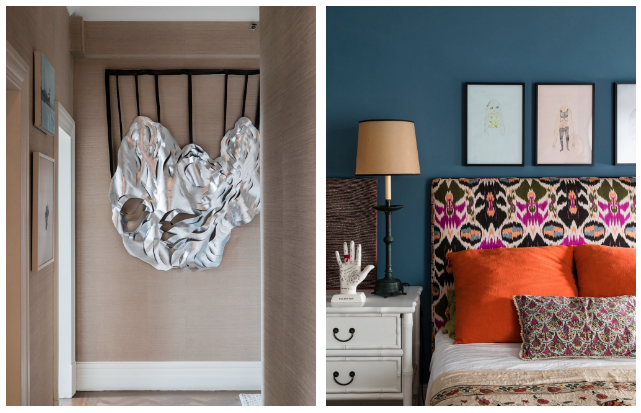 Left: One of Chrissie's favourite art works by Caroline Rothwell at end of back hall.
Right: GUEST BEDROOM - Artworks by Tara Marynowsky, bedhead in 'Bukhara Ikat' in 'Charcoal', large cushions in 'Ruff Cumquat' and others in assorted Indian textiles.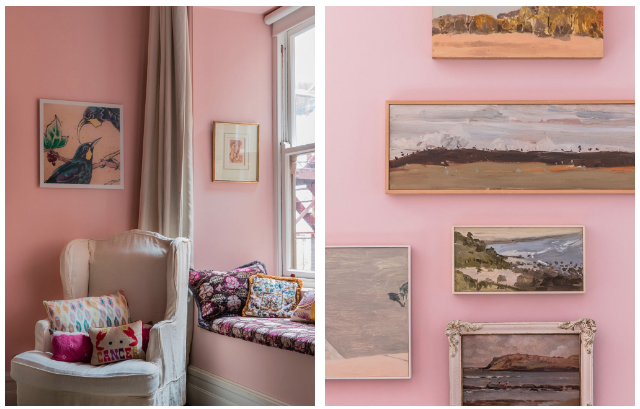 Left: MASTER BEDROOM - Artwork by Hayden Fowler, curtain in 'Alabaster' heavy linen, slip cover in white linen over wing chair, and window seat covered in Designers Guild velvet.
Right: BEDROOM DETAIL - Display of artworks by Neridah Stockley.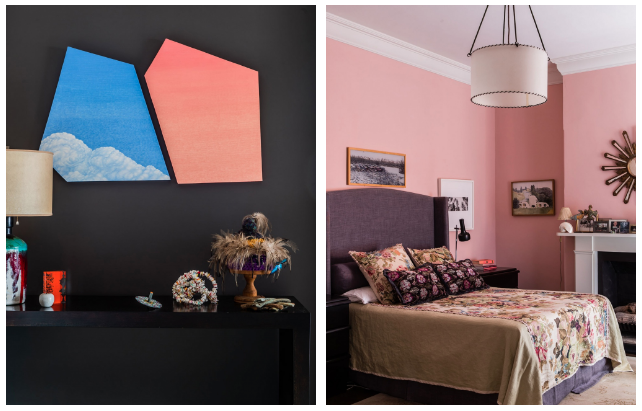 Left: Detail of artwork by Scott Gardiner.
Right: MASTER BEDROOM - Bedhead 'Maggie Linen' in 'fig' with 'Mrs Munro' hand-block printed linen on bed, and cushions velvet from Designers Guild.
---
Leave a comment